By Taryn Kama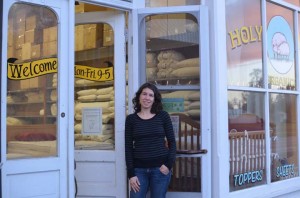 What started as inspiration on a hiking trip in the Redwoods has now become a viable, sustainable business where everyone involved wins.
Willow Whitton, owner of Holy Lamb Organics Natural Bedding Company based in Oakville, Wash., founded the company in 2000 after inspiration struck on a weeklong backpacking trip.
Faced with purchasing a backpacking pillow that was 100 percent synthetic, she decided to come up with her own pillow. "I thought to myself, 'I can do this better,'" remarked Whitton.
"I was on this trip and I had a lot of time to think," she said. "I've always been a crafty person and I had an idea of something I would make. I thought, 'I am going to start this pillow business.'"
Thus, the idea of an all-natural pillow alternative was born. Now, Holy Lamb is a wholesale and retail bedding manufacturer dedicated to creating natural bedding products. The store has a showroom and sells both its own products and products made from other like-minded companies. In 2008, she moved the location from Olympia to Oakville.
"People come in from far and wide (to shop here)," Whitton said, adding that the store is a scent-free facility.
Approximately half of Whitton's business is sourced through retail sales, both in her store and online.  The other half of her revenue is generated by producing pillows for wholesale markets across the country.
"We sell mostly to stores that sell organic products and have organic showrooms.  We have grown every year even through the recession. I really think it is because the sale of organic products are on the rise," Whitton said.
The store focuses mostly on wool products.
"In my opinion, wool is the best bedding material and our business focuses specifically on that. There is something that is really magical happening when you a surrounded by wool bedding," commented Whitton.
She added that wool is dust mite resistant and is the most breathable of all bedding materials.
"If you have allergies, asthma or sensitivities, wool bedding is a great choice. A lot of athletic clothing is made of wool. It wicks moisture away and is really breathable.  It regulates your body temperature at night and wool is assisting with the process," Whitton said.
Holy Lamb's top sellers are mattress toppers, followed by comforters, pillows (six different types) and the baby line (Cozy Buns Organics).
Even the facility is interesting. The store, which also serves as the manufacturing plant, is historic. It was built in 1902 and it served as the Oakville general store for 80 years. It has been fully restored to its original glory with innovative additions such as natural green insulation for the first time and an organic community garden.
"It's an open facility.  You can see people making the products—it's really fun like that," Whitton said stressing that her products are all handmade in the United State, using high quality materials.
The store gets its wool from mills that run an Eco-Wool program, sourced primarily from Oregon. "It's a win for the sheep farmers and  a win for the people getting the products. They (the farmers) are paid double what you would normally get," she explained.
Additionally, Whitton runs her business in a way she is very proud of, offering employees health benefits and profit sharing.
"We have a different way of running our business and it's not always about the bottom line all the time. We are focused on using the best materials we can and on great customer service," she said.
As a result, employees love working there.
"It's a great place to work. Willow is a great boss. I love all the people I work with. I work here because I want to," explained production assistant, Sarah Horton.
"The best part about this company is we provide phenomenal products that are good for their health. It's feels good when you have a customer say, 'I feel like I was sleeping on a cloud,'" said Lisa Brainard, customer service representative.
"The products are beautiful, the people are beautiful, every day is a beautiful day going to work," concluded Jesse Cruz, co-production manager.
104 West Pine Street
Oakville, WA 98568
Store hours: Monday – Friday from 9:00 a.m. – 5:00 p.m.