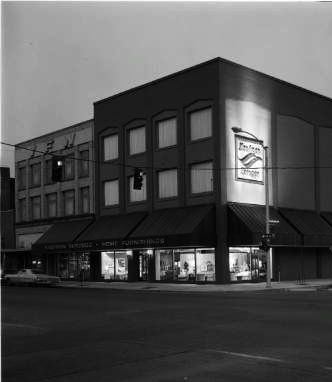 Amid the notable buildings of downtown Aberdeen and parking lots where well known businesses burned down in infamous fires, stands Kaufman Scroggs, a 110 year old furniture store that has occupied their current building for 100 years. Despite numerous struggles, founder J.J. Kaufman showed a great deal of tenacity in getting his business on the road to success. Only one week into business, his original store burned down in the great fire of 1903. Devastated by the blow, as any human would be, he contemplated giving up. Many business owners face this fight or flight decision at some point in their career, but Kaufman's wife made the decision for him, saying "You've started your own business now, and you are going to stay in business."
In 1933, Kaufman was joined by R.M. Scroggs, an Aberdeen school teacher who had moonlighted as a part time accountant for eight years and finally decided to go into the furniture business full time as a partner. Together Kaufman and Scroggs survived the Great Depression and numerous other economic changes. Kaufman started numerous furniture stores with other business partners across the state, but Kaufman Scroggs is the single remaining store of his franchise. Today, the furniture store is in the hands of Pete Scroggs, the third generation in the business.
Typical of many historical businesses, there have been changes over the years. "They used to sell more general goods, like baby buggies and dishes," explained Pete Scroggs, showing off interior photos of the store from the earlier days, prominently featuring washing machines and some cabinet televisions alongside their chairs and carpet samples. The building itself has also changed with updated facades and interior remodeling to enclose what once was an open floor plan with a wrap around balcony.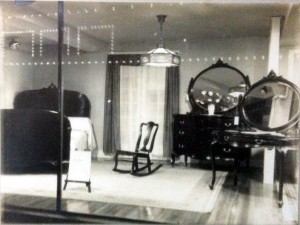 Kaufman Scroggs is a large business, with four floors of furniture and flooring samples. Pete explained that the size is not typical for modern stores, especially considering that it is multi-level, requiring a great deal of work to load and unload furniture. Not to mention the challenge of keeping track of customers. "We are pretty good at knowing who is here browsing, but when it gets really busy it's a bit harder," Pete said.
What else comes along with old buildings? Ghost stories, of course. One salesperson claims to have seen a dark haired woman on the second floor who disappeared a little too quickly upon a second glance. Another manager has heard doors closing when all alone. Could it be ghosts or potentially one of their customers lost in the building? We may never know.
While stopping by for a visit, I took a look around to see all that they had to offer (and do a little ghost hunting). Kaufman Scroggs is one of the few furniture stores that still provides interior design services as well as carpet and window covering. Their upcoming remodel will make some updates to the space where they do most of that design work. They also serve up free cookies and coffee to those browsing, a thoughtful gesture and a useful one; you might need that sugar boost while climbing the stairs (don't worry, they have an elevator too).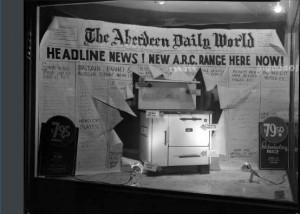 Pete explained that they are a business that hopes to maintain their historical feel and friendly customer service, so goes their motto "Big city selection, small town service."
101 East Heron Street
Aberdeen, WA 98520
360-532-0630
Hours – Monday through Saturday from 9:30 a.m. – 6:00 p.m.