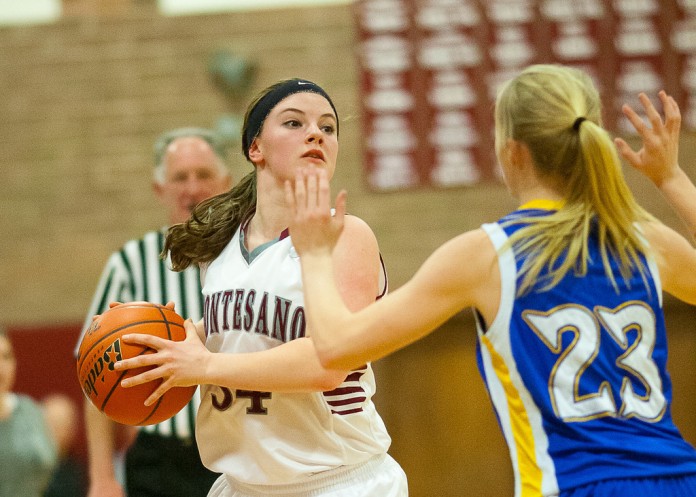 By Justin Damasiewicz

In early February, the Montesano High School girls basketball team accomplished a feat that not many teams are able to achieve. With a 54-36 win over Rochester, the Bulldogs picked up their 20th win and completed the first undefeated regular season in the history of the program.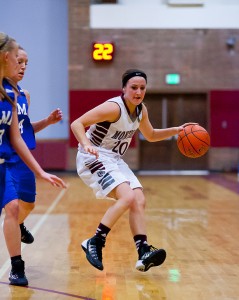 This season is also the first time a Montesano girls basketball team has been the undisputed Evergreen 1A League champion, and the Bulldogs have been dominant along the way. Montesano has won its games by an average margin of 24 points. Only one game, a 46-42 victory over the Hoquiam Grizzlies, was closer than 10 points.
On Thursday, February 13, Montesano will start the journey toward achieving the team's next goal. The Bulldogs aim to bring home a trophy by placing in the top six in the Washington State 1A Girls Basketball Tournament. Placing in the state tournament would be another first for the program.
The Bulldogs still have to get through the district tournament and the regional tournament before going to state. Montesano's head coach, Julie Graves, is not concerned about her players losing focus on the task at hand. The Bulldogs will approach each post-season game the same way they approached each regular-season game.
"I don't want to change things now," Graves said. "We've been focusing on one game at a time. We don't want to start looking further. I can tell that these girls are not satisfied. It'll be one game at a time, and we want to go as far as we can this year."
Graves, a Montesano High School graduate who is in her tenth season as the head coach at her alma mater, attributes much of the Bulldogs' success this season to the unselfishness of the players.
"They just want to win basketball games," Graves said of her players. "They have all put the team first."
It is safe to say that Montesano has already exceeded expectations this year. The Bulldogs are tough, athletic and talented. However, they are also young and inexperienced.
There are three freshman listed on the varsity roster, accompanied by four sophomores and three juniors. Megan Choate and Myranda Floch, both juniors, are the only players on the roster who had seen significant varsity playing time going into this season.
"We all thought we had the potential to be good," Graves said of her team. "Early on, our goal was to be in the top three in our league, especially after the summer when we didn't really mesh very well. My older kids have never played with a 6'1″ post player. They had to learn. We have three age groups here, no seniors, and only two players back that played a whole lot last year. I think they meshed a lot quicker than we expected."
The 6'1" post player that Graves referred to is Jordan Spradlin. The freshman burst onto the scene this season and has emerged as the toughest inside presence in the Evergreen 1A League. Spradlin's smart, unselfish play makes her a perfect fit for this Bulldogs team.
It is possible that the players meshed so quickly because of how well they all get along. A common theme that is easily detected when talking to these young ladies is how much fun they have together.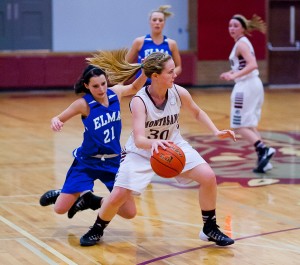 "We like to laugh. We're really close and everyone gets along," Choate said of her relationship with her teammates. "I've enjoyed the whole season. The practices are fun as well. We take it seriously, but we also have fun."
Choate also said that the girls often spend time together off the court, during lunch and on weekends.
"We like to laugh," freshman guard Shalya Floch added. "We're really close, which helps a lot. Everyone gets along."
Spradlin noted that although the players have fun together and the environment is friendly, they do not lose focus.
"It's always a competition," Spradlin said.
Although many of the players barely know what losing in high school basketball is like, winning does not get old for sophomore post player Cortney Miller.
"Every win is exciting," Miller said.
Several players agreed that beating the rival Elma Eagles was the highlight of the regular season. Elma, who finished in second place in the Evergreen 1A League, also has a very talented squad. In fact, the Eagles' only two league losses came at the hands of the Bulldogs.
Elma will also play a district playoff game on Thursday, February 13, and it is possible that the rivals could meet again this season.
All photos courtesy Shawn Donnelly.