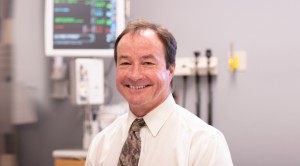 Many of those suffering from health complications of the ear, nose, throat neck and head will be happy to learn that the practitioner, Dr. Patrick Henderson ENT, has set up his new practice in Montesano. Dr. Henderson comes to Grays Harbor from Montrose, Colorado where he had a successful ENT practice. His success led him to new opportunities and is excited to bring his specialty practice to the northwest where he can add a vital service to the community.
Dr. Henderson is a highly trained and competent physician with board certification in ear, nose, throat and facial plastic surgery. He completed his undergraduate studies in Chemistry and Biology at Gannon University in Pennsylvania and received his medical degree from Ohio University College of Osteopathic Medicine.
An ENT or Otolaryngologist is an ear, nose and throat doctor. These physicians diagnose and treat related conditions involved in the head and neck. Dr. Henderson treats hearing loss, ear infections, tinnitus, balance disorders, allergies, throat and esophagus disorders, tumors and deformities.
Many people think of Otolaryngologists as strictly "tonsil doctors" but Dr. Henderson also specializes in facial plastic and reconstructive surgery for health challenges such as deviated septum, cleft palate, drooping eyelids, hair loss and cosmetic surgeries such as rhinoplasty (nose) and face lifts. He enjoys helping patients with reconstructive needs and has helped many skin cancer survivors return to a normal life after overcoming this trauma.
While practicing in Colorado, he was an active community member and avid outdoorsmen. Moving to the northwest has been an exciting transition for his family.  They are looking forward to exploring their new surroundings. Maintaining an active lifestyle is a priority for Dr. Henderson and his family. He enjoys fishing, hunting and horseback riding.
Dr. Henderson is a conscientious and conservative surgeon with the highest level of education and training in his area of specialty. He constantly renews his skills and keeps up on trends and new development in health care treatments related to his specialty. He is dedicated to the well being of his patients and is committed to the highest standards in health care. Dr. Henderson encourages his patients to live a healthy and active lifestyle and assists them medically with their health care needs related to the ear, nose, throat, head and neck and facial plastic surgery.
Dr. Henderson can be reached at his Montesano office by calling 360-249-3300.