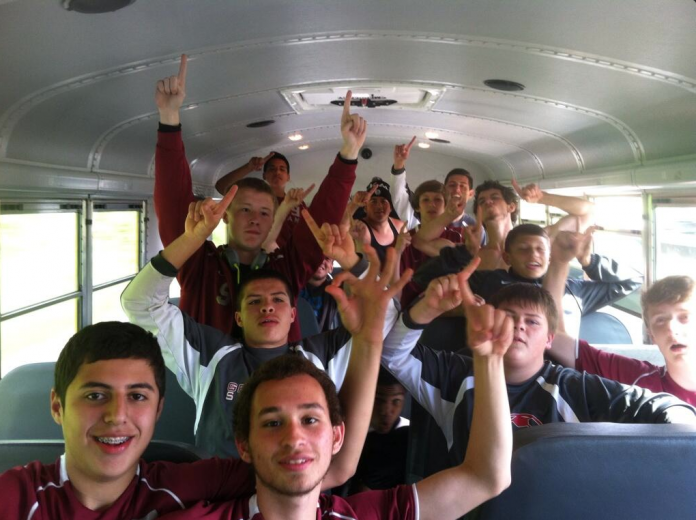 By Tom Rohrer
After a 0-2 start, an appearance in the state playoffs seemed a long way off for the Hoquiam boys' soccer team.
The slow start to the season was understandable for the Grizzlies.  Three first team All-1A Evergreen League performers, including league MVP Jonathan Molina, had graduated after leading Hoquiam to a co-league championship in 2013.
Those two losses, to Aberdeen (1-0) and Elma (3-1) respectively, seem light years ago now, as Hoquiam punched their ticket to the 1A state tournament after bringing home the school's first ever district championship this past weekend.  Hoquiam defeated Seton Catholic 2-1 in the title game of the district championship this past Saturday, only two days after defeating White Salmon 3-1 to clinch a state tournament berth.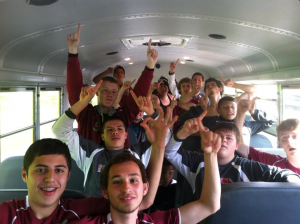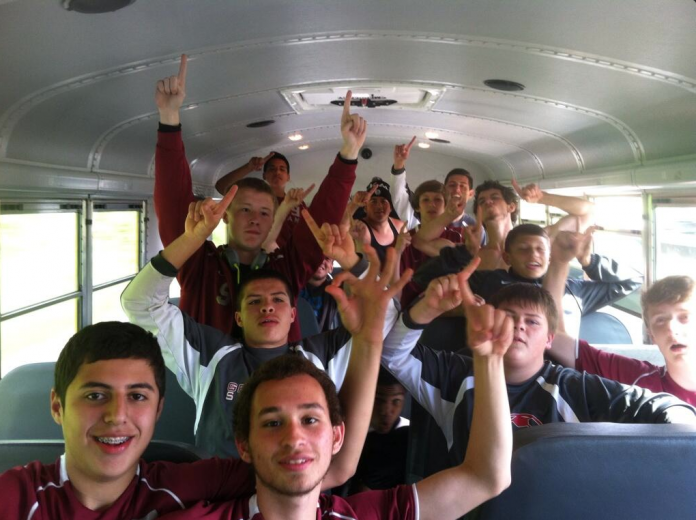 Hoquiam will host Seattle Academy at the historic Olympic Stadium in Hoquiam on Wednesday, May 21 at 7 p.m. in the opening round of the tournament.
The district championship and birth in the 16-team bracket still have the Grizzly players and head coach Fidel Sanchez buzzing.
"I didn't think at the beginning of the season that we would be in the position we are now," said Sanchez, now in his eleventh season as head coach for Hoquiam.  "But I knew we had the potential.  The guys, they kept improving and we hit our stride at the right time….This past weekend, it's the biggest accomplishment we've had as a program and it's still hard for me to describe the feeling."
"I knew it wasn't going to be as easy this season.  We lost a lot of talent, a lot of experience, but we gained some things as well," said senior mid-fielder and co-captain Osiel Rivera, last year's Evergreen League defensive player of the year.  "If you were going to tell me at the beginning of the year that we would be district champions and hosting a game in the state tournament, I don't think I would have believed you.  It's just a testament to our guys and I've never been more proud to be on this team."
While the excitement and attention stemming from the weekend's successes is well deserved, Hoquiam has to take on a quality opponent in a loser-out affair less than a week following the district championship.  How the Grizzlies play against Seattle Academy will depend on their mental toughness and ability to move forward.
"That's always an issue with high school kids but we are going to re-group and practice and focus on what's yet to come," said Sanchez, originally from Monterrey, Mexico before graduating from Aberdeen High School and Central Washington University.  "We don't want to diminish their success, but this team is still hungry."
"It could've been an issue last year, but I think we are mature enough to handle a victory like that," said senior defender Brenner Carlstrom, also a co-captain.  "We are having so much fun that we want to keep going, and we know that takes a victory."
Due to the immense talent present on last season's roster, it would be fair to wonder why a district championship and state birth didn't come to Hoquiam in 2013.  The biggest change from a season ago has little to do with speed and talent but rather with chemistry as a team.
"There are no attitudes or beefs, none of that," said Sanchez. "Not to say last year's team was immature or hard to coach, but the chemistry this year, I haven't seen it in my time here."
"Last season, we knew we were good and that was a negative for us," said Rivera, who is bound for Western Washington University in the fall. "This year, we focused on every opponent and took everyone we played seriously.  We know that talent can't win games, and that's a big change."
That's not to say the Hoquiam roster is full of hacks and fill-in players.   The Grizzlies rely on their defense to lay the foundation and to start the offensive attack in transition.  If opponents breach Carlstrom and the rest of the defense, goaltender Tahj Malone is there to erase mistakes.
"I like to communicate a lot because I can see the whole field," said Carlstrom.  "I'm a vocal guy, and I like to point out who our guys should pick up, where we should go with the ball, all of that.  Once we get the ball back, we can start the rush, and get things going offensively."
"If you have a good goal keeper, you can step up and make plays freely," said Sanchez. "Tahj gives our guys tons of confidence because he's so reliable."
"On the attack, we like to use the wings.  That's always what we look at first, but our forwards are big threats as well," said Rivera. "Whenever I have the ball, I have an eye out for Alex PugaDeLaRosa, he's a big asset and one of our main playmakers."
When the Grizzlies take the field against Seattle Academy, and likely every game going forward if they advance, they will be facing teams with more select and travel team players.  Hoquiam relies on a local talent pool that stays in the area for recreational leagues.  The Grizzlies do not feature a club level player, a fact that has turned into a source of pride.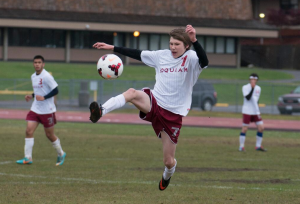 "For sure, it's extra motivation.  We know we have talent, but we need to win through out-working our opponents and out-hustling them," said Carlstrom.  "It raises our intensity and our focus.  We get pumped when we play teams with those players."
"We don't have a middle school program and we don't have a local select team.  What we do have are Hispanic kids that play a lot and their parents that play a lot," said Sanchez.  "These kids play for the fun of the game and to be on a team.  It's not about recognition.  It's about competing on a field together."
On Wednesday night, Hoquiam will be one of the centers of high school throughout the state, giving the community a chance to witness their soccer boys first hand.
"It's a great community, and the support we've received just in the last few days is amazing," said Sanchez, who helped guide Hoquiam to an 8-4 record in league play.  "There are a lot of parents who can't make every game.  For the kids to have their biggest game in front of a home crowd, that's special."
"You couldn't ask for anything more as a senior," said Rivera.  "Everyone around school is pumped for the game and we want to bring them along for the ride."
What a ride it's been and what a journey it still could turn out to be.
All photos courtesy Hoquiam FC.