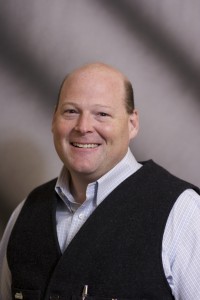 As a surgeon, Dr. Brent Rowe has been saving lives in the Emergency Department at Grays Harbor Community Hospital for 15 years. Over those years, he has been on call for many of the emergency situations that have occurred in Grays Harbor, as a part of the team of surgeons serving the Emergency Department.
After receiving his undergraduate degree from the University of Washington and also attending medical school at the UW, he did his residency at York Hospital in Maine. This hospital was very similar to Grays Harbor Community Hospital, so he became well trained for a community hospital environment, gaining the skills to perform a broad spectrum of surgery.
"In the last week, I've done an appendix surgery, gall bladder, and melanoma," Dr. Rowe recounted. He is an integral part of the team and is very active in keeping up with all of the constantly updated health measures so that Grays Harbor Community Hospital can give the highest quality of care. Along with other staff and physicians at the hospital, he says "we do it because we want to be here and take care of the community." He believes having quality health care in the area is essential.  He reflects on previous storms that have isolated the area in recent years.
As an on-call surgeon, Dr. Rowe has dealt with a number of trauma situations.  Rowe and the local team stabilize patients so that they may be sent by helicopter, airplane or specialty ambulance to Seattle hospitals for additional care. He takes special concern for these patients because "they are our patients until the helicopter takes off."
Although the area has experienced economic challenges, Dr. Rowe believes that Grays Harbor Community Hospital has been "doing a very good job with the resources we've got." He is also part of the committee to recruit new physicians to the area. The need for physicians has been increasing in recent years as the baby boomer generation reaches retirement age.
His main goal, as the hospital experiences change, is to maintain the quality of care and services that currently exist at Grays Harbor Community Hospital and hopefully find ways to grow and add new services. "We have the space to expand and advance the experience with better spaces and potentially private rooms," he explained.
Healthcare is obviously important to everyone and Dr. Rowe shared that Grays Harbor Community Hospital is here to "take care of everybody." The hospital, as a whole, is continuing toward the inexhaustible goal of providing quality care for area residents as well as those who travel here for the excellent surgical services. He explained that there is a give and take relationship between the hospital and the community. Both are here to support each other in the efforts to keep everyone on a path toward health and wellness.