By Lisa Shell

Ken and Sue Rausch enjoy what they do and they share it with others. Sue began sewing as a young girl. In 1978, after the birth of her first son, she started and completed her first quilt. Sue says, "In the beginning, everything I learned I taught myself." In fact, it was her own drawings of Disney characters that inspired the design for her first quilt. The quilt, which belongs to her son, resides in Sue's home to this day. Sue says, "I encourage others to keep their first quilt."
She enjoys quilting so much that it led her to start working at Quilt Harbor about 10 years ago. Here she was able to practice her craft, sell fabric and sewing machines, teach a class, and run the daily operations. Naturally, when the previous owner decided it was time to close Sue was saddened. This feeling motivated both Sue and Ken to purchase Quilt Harbor for themselves. Sue says, "In January of 2011 we took over, and we both went to Chicago in June of 2011. I was trained so I could keep the BERNINA sales license, and Ken became a certified BERNINA tech." BERNINA is a leading global manufacturer of sewing and embroidery machines.
Ken and Sue have owned Quilt Harbor for nearly three years, providing the community with a variety of quilting fabrics and supplies, service and repair of sewing machines, and quilting and sewing classes. Ken and Sue are passionate about their business and sharing their love for quilting. They have two sons and six grandchildren. Four of their six grandkids have each made a quilt of their own.
Ken and Sue arrive at the shop each day together. Ken then drives to Westport where he serves as operations manager for the Port of Grays Harbor. He has worked for the port for 22 years. Sue says, "Ken loves his job.  It does get dangerous, when he's in charge of getting the sea lions off the dock. There's an alpha bull sea lion that has charged him. All are dangerous, people shouldn't get too close to them to take photos. They can move up to 30 miles-per-hour on land."  Ken returns each evening prepared to assist teaching class or to service machines.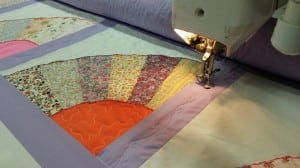 Sue and her team teach classes for all skill levels. One of Sue's students is 12 years old. Sue gave this lucky young lady her first sewing lesson at 5 years old. Sue said, "In fact, this student is now working on her first appliqué quilt." The appliqué style of quilting takes a lot longer. You can learn how to hand appliqué or machine appliqué. You can also learn about a satin stitch. What makes something a satin stitch? Well, on one design we looked at called "Candy Dish," Sue used a variegated thread, did a zig zag and took the stitch length down to 0. It sews the threads real close together and fills in real tight so you don't have any ride to show.
Sue encourages guests to stay for a while and if you have time she will share a "quilt story" with you, like the story about a quilt hanging on the wall in the classroom. This one is about Brett who works at Quilt Harbor. He used the services at Morningside to find employment. Morningside's vision is to advance the employment and self-sufficiency of people with disabilities. Sometimes we do the cutting for Brett, and then Brett chooses his designs and colors, and stitches all the pieces together. In fact, he just finished up a quilt that will be raffled off for a fundraiser. All of Sue's employees get to keep their first quilts.  Then, if they make another while at work, the quilts are given to different causes. Kaufman Scroggs often donates samples of material that are used in their store to create donation quilts.
Sue and Ken both quilt with the long arm machine, used to sew together a quilt top, quilt batting and quilt backing into a finished quilt. The long-arm sewing machine typically ranges from 10 to 14 feet in length. Sue says, "I can hand quilt, but we have a long arm machine now. It's a lot more time efficient."  Sue happened to have a customer's quilt in the long arm machine. She "meandered" it for a bit, moving the quilting stitches across a quilt in a random, fluid-like motion, without overlapping.
The team is currently dying white denim and white corduroy to make kids overalls. The day I was at the store her new line of  winter holiday fabrics had just arrived. We got excited just thinking about the holidays. The store has a variety of fabric on hand. You can choose from splash fabric to shadow fabric. High quality fabrics from Blank, Timeless Treasures, Quilting Treasures and Maywood Studios will spark your imagination and encourage you along with your next sewing project.
Recently, this creative couple supported the first ever Founder's Day Celebration in downtown Aberdeen. Their efforts won Quilt Harbor a trophy for "best dressed window."
Thanks to Ken and Sue, you can pursue that lifelong dream to learn how to quilt. You can finish the quilt that just needs a bit more of your time and attention. You can schedule a class to make holiday gifts. You can take a sewing class with a family member. You can buy just the right fabric to make just about any sewing project. You can get your machine fixed, order parts, or just come in to learn more about sewing and quilting.  Cherish the memories.
Quilt Harbor
360-532-1200
208 S. Broadway
Aberdeen, WA 98520
quiltharbor@msn.com