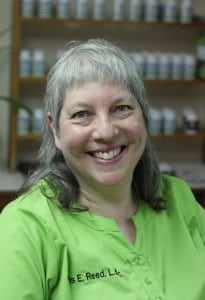 It takes a brave, dedicated, and diligent person to decide to graduate from college. Though a privilege, it takes time and effort to achieve a quality education. As a young person, this is intimidating enough, but for someone like Doris Reed who decided on a career change mid-way through life, it's a landmark event.
Reed moved to Grays Harbor in 2001 before realizing her career options were limited. Rather than succumb to the easy way out, Reed decided to go back to school. She began at Grays Harbor College, thinking she would graduate as an x-ray technician. The subject was not fulfilling for Reed and instead she pursued an art that had long fascinated her: Chinese medicine and acupuncture. Reed hopped from Grays Harbor College to Bastyr University in Kenmore, Washington where she graduated in 2008. As soon as she became licensed, Reed firmly planted her business in Grays Harbor where she is now the sole acupuncturist in both Grays Harbor and Pacific Counties.
One of the aspects of Chinese medicine that caught Reed's attention was how ancient the practice is. "It's an older medicine–way older than Western medicine–with a lot of history. It's been practiced over and over so it has value," Reed explains.
Reed combines her acupuncture treatments with Chinese herbs and encourages her clients to eat well, reduce stress, and drink plenty of water in order to bring balance to the body. For most of her clients, the experience of acupuncture is incredibly relaxing and, if you have the resources to come in for an appointment, Reed believes the choice is a no-brainer. "Why wouldn't you come in and have that experience where your body is nice and relaxed and it can take care of itself? My goal is for people to leave feeling better than when they came in," says Reed.
Reed explains that headaches are the easiest things to cure with acupuncture. She treats many pain conditions and many unusual cases people have been unable to treat with Western medicine. Reed believes acupuncture is of greater advantage to these patients because acupuncture and Chinese herbs are about bringing balance to the body and learning to let go of the stressful emotions that harm our bodies. This is particularly helpful when treating patients who battle with depression.
"Acupuncture helps with depression because it brings the body back into balance. When you help a person feel better, he/she begins to make better choices for his/her life. We can be balanced–everything around us may seem unbalanced and chaotic, but we can feel like we can take it on and make good choices about what's happening. That's what I'm trying to accomplish," states Reed.
Reed loves her job, not just because she gets to help people for a living, but because it requires that she remains open to learning more about Traditional Chinese Medicine every day. Chinese herbology is an ancient tradition with an endless supply of knowledge. With so many practitioners coming from different angles or opinions on what herbs and acupuncture are capable of, Reed says there are many people to learn from and to receive a second opinion. Her dream is to eventually run a Chinese herbal store and dispensary where she can put together custom blends of herbs for her patients and have the space to carry a greater variety of product.
If you are interested in testing to see if acupuncture is right for you, Reed offers a community acupuncture option at a greatly reduced rate. Because of her passion for acupuncture and helping people become healthy and balanced, Reed uses her skills at a variety of non-profit outreaches and makes sure her patients have access to multiple resources on her website: www.reed-acupuncture.com.
With appointments available in Aberdeen and also in Lacey, Reed hopes to accommodate her patients' schedules and make the experience as relaxing and pleasant as possible. For those with an overwhelming fear of needles, Reed says not to worry! There are many different varieties of acupuncture available and she will work to find what's best for you. Who knows? You may fall in love with this ancient practice and finally find balance in your health.
To learn more, contact Reed Acupuncture at 360-589-7148.