By Douglas Scott

The City of Ocean Shores has miles of beaches, good surfing, excellent kite flying, incredible beach combing and beautiful sunsets, but few know of the amazing waterways which extend throughout the entire city. The canals, built when Ocean Shores was a planned resort community, are finally becoming popular for those who use a canoe, a Stand-up Paddle Board (SUP) or a kayak. Most visitors to this small coastal community come for the beaches, but for an ever growing number, the lakes and canals of Ocean Shores are the attractions.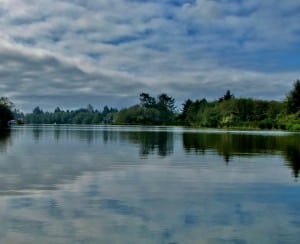 On August 30, the city of Ocean Shores is inviting lovers of water to enjoy the Ocean Shores Paddle-A-Thon. The event will be located not on the turbulent surf of the Pacific Ocean, nor on the gently rocking waters of Grays Harbor, but on the 23 miles of fresh water canals and lakes located in the center of the Ocean Shores Peninsula. Best known as a beach town, Ocean Shores is also home to some of the best kayaking, canoeing, boating and SUP experiences in Grays Harbor.  Paddle-A-Thon is a perfect way to spend a day discovering the fun of the canals and lakes of Ocean Shores, Wash.
The Ocean Shores Paddle-A-Thon is relatively new to the region, unofficially starting in 2004. Created as a fun event for a small group of friends, the get together of this paddle club soon grew to more and more people. Over the years, the event has changed names and leaders, slowing evolving into something bigger and better, with visitors coming from around the Pacific Northwest to explore the freshwater of Ocean Shores.
Bob Rhoades, this year's event organizer,  has been participating in the event since 2005 and explained that this one-day event is exactly what the community needs.
"Paddle-A-Thon," Bob told GraysHarborTalk, "is meant to encourage people to explore the waterways of Ocean Shores, both locals and those traveling from out of town."
Bob also explained how much of a positive financial impact to the North Beach region having successful tourism based on the lakes and canals of Ocean Shores will be.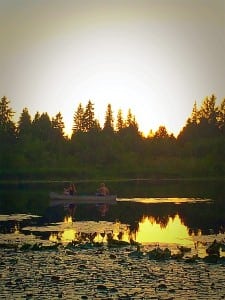 "If we can get residents of Seattle and Portland to this event," Bob explained, "we can become a destination for those looking for fresh, protected waterways as well as family-friendly places to enjoy the water."
The Ocean Shores Paddle-A-Thon, held by the Ocean Shores Action Committee for Tourism,  goes from 9 a.m.-3:30 p.m., an entire day's worth of water events, with human-powered races starting from North Bay Park in Ocean Shores. The human-powered race course will be six miles long and will test your endurance through Duck Lake, next to uninhabited islands and alongside the many lake and canal front homes in the city. After the human-powered races, there will be two more events for those who enjoy being creative and winning prizes donated by local businesses and restaurants. With both a Poker Paddle and a "wacky boat race," paddlers of all ages and abilities will have a great time on the water. While many will come for just the fun Paddle-A-Thon, the event organizers highly encourage you might consider staying and further exploring the canals and lakes of the region.
The event is free to attend, but participants are required to pay a $5 insurance fee and provide their own lifejackets. Attendance is expected to be quite good, so bring your canoe, kayak or SUP, or rent one from the Ocean Shores Electric Boat Company and be ready for an amazing day on the 23 miles of freshwater in Ocean Shores.