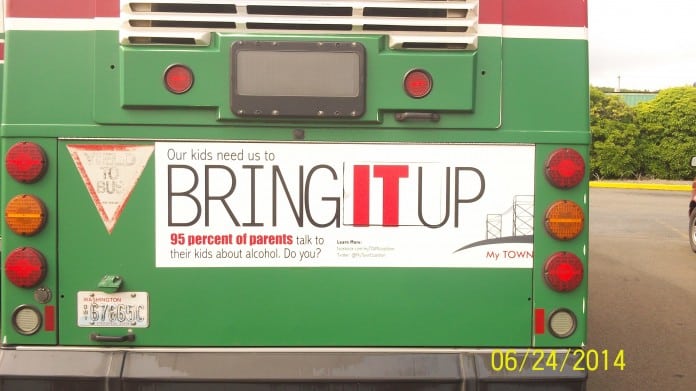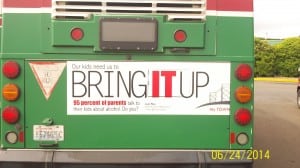 "95% of parents claim to talk to their children about alcohol. Do you?"
The 'Bring It Up' tagline for My TOWN Coalition makes it a point to not just educate kids and teens about the hazards of substance abuse, but also parents. Though 95% of parents in Hoquiam, Washington claim to talk to their children about these subjects, a focus group of Hoquiam High students suggest the percentage is much lower.
Alcohol and marijuana is a difficult issue to tackle. Between the legalization of marijuana and the relative accessibility of alcohol, the numbers for underage controlled substance abuse are higher than anyone would like to see. How do we effectively lower these numbers? My TOWN Coalition believes it can be done by addressing the entire cycle. Educate the kids, educate the parents, and encourage retailers and hosts of public events to tighten up policies on alcohol.
My TOWN is an acronym for "Transforming Our Wellness Now." It takes the health focus off of one person or family and directs vision to the entire community. Wilma Weber of Grays Harbor County Health Department and coordinator of My TOWN Coalition has been impressed with how the community has banded together. Pastors, business owners, parents, and schools have come together to take charge of My TOWN Coalition. The brainstorming is quite new – only a year since they kicked off the coalition with a survey. The team members are excited to release a new survey with the hopes that numbers have improved with their efforts since last year.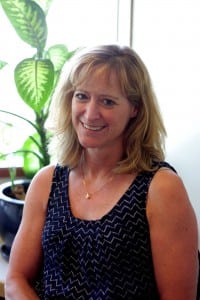 Teens are under the impression that more of their peers are involved in drugs or alcohol than really are. This false perception creates a stronger amount of perceived pressure to participate in illegal activities. Though Weber believes healthy risk taking is something to be encouraged, the dangers of substance abuse at such a young age can have detrimental effects on a child's brain and development. Curriculum has been implemented in Hoquiam High School to educate teens about the damaging effects of substance abuse, but also the realities of social norms. Not all of their friends are drinking, most of their friends are not smoking marijuana and therefore, the pressure for them to partake in such activities is not nearly as strong as perhaps they are led to believe.
Weber insists that the underage problem of substance abuse has more to do with the parents than the kids. "Yes, we're measuring results by kids' responses, but it's not a kid problem – it's an adult problem. It's a community problem and to change those norms and behaviors, adults need to be more responsible in how they respond to kids' use," explains Weber.
For parents, it can be difficult to talk to a child or teen about substance abuse, often because of uncertainty on how to discuss such topics or because the parents are confident in thinking their child would never fall into alcohol or marijuana addiction.
Unfortunately, there aren't many parental programs within Grays Harbor to help parents unless they've been referred. My TOWN  is hoping for change.
Parents need not be ashamed in banding together to share advice and learn new ways to speak to their child about substance abuse. Parenting classes shouldn't have to be an assignment or something that feels like a punishment for poor parenting. Rather, it should be an encouragement – a way for parents to brainstorm new ways to prevent further substance abuse by teens in their community.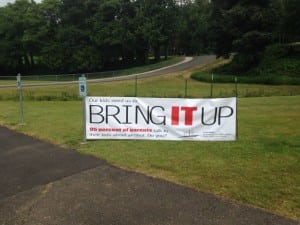 My TOWN Coalition hopes to provide resources for parents, but at its core, My TOWN is really about mobilization. Are you actively talking to your child about the dangers of substance abuse? Students, are you actively avoiding compromising situations? Communities, are you banding together to promote healthy choices? Most people don't know where to begin and that's where My TOWN hopes to be involved. After a year of surveys, planning, recruiting, and brainstorming, Weber is hoping this year will hold a great deal of follow-through and community involvement.
On September 5, My TOWN will be visiting Hoquiam High School's first at-home football game of the season. They'll have opportunities for people to participate in the latest survey, examples of questions for parents to ask their kids, wristbands, and t-shirts. Weber explains that talking to kids about drugs and alcohol doesn't have to be a negative thing. Using parental authority to help prevent abuse shouldn't have a stigma around it.
Visit the My TOWN booth on September 5 to gain new perspective, ideas, and motivation to be a part of your community solution. For further information, contact Wilma Weber at mytowncoalition@gmail.com or complete the survey here.