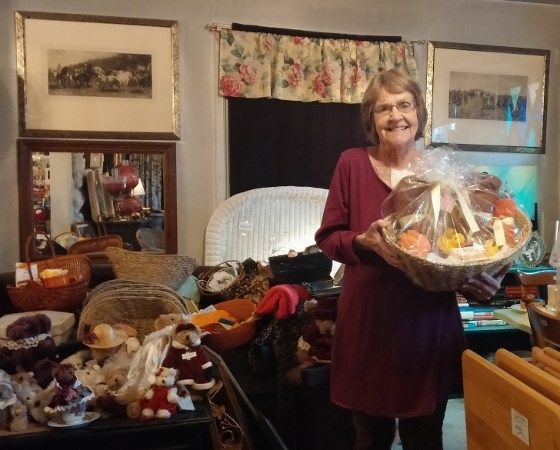 By Lisa Shell

"Kindness and giving, that's what I want my legacy to be. It's not what you take away from the community; it's what you give." – Karol Green.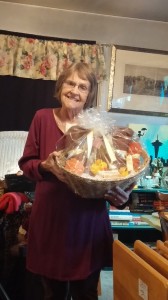 Have you ever been to Karol Green's basket making shop? It's in Karol and Bob's home. For more than 15 years, they have put together gift baskets to give away primarily at Christmas time. The living room serves as a basket central, spread wall-to-wall across tables are gifts, gift-wrap, tissue paper, ribbon, and baskets. It's like a satellite version of Santa's Workshop at the North Pole.
Karol is a visual presentation designer. She creates decorative baskets and gifts them to others.  It's her way of uplifting the lives of people in the community. Karol and her daughter, Kristy, call their enterprise "Basket Blessings." Karol says, "Everyone has something to give, you just have to tap into it!
Specifically, over the past two years Karol has dedicated giving to what she calls the working poor: people working for maybe $9 – $12 an hour; families with young kids. She loads her baskets with specialty items like Frango chocolates, scented candles, fresh hand towels, Starbucks items, Victoria's Secret perfume, and more – so much more.
Basket Blessings donates to local charities like Relay for Life and the Hoquiam Senior Center.  Locals looking for items to raffle off in fundraisers often contact Karol and Kristy seeking donation baskets. But Karol is always on the lookout for someone in need. I am sure you know someone who lives paycheck-to-paycheck, barely scraping by to make ends meet. Maybe a single parent, a shut in, someone on food stamps or some other sort of federal or state assistance. Or, maybe even someone who works endlessly but never buys something extra for themself.
Karol grew up in Aberdeen. Her mother worked in a pharmacy, and her father was a civil engineer. After leaving Aberdeen, she raised her young family in Seattle. Karol and her husband, Bob, moved back to Aberdeen after she survived brain surgery. That was more than 20 years ago.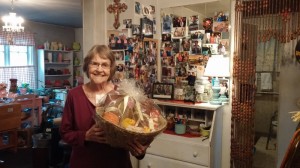 Surviving two brain surgeries, three stomach surgeries, and numerous chemo treatments, Karol Green counts her blessings every day. She finds joy in giving. Some of her friends ask her "why?" Why does this joyful mother and blessed grandmother work tirelessly to shop all year long for just the right items to include in her gift baskets? She is a retired social worker who comes from a strong, faithful Irish Catholic family, and she believes in kindness, giving, and sharing joy.
The decorative basket making helps to keep her mind off her cancer, and it gives her joy. She used to do it just at Christmas, but now she does it all year long in her house. If she can't sleep, she makes baskets; if she's worried about her husband – who also happens to have a slow-growing stomach cancer – she makes baskets.
Karol says she is on a cancer journey. Along the way, she's staying positive and is ever so thankful for all her blessings. Her open house is on Christmas Eve. You are welcome to share some Christmas spirit and catch a glimpse of Karol's laughter and smile. Then maybe drive over to midnight mass.
I find myself mostly just thankful to know such a giving, kind and joyous lady. Karol's light is one that shines through adversity. I for one will try to find my joy everyday – even if it's hiding under the couch. If Karol can find it, hey, so can I.  Basket Blessings is thankful for the donations they receive. Donate anytime by calling Karol at 360-533-7134.