By Rachel Ayres, Montesano High School Intern to GraysHarborTalk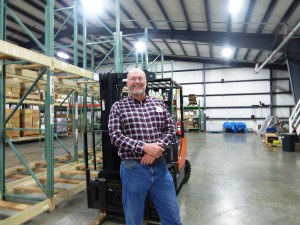 The facts are ominous. The state average for impoverished children is 19 percent, while Grays Harbor's average is a saddening 30 percent – with between one-in-three and one-in-four of those children living without access to nutritious foods. It is because of this that Coastal Harvest, a food distribution center supplying hunger relief agencies across Southwestern Washington, exists.
"If you want a sobering exercise, go sit at a playground and count kids…looking at faces…  'One, two, three and you are hungry. One, two, three, and you get plain noodles for dinner.' It'll break your heart," said Anthony Airhart, Coastal Harvest's executive director and a fourth generation Harborite. "[Before taking this job] I didn't realize there was such a need. Those who don't experience the need for food often don't recognize it."
Coastal Harvest, located in Hoquiam, operates in a large warehouse that is literally filled with tons of food. For more than 28 years, Coastal Harvest has been serving food banks all throughout Southwestern Washington.
"We are not a food bank," emphasized Airhart who along with Coastal Harvest's Board of Directors, heads up the operation at Coastal Harvest.
With a great need for food banks and feeding services on the Harbor and in Southwestern Washington, Coastal Harvest is the "middle man" between big hunger relief organizations and small town operations. "So our mission is to feed people, but we do that by supporting the agencies who deal with the public face-to-face," said Airhart.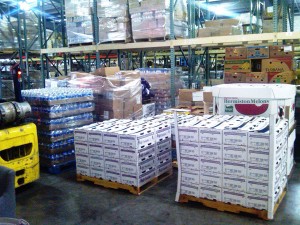 Last year Coastal Harvest distributed 3.5 million pounds of food to more than 50 food banks and other programs such as feeding services and senior centers in Southwestern Washington, including 19 in Grays Harbor County. Most of the food distributed are staples such as potatoes, oats, rice, onions, tomato sauce, and pasta.
One unique donation comes from the state's fish hatchery project. The salmon fillets and patties that are donated offer a great source of protein that helps tremendously. "Coastal Harvest would have a hard time being able to replace that much great protein," said Andrea Todd. Todd is the executive assistant at Coastal Harvest, and one of the seven employees who work there.
Each month the participating food banks send Coastal Harvest a report of how many people of different ages came to their facility. Then Coastal Harvest knows how much food they need to distribute or "dish out" to the organizations. "We tell them that they all own a share of this," said Airhart.
Coastal Harvest partners with programs such as Northwest Harvest and the Independent Food Distribution Network that provides food to many distribution centers across Washington. Every month, three semi-trucks drive to Kent to pick up food from Northwest Harvest and take it back to their distribution center. Back in the Grays Harbor warehouse, the process of breaking down food that is in bulk occurs. With three days of the month dedicated to receiving food from Northwest Harvest, two weeks are spent delivering food to the many food banks throughout Southwestern Washington. Another thing that goes on in the expansive warehouse is volunteers spending Tuesday mornings repacking food – "as much as a quarter million pounds of food in a year" – into family size quantities, which is then also distributed.
Coastal Harvest was born out of the economic crisis that hit the Pacific Northwest's timber and mill towns after the Spotted owl was listed as an endangered species. In 1986, Jim Coates founded the organization and served as its director for many years. It's been in operation ever since and was especially useful to the Harbor and the other locations it serves during the start of the recession in 2007 and 2008.
At present, there aren't as many recipients of Coastal Harvest as in the past, which is a good thing. Though, statistics show a trend that the people who do receive food now need to come more regularly. Coastal Harvest, along with the food banks it serves, always has the policy of feeding anyone who asks.
One thing Coastal Harvest has also taken on is providing a mobile food bank for the communities in Pacific Beach and Taholah. The need is especially great in these communities, so many people benefit from the once a month food truck advertising Coastal Harvest's name on the side.
"We are unusual in many ways," said Airhart, surveying the vast warehouse. "We can accept huge donations, which food banks would have to turn down, because we can take it all and store it and divide it up… They struggle to stay viable as it is. If they had to add trucking costs or other work to their programs, some would close."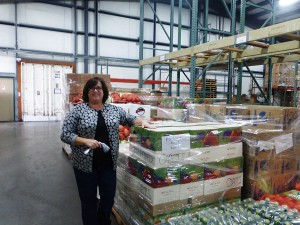 "Money is by far the most critical [donation]," said Airhart. One unique way that donations can be collected for hunger relief efforts in Washington is on utility bills. In Aberdeen and Hoquiam, there is a place on your utility bill where you can indicate that you want to donate money to hunger relief, which goes to help operations like Coastal Harvest. For this to be possible, it took one legislative session to change the law, and an amazing 100 percent passing vote. The donations from this source and others – like Montesano and Aberdeen High Schools' Foodball and Montesano and Emal High Schools' Foodbowl – are always helping Coastal Harvest distribute more food to more people.
Coastal Harvest is starting to become more recognized in communities, not only in Grays Harbor, but in all seven counties it serves. It takes a lot of hard work and effort to keep an operation like this one going. Airhart said, "I like it because we work as a team and are passionate about what we do. [We] could be making much more money somewhere else, but [we] choose to stay here, making it a good place to work and help the community."