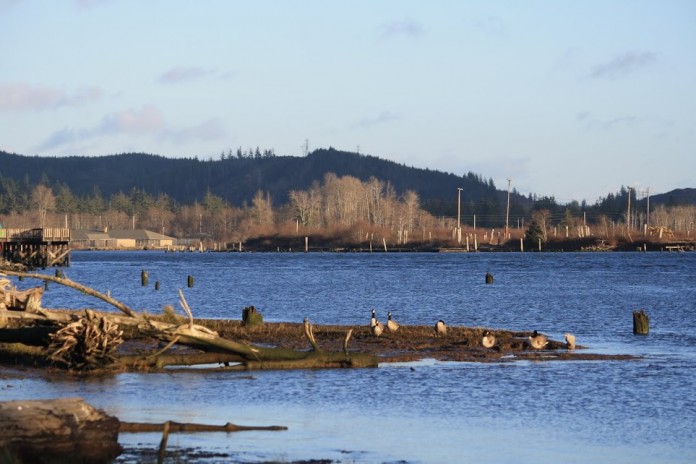 Submitted by Grays Harbor Emergency Management
At this time the County Emergency Operations Center is staffed in Montesano and is working to assist all local jurisdictions through the end of the rain event.
There was concern about the drinking water in Hoquiam & Aberdeen. After contacting both jurisdictions, the drinking water is SAFE to use.
There were extreme amounts of rain over the last 24-36 hours which has caused numerous landslides and water on many city streets. The rain is subsiding and is expected to end by early evening.
All rivers rose during the rain event. The Satsop River & the Chehalis River are expected to reach flood stage but will only have minor flooding. The Wynoochee River and the Humptulips River are receding.
Concerns are the high tide in Aberdeen at 12:49 today which will slow the drainage of water from all areas. WSDOT, county and city road crews are on location at all incidents and are evaluating the situations.
Please DO NOT CALL 911 unless you have a true emergency. If you need information, please call Grays Harbor Emergency Management at 360 249-3911.
CURRENT ROAD CONDITIONS
The Aberdeen Bluff on State Route 12 is closed due to a landslide. WSDOT is on scene and actively working to clear the slide
US 101 at mm 73, 74 closed due to slide
US 101 S of Ocean Beach RD closed due to slide
State Route 109 , Moclips at the river –closed
Moclips Hwy , mm9 – closed
State Route 109 bypass, mm2 – closed
E Satsop Rd at mm 5.3 – closed due to slide
Wishkah Rd at mm 6 – closed due to water
E. Aberdeen Streets & South Aberdeen Streets closed due to high water – closed
Beacon Hill, Hoquiam – closed
2500 blk of Queets Rd, Hoquiam, closed due to landslides
Johns River Rd, mm 2 –closed due to high water