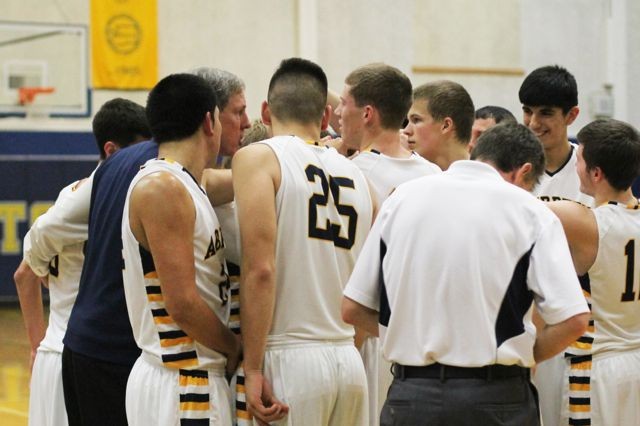 By Gail Wood

A decade from now, when Addam Follett, the Aberdeen High School Bobcats' sharp-shooting guard, reflects on his senior season, this is what he'll probably remember most.
It won't be all the victories, when after winning just seven games his junior year they started off his senior season 15-1. And it won't be his go-to, scorer's role when he averaged about 24 points a game.
While the winning and scoring are important, it will be when his teammates huddle around their coach – Leonard Barnes. When everyone's hand goes up, touching and they say, "Family" as they break the huddle. They break every huddle, whether at practice or at a game, with the same word.
"We are like a family," said Follett, a returning starter. "We're close."
That is the approach Barnes preaches. This Aberdeen Bobcat team wins together and they lose together. Most of all, they play hard together.
"I feel like we're more like a family," said Victor Gomez, a 6-foot-1 sophomore forward. "No one's worried about stats."
It's not that Barnes isn't driven to win. That's in his DNA. He won a state title his senior year at East Bremerton High School in 1975. At Grays Harbor College in the late 1990s, he turned a winless team the year before he arrived as coach into a playoff team. Then he won a couple of league titles and several trips to nationals while he was an assistant coach with The Evergreen State College in the mid-2000s.
Now, as Barnes instructs his players how to shoot a jump hook or how to screen out for a rebound, he tells them something about life. For Barnes, coaching isn't just about the final score.
"I like not to just coach, but I really like giving back to the kids," said Barnes, who is in his fourth season as the Bobcats head coach. "I like helping provide a good foundation for them to learn life lessons. Here, we really stress family. We've got your back."
One of the ways Barnes accomplishes this is by having a 90-minute study table after school on Mondays and Wednesdays. Most of the team shows up, ready to do their homework. And, because of Barnes' big-hearted nature, eat. For each study table throughout the season, Barnes' wife, Kris, brings either a couple of pizzas or some foot-long Subway sandwiches.
"It's not just about basketball for Leonard," Kris said. "Of course, we want to win, but there's more to it."
Kris, who is the Office Manager at Ingram, Zelasko and Goodwin, shows up with the grub at about 3:30 p.m. for the after-school study periods. Usually, about 15 players show up. Then at 5:30 p.m., everyone heads to basketball practice.
"The study period isn't just for kids who need it," said Barnes, who is the Deputy Executive Director of the Port of Grays Harbor. "We have 4.0 kids on our team and they come. They all do their homework. Right now, one of the things I'm most proud of is the GPA of all three of our squads. We don't have any eligibility problems anymore."
Besides the study-table snacks, Leonard and Kris often bring the team together for a Saturday morning breakfast. They've also helped someone get a tux for a formal dance.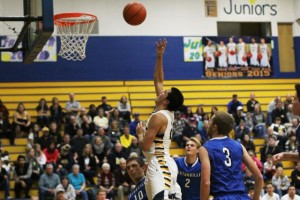 "We really stress family," said Barnes, who has four children and has been married 37 years. "We all have family. This is our basketball family. It's important we build on that. We've got your back."
At Aberdeen, Barnes tells his players "good passing is good shooting." Follett, while his team's leading scorer, isn't just a shooter, always the one ready to pop the shot.
"If they have a better shot, I'll pass," Follett said. "I like to pass more."
Aberdeen has three players averaging around 10 points, making it easier for Follett. Payton Campbell, a junior point guard, is averaging a double-double in assists and rebounds. In a recent win, the Bobcats had 26 assists and just 10 turnovers.
"That's what we're about," said Barnes, who is high energy as he coaches at practice. "We share the ball. We've a lot of guys who can score. Addam is the exception. He can really light it up."
Everyone has a role.
"I'm not the scorer. I'm the assist disher," said Cole Edwards, a senior point guard. "We've been playing together for a long time. We know each other. We get along."
Barnes is constantly telling his players that "success is a choice."
"He tells us that your work ethic will get you where you want to be," said Austin Floch, a senior guard. "So, we've been working really hard, pushing ourselves."
Another big part of Aberdeen's success has been rooted in its defense.
"Our defense feeds our offense," Follett said.
Even after a 7-win season last year, Follett came into this season optimistic.
"Since my freshman year, I've been saying to people wait until my senior year," Follett said. "We've been playing together on AAU teams since fourth grade. I told people we were going to win a state championship my senior year. That's what we want to do."
Special thanks to Angela Deanne Photography for the game shots.