By Madi Ivey, North Beach High School Intern
This year saw a lot of increase in numbers at North Beach High School (NBHS), specifically those participating in sporting events, pep assembly activities, and overall school spirit. You could say that the school's Associated Student Body (ASB) is responsible for these changes, but in order to give credit where credit is due, you'd have to thank NBHS' ASB president, senior Hadley Moore.
"I'd never really thought of running," Hadley says regarding her ASB presidency. She had always been "kind of shy," and it wasn't until a meeting with Vice Principal Wendy McCoy that the idea even crossed Hadley's mind. It was Mrs. McCoy that told her she thought Hadley would make a great candidate for the position, and that it would be good for her to run. At first, the position intimidated Hadley, but she says it has ultimately helped her to come out of her shell and get involved. Her original goal, when she made the decision to run, was to increase levels of school pride and spirit – a goal she has noticeably accomplished.
Hadley will be attending her dream school, Western Washington University, in the fall. She plans on majoring in early childhood education, minoring in secondary education, and eventually obtaining her masters in early childhood development. Hadley's decision to attend Western comes from her older brother who currently lives in Bellingham and her family's history with the school. Both of her parents graduated from Western. "I love the area," Hadley says.  "And, they have a really good teaching program."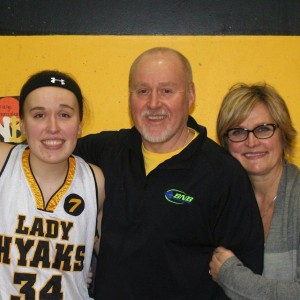 Ultimately, Hadley's career goal is to teach preschool or kindergarten students. "I'd also like to be able to have the option of teaching any grade in elementary school," she says. Hadley has always liked young children and feels confident in her ability to build relationships with them that encourage positivity and learning. "I just want to teach kids to dream big and that they can achieve anything at an early age," she adds.
Hadley's experience with young children stems from her community service, which includes being a Little Dribbler's coach, volunteering at Ocean Shores Elementary as an assistant to the teachers, and job shadowing at the preschool.
Hadley says, without hesitation, that her parents and older brother have been her biggest and most positive influences as far as she can remember. "My parents have always pushed me in life and told me I could do anything I set my mind to. They've always been really supportive of me," she says. "And my brother has always been really hard on me, and it's always motivated me to do better."
I asked Hadley was how she hoped to be remembered by her peers after she graduates. "I want to be remembered as a good person, and a positive influence," she says. "I want to inspire and motivate people to get involved."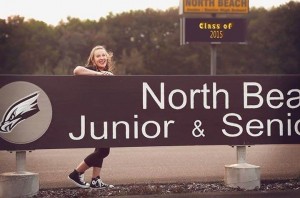 I've known Hadley since before I'd blown out the candle in my first birthday cake. Hadley is the definition of what we as students at North Beach should all aspire to be. When Hadley sets her mind to something, she gets it done. I can remember sitting in on an impromptu meeting between Hadley and Mrs. McCoy. They were discussing ideas for making pep assemblies more student-friendly and fun. Hadley not only came up with some great ideas, but acted on them as well. I can say from a student perspective that pep assemblies at North Beach have been greatly improved since Hadley's election.
Hadley's patient and kind nature are what make her the inspirational person she is and the wonderful teacher she will become.