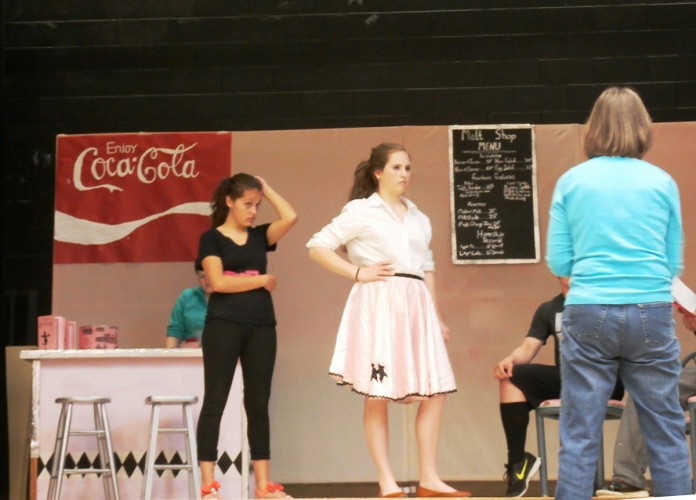 By Rachel Ayres, Montesano High School Intern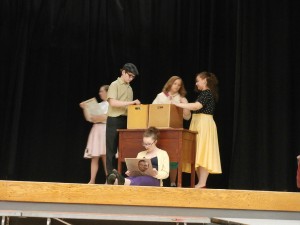 Theater is magic they say, but a production with approximately 50 7th through 12th grade students doesn't just come together with a simple wave of a wand. "Time, patience, creativity, vision, persistence, as well as fortitude all went into the making of this show," said Drama Club advisor, Debbie Hornback. The Drama Club at Montesano High School (MHS) will be proudly presenting the musical "Hot Rod" on May 1, 2, and 3 as they head back into the 1950s.
This spring's musical, Hot Rod, has a great story of its own. Set on the premise of the 1950s era of drag racing heroine Peggy Sue McAllister (played by senior Tia Ardnt) who grew up in the "garage."
As the show opens, Peggy Sue has turned from her old days of being a drag racer to becoming a college preppy. Her past and future life conflict, with old and new loves, and a one-upping younger sister. Also, don't forget the mischievous villains Daytona Bob, played by junior Colton Reed, and his no good hunch men. The story develops through song and dance as they just try to make it to the finish line and that good ole' checkered flag.
"Musicals are my favorite. They are so much fun as it keeps you busy on stage dancing and singing," said Tia. The Vice President for Drama Club this year, Tia, and has been participating in productions at MHS since the 8th grade. "I really love theater and everything to do with it."
Mrs. Hornback is the mastermind behind all of the theater productions at MHS. While she has no formal education in drama, she has tons of experience. When her three daughters first started participating in theater as kids, Mrs. Hornback and her family all got involved with drama and haven't looked back. "It's kind of ironic that the only acting part I've ever had in my life was one I got when I took my oldest daughter for an audition….and they asked me to be the lead! At least I was able to experience what I ask my cast to go through. It's not easy."
Mrs. Hornback — along with being a piano teacher, an accompanist at her church, and the Elma High School music tech — has been the MHS Drama advisor since 2007.
Preparing for this play started months ago when the MHS Drama Club officers, along with Mrs. Hornback, decided which musical to present. "Then began the process of envisioning the backdrops, props, and sets that will work on our stage, as well as a starting on costuming, learning music, and getting choreography figured out," said Mrs. Hornback. She, as well as her daughter, Stephanie started the audition process in February which led into an intense rehearsal phase.
Especially during the crazy busy spring sport season, getting the cast together for rehearsals can be very difficult. But, it will all come together by opening night, thanks to tons of hard work on everyone's part.
"It's great to see a show finally all put together and play to a live audience and the cast feeling the satisfaction of a job well done," said Mrs. Hornback.
"Probably the fact of how even though how crazy it can be, it all pulls together in the end is my favorite part of MHS Drama productions," said Colton, who has been in MHS Drama for 5 years. "Acting for me is about expression and something I really like to do."
The MHS Drama Club is a special opportunity for students to be a part of something that will help them throughout life. "They gain confidence, learn to work as a team, and stretch their knowledge base with classical literature and historical genres which brings history and literature to life for them."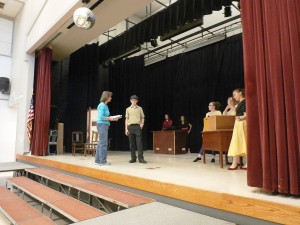 Also, during the school year, the Drama Club is out in the community, helping with the MHS annual Haunted Halls event on Halloween, and sometimes making visits to senior citizens and to elementary age students as a club. Trips to see professional performances at either the Paramount or 5th Avenue Theater in Seattle are also always on the calendar for the Drama Club members.
One of the things Mrs. Hornback likes about the club is that "everyone is treated as an equal and shares the same goal — to put on a great show. We have a very diverse cross section of the student body and they see how differences are celebrated within the theater." It is a big "drama family." That makes it particularly hard and emotional for the seniors and exchange students when the last curtain falls.
So, are you ready to go back into the 1950s? "Hot Rod" will be performed on at 7:00 p.m. on May 1 and 2 and at 2:00 p.m on May 3 in the MHS commons. Tickets are available at Valu Drug in Montesano and at Montesano High School. Advance ticket prices are $8 for adults and $5 for students and seniors. Tickets at the door are priced at $10 for adults and $8 for students and seniors.
And, as the opening number of the musical so clearly states through '50s slang, "Be there or be square!"