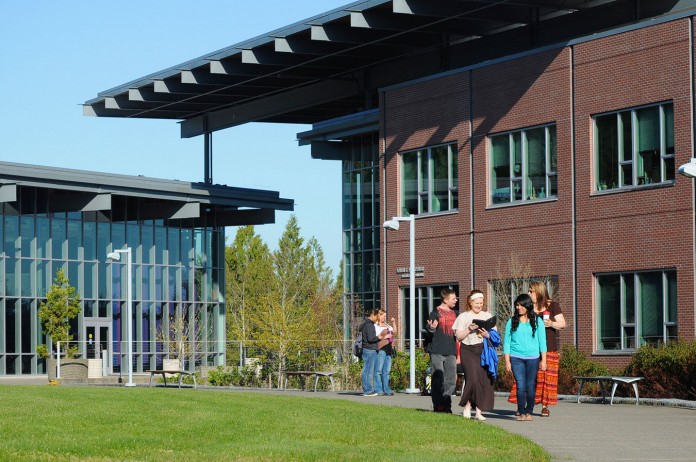 By April Duncan, Elma High School Intern
Want to get more than a high school education in high school? If you're going to be a high school junior or senior next school year and attend a school in the Grays Harbor area, now is a great time to begin exploring the Grays Harbor College Running Start program.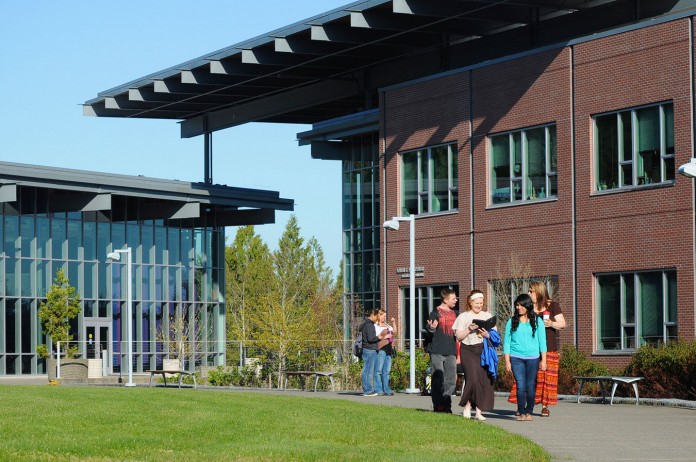 Since 1990, the Running Start program at Grays Harbor College has been a way for students to gain college credit while still in high school. There are currently 200 Running Start students from high schools across Grays Harbor and Pacific Counties attending Grays Harbor College. They are benefitting from this cost effective and educational experience. Through the program, students able to earn college credits before they graduate from high school, and some students achieve an associates degree at the same time as a high school diploma. Last year 30 students graduated as Running Start students and another 30 will graduate this year.
Grays Harbor College's Running Start Counselor Vivian Kaylor stresses that students must be able to handle the extra workload and be mature enough to know when to ask for help. "This isn't for everyone. Simply not all students are ready for college yet," says Kaylor. It's important for future Running Start students to understand this if they want to be successful in the program.
Kaylor has been a Running Start counselor since 2006. Her job is to direct students along the path to achieving their goals. She enjoys providing guidance to students as they navigate their way through the program. More than anything, Kaylor says she loves seeing students challenge themselves and feel the confidence of experiencing their success in college.
Yutaka Hager is a Running Start student who plans on being a screenwriter. He is happy about the affordable option of this program and the financial aid he is able to receive. The program has helped him learn about the outside world and how to be professional in our society.
Hager wishes to tell current high school students, "Don't look backwards. It's hard, but if you truly want to learn and are willing to commit time and energy to this area of life, you will finish well."
How to Get Started
Running Start meetings have already started at high schools across Grays Harbor. If you've missed one at your school, go speak with your high school counselor. He or she will undoubtedly have the information you need. You can also visit Grays Harbor College's website for more details.
Once you've decided that Running Start is right for you, the next step in the enrollment process is taking the $10 placement test. Bring photo identification and plan to be at the college for at least two hours. This test is completely untimed and can be retaken as many times as desired.
After passing the test, make an appointment with Kaylor to discuss registration. From there your classes and books can be selected. Call the Student Support Center at 360-538-4099 to make an appointment or to clarify information.
Options and Opportunities
"Do not hesitate," states North Beach High School senior and Grays Harbor College Running Start student Nicklaus Falley. "I would hate for anyone to miss this opportunity…. If it doesn't work for you, you can always go back. But once you graduate and regret not doing it, you can't go back."
Falley plans to get his Associates of Art and go to Bates Technical College next school year to become a firefighter or paramedic. He was glad to have the opportunity to further his education in a more affordable and accessible way.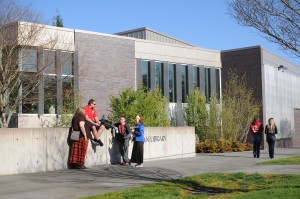 From studying abroad to joining clubs, Running Start students are not limited because they are still in high school. Running Start students can do everything regular college students can do. Talk to Kaylor about these opportunities or attend student orientation this fall to learn more.
Grays Harbor College has many strong technical programs. Whether interested in accounting, automotive, business management, business technology, carpentry, diesel technology, early childhood education, or one of the many other subjects, Running Start students can get a jumpstart on their career.
With courses available online and classes at some high schools, students don't have to travel to Grays Harbor College to participate. Various courses can be taken through Canvas, an online system used by many colleges and universities.
If you do travel to campus, sometimes the cost of travel to and from classes can be a hardship. To help students with this challenge, Grays Harbor College currently offers free bus passes and parking passes at the Business Office on campus. Any Grays Harbor College student, Running Start or otherwise, is eligible for this benefit.
Kaylor says each year she visits 20 19-16 different schools in the Grays Harbor area to provide information about the Grays Harbor College Running Start program. If you're interested in learning more or want to enroll, talk to your high school counselor today and see if this program is right for you.