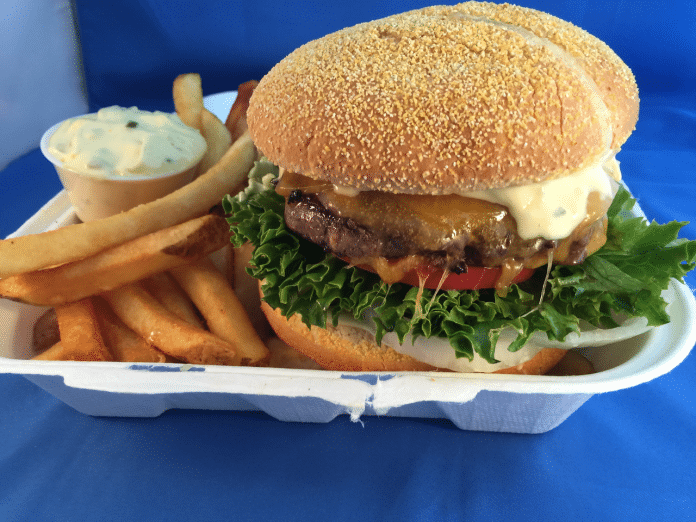 By Rachel Monroe
Montesano residents were disappointed when the popular Gene's Stop and Go closed its doors in 2013. The burger stand had been a favorite destination among locals for decades. However, thanks to the hard work and dedication of Raymond Meyers, the restaurant is now bustling and back in business.
Taking a Chance on a Dream
For Raymond Meyers, owning a restaurant was a long-time dream, but it took a dangerous, life-threatening illness and the encouragement of his wife, Colleen, to finally convince him to take the plunge and become a restaurant owner. Meyers explains that just prior to Christmas in 2013, he had quintuple-bypass heart surgery. After the surgical site became infected, three more surgeries followed. Both his liver and kidneys shut down. Miraculously, he began to recover. "[I] was on a regimen of every antibiotic currently available for six weeks," he says.
Over the course of his recovery, Colleen suggested he purchase the then-available Gene's Stop and Go building. Meyers recalls his wife saying, "You always wanted a restaurant, and you're not getting any younger."
The Meyers purchased the burger stand in December 2014 and began renovations. "The electrical system of the entire building is new," says Meyers. "There's new plumbing, new floors, new wall coatings, new equipment, new fixtures and new windows." They also added several fresh features including a customer restroom that is wheel-chair accessible, an employee restroom and some extra storage space. Next came up-to-date equipment. "We've added a brand new soft serve machine, ice cream machine, new freezer and four new refrigerators," Meyers states. "We have a new HVAC system, new ventilation hood, new lighting and we got the parking lot repaved."
Open for Business
After months of hard work, Gene's Stop and Go opened for business on Memorial Day weekend, 2015. "It was a zoo," Meyers recalled. "Lots of people came for food. More than we were prepared for." Opening weekend was just the start of the diner's success, with Meyers and his crew struggling to keep food and supplies in stock for several weeks.
One contributing factor to Gene's instant popularity is that it allows many Montesano residents to fondly revisit the past. "We're busy with a lot of people reliving childhood memories," Meyers says. "Gene's needs to be true to memories people have of the original Gene's, and right now we are doing that." Having grown up in Montesano, Meyers shares that bringing Gene's back to life has enabled him to relive some of his own special childhood memories as well.
Montesano residents and city officials have been extremely supportive of Meyers' venture and are thrilled to see Gene's back in business. "The City of Montesano government and public service have been excellent to us since we started," Meyers says. "We've had excellent interactions with numerous city officials including the mayor, police chief and fire chief, to name just a few."
Learning Along the Way
Although it's clear Meyers has what it takes to operate a successful restaurant, he admits that it's been a learning process and appreciates his employees' patience. "We've messed up about everything you can mess up," he says, grinning. "Ordering, scheduling, equipment issues, pay, operating the till, you name it. Our employees just keep on going, in spite of the bosses looking puzzled."
Meyers says despite having spent the past 39 years working in nuclear power, he came into the restaurant biz with some knowledge of the industry. "I started at Pizza Pete in Aberdeen, Swaneze, Rib Eye and Country Kitchen," he says. "I also worked in restaurants from time to time after leaving Montesano in the late '70s. In those years, I washed dishes, cooked, bussed tables, waited tables and learned some great recipes for salad dressings." While building the perfect burger requires a different skillset than responding to a radioactive dirty bomb, Meyers and his wife, who also specializes in nuclear power and owns her own consulting firm, are learning more with every passing day.
A Business with a Mission
Offering superior, accommodating service and high-quality food is something Meyers takes seriously. "We want to serve food that looks and smells as good as it tastes," he says. "Our burgers look like they're posing for ads. That's on purpose."
In an effort to create a customer-centered atmosphere, Meyers says that making a profit isn't his highest priority. "The main goal is to provide an overall experience you remember and want again," he says. "That's the music, the day of the week, the weather and the economy as well as the service and the quality of the food. We want to make every aspect we can control as good as it can be. Profit will work itself out if we get the rest of it right."
If you live in or are visiting the city of Montesano, stop by Gene's Stop and Go for a mouth-watering burger, tasty milkshake or delectable soft-serve ice cream cone. You can also join their Facebook fan page that already has over 2,200 likes by visiting www.facebook.com/genesburgers.