"Parting is such sweet sorrow…" – Juliet, William Shakespeare's "Romeo and Juliet."
Goodbyes are hard. They are especially difficult when we part ways with someone who has had a positive impact on our community and our own lives. This was evident on August 7 when the community bid farewell to Olympia Orthopaedic Associates Sports Medicine Physician Dr. Leyen Vu. Since 2012, Dr. Vu has helped build the Sports Medicine Clinic at Oly Ortho, shaping the future of this Olympia-based medical group.
A graduate of Capital High School and standout varsity athlete, Dr. Vu is truly a local. Dr. Vu earned his undergrad degree at the University of Washington, and he obtained his MD at Arizona College of Osteopathic Medicine. He returned to Olympia's Providence St. Peter Hospital, to complete his residency. He has continued to partner with the hospital while mentoring residents over the last three years.
St. Peter Family Medicine Chief Resident, Dr. Jordan Abel, says, "The family medicine residents at Providence St. Peter Hospital would like to thank Leyen. His knowledge, leadership, and passion make him a great teacher and mentor. He will be missed greatly, but we wish him the best as he moves forward in his career."
"Leyen has been a great teacher for our residents and a wonderful friend to me," says St. Peter Family Medicine program director and University of Washington residency program clinical associate professor, Dr. Devin Sawyer. "He is a dedicated, dynamic, intelligent individual who is a credit to his community. What's more, he is a skilled and compassionate family physician."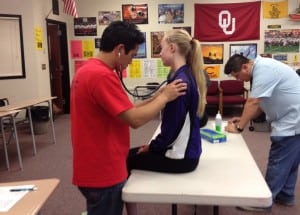 Dr. Vu found a home for his skills and passion at Olympia Orthopaedic Associates. "When I joined Oly Ortho, they had a vision for a Sports Medicine Center with rapid access for orthopeadic injuries in a clinic setting," he says. "These were two of the things I was interested in after completing my sports medicine fellowship, so it was a perfect fit."
Since 2012, a strong bond has formed among local school athletic programs and the Sports Medicine Clinic. Dr. Tracy Hamblin joined Dr. Vu last October and the two have partnered with Saint Martin's University and The Evergreen State College as well as high schools, caring for kids. "It is one of the most fun and rewarding parts of my job," Dr. Vu shares. "I like the energy the kids bring — their motivation to get well."
Dr. Hamblin shares, "I worked closely with North Thurston High School last year and will expand to more local high schools this fall." She got to know the athletes and coaches by attending games and practices when possible. "I established a rapport with the coaches and trainers at the games. It's a real team approach allowing us all to be on the same page for an athlete's care." Students also feel more comfortable when they know their doctor. When injuries do occur, seeking the Oly Ortho sports medicine team's advice feels like working with someone on their team.
Health, Fitness and Athletic Program Director for the Olympia School District, Jeff Carpenter, says Dr. Vu and the entire sports medicine team at Oly Ortho have been an asset to the entire school district. "Over the years, Leyen has been a great asset and support to all Olympia School District athletic programs. His personal efforts to provide care for injured athletes combined with training of coaches and work at our Free Sports Physicals has not only help students but our entire program. He will be missed."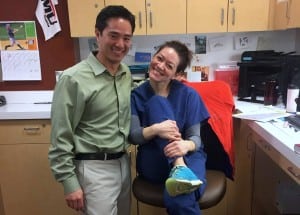 Dr. Vu's has already started his new job at Washington State University as a primary care physician. In addition, he says, "I will be one of four physicians in the athletic department working with the WSU sports teams," He can hardly contain his smile.
"I am happy for Dr. Vu's exciting new opportunity and I feel very fortunate to have had the chance to work with such a great clinician and person over the past several years," says Dr. Kelly Golob, owner of Tumwater Chiropractic Center. "I wish Dr. Vu great success with his new job over in Pullman, and I wish that he could find a way to clone himself so he can come back here and still practice in Olympia."
While Dr. Vu can't be cloned, Oly Ortho is excited to welcome another UW Husky to the Sports Medicine Clinic — Dr. Dominic Femiano. Dr. Femiano will join with Dr. Hamblin in serving South Sound patients with sports-related injuries as well as picking up where Dr. Vu left off: partnering with schools.
Working with athletes is second nature to Dr. Femiano. He served as a Seattle Storm (WNBA) team physician, University of Washington Athletics team physician, Seattle Marathon assistant medical director, and Seattle Rock 'n' Roll Marathon medical captain.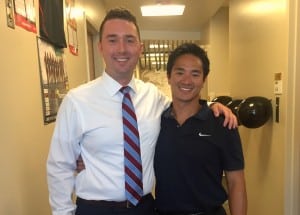 One community partner who will miss Dr. Vu is Regional Business Manager for South Sound Physical and Hand Therapy, Kim Stamp. "I have had the opportunity to work with Dr. Vu in a few medical tents over the past couple of years, and it has been a joy," she says. "There is much to be said for his professional skills but, I am even more impressed with who he is as a person. Seeing the way he engages with both patients and colleagues has been impressive to watch. Thanks for all you've done in this community, Leyen, and thank you for sharing yourself with so many."
Drs. Hamblin and Femiano are ready to take the torch that was lit so brightly three years ago by Dr. Vu and continue to provide support, care and partnership to athletes in the community. "Dr. Vu helped Oly Ortho build this clinic and we will keep it growing," promises Dr. Hamblin.
Dr. Hamblin is ready to launch the next chapter of the Olympia Orthopaedic Associates Sports Medicine Clinic and to welcome Dr. Femiano in October 2015. They both look forward to getting back on the field, and into the clinic, creating relationships and healthy athletes throughout the area.