By Chelsea Royer

Valerie Fox-Armes' fascination with artistry began as a young girl. "We had art supplies everywhere growing up. My mother made many of our clothes and much of my passion for art came from my mom," says Valerie. Now, many years later, Valerie is inspiring others with her own homemade creations. Her favorite of which involve dyeing yarns and silk in the upstairs studio of her home.
"I fell into the hobby by accident. I used to do pen and ink drawings and when I turned 40, came up with a design and looked up silk screening on a website. I accidently stumbled upon the art of silk painting and bought a starter kit. My husband built me the frames I needed because he's an enabler," Valerie chuckled. "It's all his fault. Crafting supplies are now all over my house."
Valerie now owns a dyeing business named, Fiber Play. She works with other fiber artists, like Lynn Lypski, who spin their own yarns, and dye these quality fibers in vibrant colors. She also enjoys the art of Shibori, which Valerie describes as the "classy, great, great grandma of tie-dyeing. It is an old Japanese technique."
Valerie is a member of the Schafer Meadows Art Guild along with Lynn and dozens of other members. These two talented women are the co-coordinators of the upcoming Schafer Meadows Fiber Arts Festival. "It's our 12th festival this year," says Lynn. "It's grown a lot in the last decade and we will be partnering with the Alpaca Ranchers of the Northwest. They will be in the building with a couple of alpacas and represent the husbandry of alpacas and where some of the fiber arts begin."
The Fiber Arts Festival will showcase the talents of Lynn and Valerie as well as that of twenty other vendors. It's not just your typical craft fair. These vendors are jury reviewed upon application and chosen based on artistry. "It's about quality more than quantity of vendors. We have a strong emphasis on talent and uniqueness. It's not about crafts, it's about craftsmanship," explains Lynn.
These fiber artists represent just about every fiber art you can come up with. If they don't practice the craft themselves, they at least know someone who does and they are excited to help interested parties learn how to do it themselves.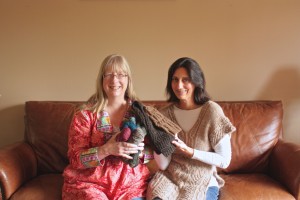 "There are hundreds of years of knowledge within the guild," explains Lynn. "These are becoming lost arts and the guild is full of people who passionately don't want the arts to be lost. The Fiber Arts Festival is not just about selling product, but about educating the community about the arts and why they are important to preserve. We are there to answer questions and help those who are self-taught and may need guidance on their craft."
"What I love about the arts, is that you can take ten people and give them the same materials and end up with ten different projects," adds Valerie.  She is excited for the opportunity to see this exemplified at the Fiber Arts Festival where there will be make-and-take art projects. The entire event is free for the community, as are the projects. "All the supplies were donated and we have easy to intermediate projects as well as activities for kids. It will give people an opportunity to learn and experience the fiber arts and maybe even spark a passion for it," says Valerie excitedly.
"The more you try, the more you learn, the more curious you are and the more you do. It takes time and patience that, in a digital age, we rarely practice. There are so many right ways of doing a craft with many techniques available to those who want to learn," reflects Valerie, who learned knitting with a different technique than most people.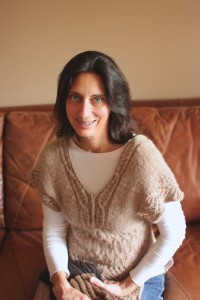 Lynn's love of fiber art extends to educating the community as well as raising alpacas for fiber purposes and working as a full-time spinner for other yarn businesses throughout the state. But more than yarn, Lynn is passionate about seeing artists of all types preserve their craft and build their trade. "This festival is not quaint, it's creative. There are many different types of artists at this show who will be selling word-work, homemade baskets, soaps, etc. There will be opportunities to purchase supplies to begin your own projects or buy something made by the artists themselves. We will have a raffle and pumpkin hunt and activities for kids. It is an awesome opportunity to shop local."
With the holiday season just around the corner, the Schafer Meadows Fiber Arts Festival is a great place to purchase local Christmas gifts and support local artists. The show will be held at the Grays Harbor Fairgrounds Exhibit Hall. on October 9-11.
Hours:
Friday, October 9: 12:00 – 5:00 p.m.
Saturday, October 10: 10:00 a.m. – 5:00 p.m.
Sunday, October 11: 11:00 a.m. – 4:00 p.m.
Admission is free!