Roofs and roads wore frosted pajamas the morning we drove an ice-slicked ribbon of Grays Harbor asphalt. A lonely road in north Hoquiam, Youmans Road intersects perseverance, perspicacity, and public service at the corner of one Harbor family.
A three-mile stretch of road in north Hoquiam between Highway 101 and East Hoquiam Road, Youmans Road is named for County Commissioner Roland "Omar" Youmans. He was the driving force behind paving the rough, graveled road and ensuring improved access.
"He dedicated himself to public service," says son and current Grays Harbor County Coroner Lane Youmans. "He raised two sons and we've all spent our whole lives in public service."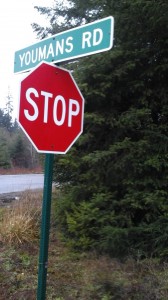 Grays Harbor Public Services Director Kevin Varness agrees. "There's a lot of public service in that family. Mr. Youmans was a pretty amazing guy. He had honesty and integrity. He was a great guy to work with."
A Lifetime of Public Service
Born in Canada, Youmans came to America in 1923. Sons Lane and Paul were raised in Hoquiam. While the elder Youmans' given name was Roland, he was nicknamed Omar because he ran and owned an upholstery store in Hoquiam. "It was like Omar the tent maker," chuckles son Lane Youmans.
A Navy vet, Omar Youmans served as a fireman aboard the U.S.S. New Mexico during World War II. "He saw a lot of action in the South Pacific, including kamikaze attacks," says Lane of his father's war service.
Omar's service didn't stop with the military. After the war, he ran for and won a seat on the Hoquiam City Council in 1958. He ran for Hoquiam mayor in 1960 and served in that capacity until 1968, when he ran for and won a seat on the Grays Harbor County Commission.
Omar's two sons, Lane and Paul, have also made public service their careers. Lane Youmans is a retired detective and current county coroner. Now with the Pathways 20/20 program in Longview, Paul has 25 years of experience managing non-profit organizations, including prior service running the Community Action Program in Aberdeen.
Public service includes action, and Omar was keen on developing the rough road into something more accessible and useable.
"He was into sanitary refills," explains Lane. "He wanted to get a sanitary landfill on that road as a transfer station. It was a pet project he worked on for years. He would even visit sanitary landfills in other counties to see how they operate." A paved road with improved access was key to this vision.
Turning Gravel into Pavement
"It was a really rough road way back then," says Lane. "It was mostly gravel. Whenever the county had extra money, they'd divert some to the road."
The project took years.
"Over the years it was a gravel road that paralleled the power lines," explains Varness. "Commissioners were commissioners of the road districts back then. Commissioner Youmans always wanted it to be a paved road. Depending on the budget, they paved a bit here and a bit there over the years."
County Engineer Russell Esses comments, "Omar was the driving force behind making it a public through-road. In 1966, a large timber company wanted to put a one-way gravel road and a bridge over the Hoquiam River. It was called 'Power Line Road,' unofficially. It was still gravel, you could go about 10 – 15 mph. It was privately maintained back then."
The push to make it a public road started in the late 1970s. The county took over maintenance and grading in 1977, according to Esses.
During the 1980s, county crews widened the road into two lanes and added proper ditching and new culverts. "Rayonier removed the railroad tracks in the 1980s and the road was straightened out," explains Esses. Now, large chunks of the area are straight-aways. Travelers can easily see why it's sometimes referred to as "pole line" or "power line" road.
"I remember at the time I was a bridge engineer and Mr. Youmans was the driving force in getting the road paved," recalls Esses. "It took roughly 20 years. Prior to that, it was just a gravel road."
Easier Driving Conditions
Youmans' perseverance paid off with a scenic, time-saving drive on a paved road. "It's easier coming out at North Hoquiam on the 101," says Varness. "It's a nice drive and a time-saver."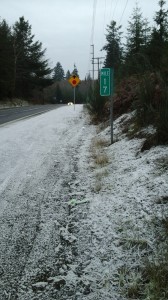 Esses says the route saves him time and traffic headaches. "From my own personal experiences, when I take that route (out of Montesano), it saves me approximately seven minutes. Prior to it being paved, we got a lot of complaints about potholes and wear and tear on vehicles. It's a great route for avoiding Aberdeen and Montesano congestion."
A small section of the East Hoquiam Extension, Youmans Road is the last three miles of road and part of a 20-plus mile route around Aberdeen and Hoquiam. It has also helped the logging and recreation industries by bypassing downtown congestion. The road offers quicker routes for trucks to industry and for tourists to recreational sites such as Lake Quinault.
Omar passed away in 1993. The road was paved in 1997. A private push to rename the last three miles of the road in Youmans' honor began in the late 1990s. Achieving that, a small dedication ceremony took place in 2006 to rename the road in honor of a big man.
Omar Youmans is worth remembering the next time you cruise a lonely stretch of ice-slicked asphalt in north Hoquiam on a frigid December morning – or any time.