Don't be fooled by his young starting lineup. Coach Jon Schray starts four juniors and a sophomore.
But that doesn't mean this young Raymond High School girls basketball team doesn't have game. This isn't a just-wait-until-next-year team. Their record – 15-4 overall, 8-1 in the Pacific B League – says it all. With a sophomore leading them in scoring, they're young talent.

"I was pretty confident we could do well," Schray said. "I think we were 18-6 last season. And we lost out in the districts in a loser out game. We had some high expectations coming into this season."
That's because he's got four returning starters. And Karlee Freeman, the talented sophomore with an improved outside touch to go along with her frenzy fastbreak lay-in skills, has been a scoring machine. The 5'6″ guard is averaging just under 21 points.
"She's a very special kid," Schray said. "Athletically, she has no equals."
Whether it's volleyball, basketball or track, Freeman shines. Two years ago, she was a Junior Olympic national champ in the discus. Last spring, she won a state championship in the discus as a freshman. Recently, she pulled double duty, squeezing in a track meet and a basketball game in the same day. Right after running some 60-yard dashes and tossing the shot put and discus in an indoor track meet, she laced up her basketball sneakers and scored 32 points in a 59-42 win against Tacoma Baptist on Saturday.
"She's a tremendous athlete," Schray said.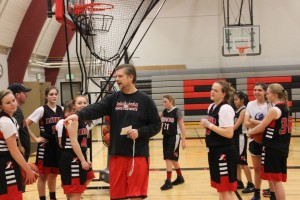 And Freeman's got scoring backup. Aubree Gardner and Cydney Flemetis, two juniors and returning starters, are both averaging just under 10 points a game. They don't care that a younger player leads the team scoring. There's no older sister jealousy here. It's all about winning.
"I think she led us in scoring last year," Gardner said. "We need her. She's been playing with us. We knew she was a good player."
The four juniors who are starting aren't strangers to each other either. They've played on the same team since they were in third grade. Besides Gardner and Flemetis, the other juniors who have been long-time teammates are Mikayla Collins, a 5'7″ forward, and Winter Newman, a 5'6″ forward.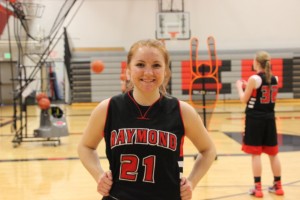 "We've got all that chemistry because we've been playing together for so long," Gardner said. "We're like a family."
Because of all those years of playing on the same team, they know other's strengths and weaknesses.
"We know what we're good at," Flemetis said.
And that's scoring points. This young Raymond team likes to get out and run. They fast break when they can.
"We try to run. We try to fast break," Schray said. "We try to run when we can. Last year that was about 89 percent of our offense. This year it's about 65 percent. Everyone has figured us out this year and they've tried to slow us down. To our credit, we've improved our ability to score in the half-court offense."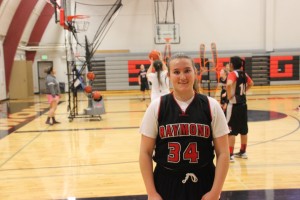 Besides being a scorer and providing instant offense, Freeman also gives an opponent's worst nightmare on defense. Unlike some offensive whizzes, Freeman doesn't go to sleep on defense or when she doesn't have the basketball in her hands. She's averaging about seven steals and nearly five assists a game. Need a basket? A steal? Or a pass? Then Freeman's got the solution.
"She's turned herself into a good basketball player," Schray said. "That was the criticism of her before. She's a good athlete, but she's not a very good basketball player."
That's what some people used to say. Now, Freeman is the complete package. She's leading her team in assists and steals. And in the second half of the season, she has also lead her team in 3-point percentage.
"That's part of her game that's eluded her until recently," Schray said "She's a hard worker, a great kid, and just a terrific athlete."
For Schray, maybe the best good news about this team is all his starters will be back. Kinsey Collins, a 5'9″ senior and sixth person off the bench, will be the only loss.
"The fun thing is to have a sophomore who is scoring 20 points a game," said Schray, who is in his fifth season as head coach at Raymond. "It's pretty neat."
Optimism is on the upswing for next season. "I'm not surprised," Gardner said about her team's success. "We work hard." They're learned that hard work opens doors.