Kylar Prante, Austin Cain and Taylor Rupe spent the last 12 months thinking about how they could win state wrestling titles.
All three Montesano High School wrestlers entered the Class 1A state championships at the Tacoma Dome coming off runner-up performances the previous season. The sting of last year's title loss for each Bulldog was remedied quite significantly as all three left Mat Classic XXVIII as state champs.
"Six kids to state, four in the finals, all of them placed," Montesano coach Jeff Klinger said. "It's a big deal."

It certainly is.
Montesano's three titles tied Colville for the most by any 1A school at the state tournament and helped the Bulldogs (125 points) finish fourth overall as a team. Deer Park took the team title with 156 points, followed by Colville (151.5) and Vashon Island (129).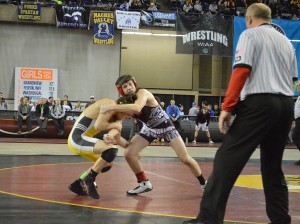 It marks the third consecutive year Montesano has registered a top 10 team placing, having finished third last year and ninth in 2014.
The Bulldogs also got a second-place finish from sophomore Tony Williams (126 pounds), a fourth place from junior Jacob Ellefson (120) and an eighth from junior Tyler Izatt (126).
Prante, the lone senior among Montesano's state placers, avenged last year's title loss in the 170-pound division by claiming the 182-pound crown in dramatic fashion by defeating Jack Dahlgren of Forks, 5-4, in three overtimes.
Rupe, runner-up at 220 as a sophomore last season, captured his title in a far-less nail-biting match by pinning Tristan Tumaua of Forks in 3:23. The finals showdown was a rematch of the previous weekend's 1A Region II finals match which saw Rupe defeat the senior Tumaua, 4-1.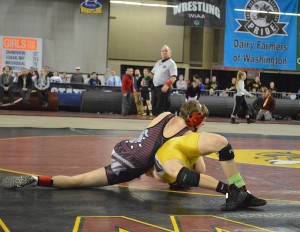 Cain looked dominant in his opening three matches of the tournament, posting two pins and a 13-4 decision before defeating Vashon Island's Bryce Hoisington, 6-2, in the finals.
"I'm extremely proud of this entire team," Klinger said. "Everyone worked so hard to get here. We're seeing all the hard work pay off."
Sophomore Tony Williams nearly gave the Bulldogs a fourth title, but fell to three-time state champion Chase Wickman of Vashon Island, 15-6, in the finals.
"It actually could have gone the other way. Three inches inside the mat there (in the first round) and Tony would have pinned him," Klinger said. "Tony did the best he could and that's what we preach to our kids to do, give everything you got."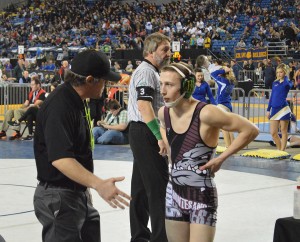 With five state placers back next season, the Bulldogs have positioned themselves nicely towards making another run at a state team title.
"It definitely helps," Klinger said about how this year's success should draw more interest in the program. "I think the kids see this and realize this is a place where they can have success. We had the (Montesano) Mad Dogs (youth wrestlers) here watching today. Hopefully our numbers start to grow from this and we have a few more out next year."
Hoquiam had three wrestlers place at the 2A tournament, while Elma had one.
The Grizzlies got a third place from junior Artimus Johnson (170), a fourth from senior Tahj Malone (182) and a sixth from senior Gary Aube (220).
"I'm really happy with how things went," Johnson said. "Last year I placed eighth. The goal was to come here and improve on that. Wrestling against the other Harbor schools really prepares you for this tournament. I'm just going to learn from this experience."
Eagles senior Jeremiah Leonard advanced to the semifinals before placing sixth in the 145-pound division.
In the state 2A tournament Aberdeen took home a pair of placers with senior Erick Juarez earning an eighth place in the 132-pound class and junior Jacob Jamieson notching a fifth place at 170.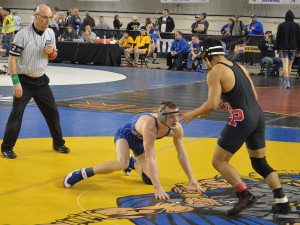 The Pacific 2B came up strong in the heavyweight division at the 1B/2B tournament with Ocosta senior Daniel Helman taking second among 285 pounders and North Beach getting a fourth from junior Seth Bridge and a fifth from senior Alex Horn.
Helman lost 11-8 to Warden's Mikey Hernandez in the championship match. Bridge and Horn squared off against each other in an all-Hyaks consolation match with Bridge winning 3-0 before both wrestlers went on to place.
Aberdeen junior Emily Wharton advanced to the finals in the girls tournament, losing via pin (2:33) to Todd Beamer's Hailie Parker, while Hoquiam junior Jenna Doll captured fifth place in the 155-pound division.