With a roster comprised primarily of talented juniors, many believed next year was the season the Hoquiam High School boys basketball team would make a deep run in the playoffs.
"I guess you can say we're a little bit early," an elated Jack Adams III said.

Very true as the team of tomorrow is still very much in the hunt for a state title now.
Jace Varner scored 10 of his team-high 15 points in the second half, Jerod Steen hit a trio of 3s and added 13 points, and the Grizzlies defeated Seattle Christian, 67-59, in the regional round to secure their place in the Class 1A state tournament.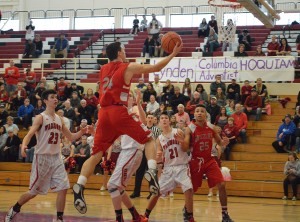 Hoquiam, champions of the Evergreen 1A, will take its 20-5 record and a lot of confidence into the Yakima Valley SunDome as it looks to capture its first state title since 2004 when the Grizzlies went a prefect 28-0 and captured the 2A state crown.
"The 2004 team needs some company," said Adams, who finished with 11 points. "The 2016 team is coming."
Varner, one of four players to score in double figures for Hoquiam, carried his squad offensively at times late in the contest, helping his team thwart a late rally by the Warriors, who entered the fourth quarter trailing by 12 points, but managed to get within one point with 2 1/2 minutes to play.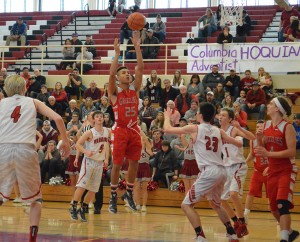 "I can't say enough about Jace. He's a kid that gives us 100 percent," Hoquiam coach Curtis Eccles said. "He did a fantastic job finishing and our guys did a fantastic job getting him the ball down the stretch."
Up next for the Hoquiam will be the state quarterfinals on March 3 in Yakima.
"That's what we've always been talking about – getting to Yakima," Adams said. "The big goal is getting a trophy, maybe winning it all, perhaps."
The state semifinals and consolation round will be held on March 4 with the title game and trophy contests being contested on March 5.
"We're excited – anything is possible," Eccles said. "Some top teams don't even get to travel (to Yakima). We are one of just eight teams left playing. We have a shot."
Hoquiam also received 12 points from Gregory Dick as the Grizzlies built a 38-28 halftime advantage over Seattle Christian.
Despite facing a 12-point deficit at 51-39, the Warriors were able to charge back, outscoring Hoquiam, 19-8, to start the fourth quarter to pull within 59-58 with 2 1/2 minutes remaining.
"Give (Seattle Christian) credit. They hit some shots late to get back into the game," Eccles said. "We saw a couple games of them on film. They've been down before and found ways to climb back. So, that helped knowing that it wasn't over and they could come back, which they did. But we did a good job finishing, hitting some late shots."
Hoquiam applied the defensive clamps the rest of the contest, holding the Warriors without a field goal and just one completed free throw during the final two minutes of the game en route to victory.
"We just knew we needed to stay calm and play as a team. Just play our game and not get out of our element," Adams said. "We had to play hard and get back to how we were playing the first three quarters. I can't explain the emotions going through me right now."
The Grizzlies will enter Yakima as one of the younger teams in the state tournament, but in class only as this group of juniors has likely played more games together over the past six years than any other team they will face at the state tournament.
"We've played together forever," Adams said. "That's why we have that chemistry. We've shown we're not just a junior class. We're an experienced class. We've been playing basketball together since sixth grade – AAU, middle school, elementary school, all eight juniors. We've always stuck together. None of us have quit on each other. We've always had each other's back."
Adams is joined by fellow juniors Dick, Steen, Varner, Skyler Jump, Anthony Nash, Ryan Espedal and Zach Spradlin.
"You can tell the chemistry is there with the way they are playing with one another. They complement our senior Brett Pelan and our freshmen," Eccles said. "It's just a great group of guys to coach. It's going to be sad losing Brett, but what a way to go out your senior year by going to Yakima."
The sophomore-dominated team last year advanced to the district tournament before making an early exit by dropping its first two games.
It was hardly the way they wanted to see their season end, but it helped establish this year's foundation.
"This started for them last year. They actually did a pretty good job their freshmen year. We had three of them playing on varsity," Eccles said. "You could tell our future was going to be bright, and they are really showing it this year."