Alex PugaDeLaRosa had to wait a year before he was finally able to play in a varsity boys soccer game for Aberdeen High School.
Once on the pitch, however, PugaDeLaRosa needed less than two minutes to find the back of the net.

PugaDeLaRosa, who sat out last season after transferring from Hoquiam, scored twice in the opening six minutes of play to help the Bobcats open the 2016 season on a high note with a 5-0 drubbing of River Ridge in a non-league match.
"I just wanted to make sure I got off to a strong start this season because there was a lot of scrutiny last year about switching schools," PugaDeLaRosa said. "It's good to have this one out of the way. Hopefully, we have many more (wins) to come."
There's a strong likelihood of that occurring for Aberdeen this season as PugaDeLaRosa joins a Bobcats squad that already featured plenty of the top returning players in the Evergreen 1A/2A prior to his insertion into the starting lineup.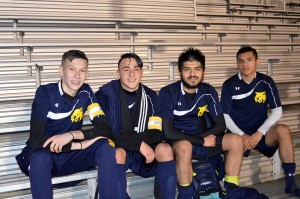 In addition to PugaDeLaRosa, Aberdeen, which came a win shy of advancing to the 2A state tournament last year, welcomes back junior Cesar Corona, last year's league most valuable player, junior Miguel Torres and senior Isaiah Contreras, a first-team all-league forward who scored a team-high 14 goals and added eight assists last season.
"It's a good group of guys. We got stuff to work on and we're not satisfied, but it's a good start," Aberdeen coach Larry Fleming said. "They are pretty comfortable with each other already."
While they have only played one varsity match together this year, Aberdeen's core group is very familiar with each other as a majority of players play on the same club in the fall for FC Real Pacific.
"We've already been playing together about a year and a half," Torres said. "This was our first game, but we basically already know each other. We already know how we play together. It makes it way easier."
PugaDeLaRosa, who was a first-team all-league midfielder for Hoquiam as a sophomore, was to be a key member of the Bobcats' squad in 2015, but because he hadn't officially moved addresses by the start of the season, he was not allowed to participate in varsity games.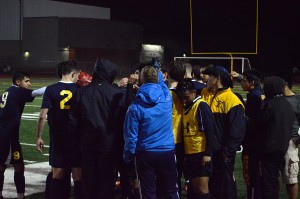 So, he played junior varsity.
"He was probably the best JV player in the country. He could have scored 10 goals every game, but he passed the ball and was unselfish," Fleming said. "He just had a great attitude about everything. You would think someone in that situation would occasionally miss practice and not care as much, but he never missed a practice and he worked hard every day. He made everyone around him a better player and it's really paid off this year."
It was that kind of leadership that led to PugaDeLaRosa being named a team captain along with Contreras this season.
"I actually had fun last year. It was really more of a developmental year than anything else. I got to know all the players a little bit more. I feel like we are becoming brothers. We're building a bond that will last a long time," PugaDeLaRosa said. "Not playing last year was hard on everybody, but it was something we've moved past. We knew I was going to be available my senior year. Now that it is my senior year, it's our last hurrah. We want to make sure everyone remembers us."
The Bobcats graduated a pair of 10-goal scorers last year in four-year varsity players Alex Barene and Victor Junco, but shouldn't have any problems replacing that offensive productivity as evident in their season opener.
"It doesn't matter who scores. No one is really cocky," said Corona, who had four goals and eight assists last year. "At the end it's the team. That's all that matters."
Corona, a year removed from his breakthrough sophomore campaign, also got in an early season goal in the Bobcats' victory over the Hawks.
"Being MVP of any league as a sophomore is pretty incredible. There are some good players in this league and Cesar was a standout," Fleming said. "He hasn't just sat back on that, and said, 'Ok, I'm good enough.' He actually got better. Center mid for our system, a 4-4-2, has to be so good. Our center mid has to run the entire field, communicate, and defend. He's so crucial, and Cesar gives us that."
The Bobcats went 15-5 last year, including a 10-2 mark in league play where they surrendered just four goals and were never defeated in regulation as both league losses occurred with PKs.
Aberdeen beat W.F. West, 4-1, in a district play-in game before bowing out after going 1-2 at the district tournament, losing its final game to R.A. Long on penalty kicks.
"Part of the problem last year was that we didn't have most of our players eligible, but we have everyone out this year," Contreras said. "Last year motivates us. We just want to keep getting better and play as hard as we can. We're hoping to go far this year."