Sawyer Rhoden was in full control of the wrestling match when he slammed his opponent to the mat.
It was a move the Montesano High School junior had executed numerous times before, but this one ended awkwardly with him lodging his shoulder against his opponent's upper thigh. The collision immediately separated Rhoden's AC joint.

The rush of pain hadn't even subsided when something else occurred to Rhoden.
"What's going to happen with baseball season? It was the first thing that popped into my head," Rhoden said.
The MRI showed a slightly torn labrum.
"The doctor gave me two choices," Rhoden said. "I could either have surgery or rehabilitate it. I wasn't going to miss six months of baseball."
The choice was simple. Rhoden decided on rehabilitation, requiring him to tough it out, but keeping him on the field.
"I'm not 100 percent back yet, but it's getting a lot better," Rhoden said. "I wanted to be out there with the team. This is my family. It kills me to not be able to go all out on the field, but we have a lot of baseball left."
The Bulldogs won the 1A/2A Evergreen League last year and came a win away from advancing to the state semifinals. Gone from last year's roster is Riley Olsen, the league MVP, and Jordan Bussard and Jacob Hilboki – a pair of first-team all-league selections.
A pair of seniors – Maguire Cavanaugh and Cole Nelson – step into the trios place as the program veteran leaders – a role both have embraced.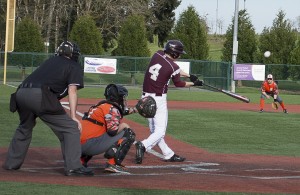 "It's kind of strange having just two seniors on the team," Nelson said. "We had a couple more (from our class) in the past play, but they decided not to play. Some wanted to try track. It's different not having all those guys out there with us."
"When you go to Montesano, you learn, not only in sports, but in school, pride, tradition, things like that," Cavanaugh said. "It goes a long ways. We have a lot of young guys in the lineup. Cole and I are the only seniors and we want to show what Bulldog baseball is about."
So, what exactly is Bulldogs baseball?
Well, last year it meant playing as one of the state's best teams toward the end of the season.
The Bulldogs are looking to duplicate their late 2015 push, which saw them advance to the regional round of the state tournament before losing a tight 8-7 battle to eventual state champion and league rival Hoquiam High School.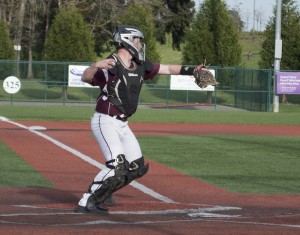 Before the season-ending defeat, however, the Bulldogs won six consecutive games to close out their regular season slate, including two victories over the Grizzlies, to secure the league crown and an appearance at the district tournament.
After dropping a 4-2 contest to Hoquiam in the second round, Montesano rebounded by surviving consecutive loser-out games to wrap up a berth at regionals.
A win over Nooksack Valley in the opening round was followed by a loss to the Grizzlies in the fourth meeting between the two programs that season.
"We missed going to state by a hair," Cavanaugh said. "It definitely motivates us this season. Knowing you can get there, you can do it, makes you work harder because you know you can just miss it by an out or a run or an error, just one little thing. You want to push yourself because of that."
Montesano currently sits in the middle of the pack in the league standings, but with a determined pair of seniors, Rhoden getting closer to 100 percent and the younger players gaining valuable varsity experience during the first half of the regular season, hopes are high to add to last year's legacy.
"We're all striving to go beyond what we did last year," Nelson said. "The best thing about last year was we did something no one thought we would do. We just went out and did it."
Upcoming games against league contenders Hoquiam, Tenino and Eatonville loom over the next few weeks, giving the Bulldogs an opportunity to mirror last year's late season heroics.
"We have a lot of talent here. Everyone just needs to step up and play with confidence. It's tough to replace those three seniors (from last year), but we have the players to do it," junior Nick Chapman said. "When we are winning, we're playing relaxed and having fun. That's what we want to be doing out here. We want to get hot at the right time and we know exactly what to do. We have all the tools to do it to."