There's no questioning their commitment.
As the only two seniors on Aberdeen High School's baseball team, Zach Williamson and Austin Silva are all in. When they're not playing – Williamson starts in center field and Silva starts at catcher – they're on the mound pitching. They're double trouble for opponents.

"It's all about having a tough mentality," Silva said.
And about doing what they can do to help their team win. Even with a young lineup – the Bobcats have eight juniors and four sophomores on the varsity team – they're winning, off to a 9-4 start. They're 6-1 in the 2A Evergreen League.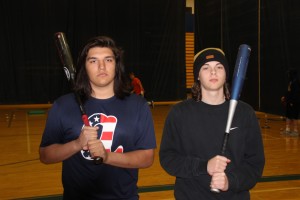 Two years ago, Aberdeen coach Shon Schreiber never would have figured Williamson would be such a gutsy contributor. After playing on the junior varsity as a freshman, Williamson didn't turn out as a sophomore. Instead, he was the team manager, but that didn't last long.
"I just wasn't really feeling baseball my sophomore year," Williamson said. "Then I took a year off and I came back. I missed it."
Schreiber threw the door wide open for Williamson's return. He never questioned Williamson's commitment.
"He played his freshman year with his older brother," Schreiber said. "His sophomore year he decided he didn't want to play and he became our manager. His junior year he came back and said he wants to play again."
So he came back and he's played center field the last two years. And Schreiber, seeing Williamson's arm strength, added a chore.
"We turned him into a pitcher last year and he loved it," Schreiber said. "He comes in on relief. He's effective. He's not very fast. But he stays effective and catches the corners. His best pitch is a change-up."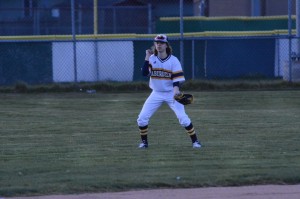 Williamson also throws a version of the cutter that moves. "It's moving all the time," Schreiber said. "He's effective with it."
On the mound, neither Williamson nor Silva have that intimidating, blow-it-by-them fastball. Their fastball is in the low 80s, but they get the job done. In 17 innings pitched, Silva has a 2.48 ERA. Williamson, working as a reliever, has a 3.31 ERA in six innings pitched.
Silva is his coaches' answer to who can throw in relief.
"Good kid," Schreiber said. "He is probably the workhorse for us and throws the most for us. He throws in relief with a strong arm. And he catches. You tell him, hey you've got to take some time off. But he catches and he pitches. We say we need him."
Even with only two seniors on the roster, Schreiber came into the season optimistic, thinking this team had the ingredients to win. After finishing 10-9 last season, these Bobcats are thinking playoffs.
"We want to win a state title," Silva said determinedly.
For Silva, pitching is all about attitude. It's about having a tough mentality.
"You can't go out there and not think you're going to throw good," Silva said. "If you think you're going to do bad you will. You have to go out there and think you own the other team. You have to have the right mind set for it."
Pitching is not about who's got the fastest fastball. Josh Collett, a junior, has the fastest fastball on the team at 86 mph. But Schreiber emphasizes catching the corners, not whizzing it by batters.
"None of them are going to throw it by people," Schreiber said. "We talk about how it's not  hard you throw, it's where you throw it."
Schreiber sounded liked a realtor when he talked about the goals for his pitchers. "It's location, location, location," he said.
While Silva is all in on doing whatever he can to help his team win, whether that's catching or pitching, he's got a preference. "I prefer catcher," he said.
When Silva isn't pitching or catching, he's swinging a hot bat. Over halfway through the season, he's batting .306. Aberdeen, which has scored 10 or more runs in three games, is a run-scoring machine. The Bobcats, despite being shut out twice in narrow losses to Mark Morris and Sehome, have scored 85 runs in 13 games, averaging 6.5 runs a game.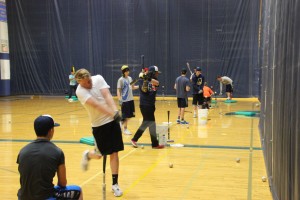 Helping to fuel that offense are Jake Metke, Kylan Touch and CJ Oldham. Those three Bobcats are all batting over .400. Metke and Touch are both juniors, while Oldham is only a sophomore. And these sluggers are coached to have a line-drive mentality. They're aren't swinging for the fences, looking for the homer.
"Everything is middle right side for us," said James Lundgren, Schreiber's assistant coach. "That's the way I was taught."
Lundgren, a 2004 Aberdeen graduate, bleeds blue and gold. He's committed.
"I've been with these guys since they were freshmen," Lundgren said. "So I know them. I love these guys. I try to teach them what I learned, middle right side. Hit everything hard on a line drive."
And forget about the fences. In a recent blowout win, Aberdeen scored seven runs on 11 singles.
"We just want to get the first guy on and just keep the pressure on with singles," Lundgren said.
With their contagious hitting and stingy pitching, it's been a winning formula for these Aberdeen Bobcats.