There's never a bad time for ice cream, but in summer you may find yourself looking for a cold treat more regularly. No matter where you are when the sweet tooth hits, we have quite a few places to pick up some ice cream around Grays Harbor. Here are a few that each have something special to offer, whether you're looking to sandwich your ice cream between cookies, try a unique homemade flavor, or have a classic float. 
Scoops Ice Cream & Coffee
Homemade ice cream, a fun retro vibe, and a neat open garage layout location make Scoops a treasure for ice cream hunters, and a perfect place to mingle with friends. For a real treat, customize an ice cream sandwich with cookies and ice cream of your choice for only $2.50. For convenience, they also have a drive thru window. Just ask for a menu of their ice cream flavors.
Murphy's Candy and Ice Cream and Peppermint Parlor
For ice cream at the beach there are some great options. Check out Murphy's in Ocean Shores for homemade ice cream. They also offer a selection of candy and are known for their saltwater taffy. If you need a savory snack and family entertainment alongside your cone, visit Peppermint Parlor. They have a large selection of snacks, plenty of games, and many ice cream flavors and brands to choose from. Their brownie sundaes are top notch.
Surfer Girl and Pic-A-Roon Pelican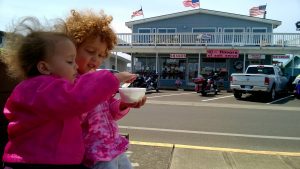 Standing side by side on Westport's boardwalk are two ice cream shops, each with something unique to offer. Pic-A-Roon's has an impressive selection of soft-serve ice cream, more than 40 flavors. The walk-up window is perfect for anyone on a stroll in the area. Next door, Surfer Girl serves Umpqua ice cream and sorbet on freshly made waffle cones. While you're there, be sure to check out their charming toy shop. Full of neat and vintage items, it's a perfect stop for out of town visitors looking for a fun gift and ice cream.
Clark's Restaurant
Just past Cosi on the 101 is Clark's Restaurant, a great place for a full meal, but also a great place for dessert. Clark's also makes homemade ice cream and uses it to create wonderful desserts such as ice cream sodas and floats.
Gene's Stop and Go
If it's soft serve ice cream you're after, Gene's Stop and Go is the place to visit. A small, iconic drive-in in Montesano, this little place is a gem. Their soft serve cones come in different sizes and the standard chocolate, vanilla, and chocolate-vanilla swirl flavors, and are deliciously creamy.
The Grizzly Den
Known for their burgers and homemade fries, the Grizzly Den also offers 16 flavors of hard ice cream, and a weekly changing sundae special. With seasonal favorites, such as the summertime Strawberry Shakes, there's always something new to look forward to.
Smitty's In & Out
If you're on the go and would prefer enjoying your ice cream with a straw and a lid, head to Elma and stop at Smitty's. With flavors like marshmallow and peanut butter, their milkshakes are really something special.