Montesano was listed as the visitors on the scoreboard, but like most road games for the Bulldogs, the crowd appeared to be a strong Monte lean.
The Tacoma Dome stands were packed as a sea of maroon heather and silver watched the Bulldogs put the final touches on their 43-28 victory over Royal in the 2012 Class 1A state football championships.

"There wasn't a lot of room. It was pretty uncomfortable. It was hot and sweaty, and totally worth it," said Taylor Rupe, an eighth grader at the time, about being a part of the celebratory mob that day four years ago. "It was a beautiful thing to watch. I was in the stands with all my buddies who I'm now playing football with. We were all Monte'd up in our football jerseys. It was just one of those special moments to be a part of that I will always remember."
Rupe is hoping to create similar memories this year, his senior season with the Montesano football program, but unlike four years ago he won't be a spectator as he enters the season as one of the state's top two-way lineman in the 1A classification.
The Bulldogs are coming off a stellar 2015 campaign where they advanced to the state semifinals before being turned away by King's in a 28-25 heartbreaker.
Gone is last year's senior class, which graduated more than a fair share of gifted athletes, including Kylar Prante, last season's Evergreen 1A MVP.
Rupe, one of the few players on the roster with an abundance of varsity experience, will be called on early to lead the charge while other players continue to develop. His play on the field during games will be key to Montesano's success, but equally important will be the leadership he provides to the younger Bulldogs at practice.
"We have so much inexperience, but I see a lot of talent out of all these guys," Rupe said. "I really think we have a lot to do to become one of the best teams in the state again, but it's something we can achieve. We have high expectations and I believe we are ready to meet those expectations. I feel the guys in my grade and below us are ready to show what they can do."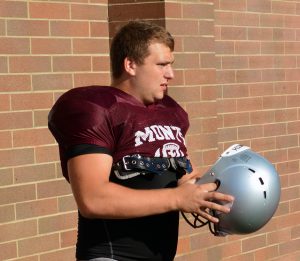 Success is something that Rupe has been associated with throughout his high school athletic career. After helping the Bulldogs to the Tacoma Dome last year in football, Rupe returned to the City of Destiny to cap his junior wrestling season by claiming the 1A state 285-pound championship.
Interestingly, it was his love for football that led him to the wrestling mat.
"I'm a football player who happens to wrestle. I actually started wrestling to get better at football. It was just something I did. Being good at wrestling was just something that happened," Rupe said. "I'm a perfectionist. I just want to be great at everything I do. (Wrestling) helps keep me low. It helps me be athletic. It helps me with the quick side to side movement, hand-eye coordination, things like that."
It has certainly paid off as Rupe was a first-team all-league selection last year on both offense and defense before going on to win a state wrestling crown.
"Ever since second grade I've been out here watching them play football," Rupe said. "It's such a fun atmosphere. It's just awesome being out here as a kid playing pick-up games on the track. It's the atmosphere that you love being around until you get to junior high. It seems that's when you really get interested in the game. You really start to watch the football side of things."
Rupe's positive on-field experiences are already numerous, topped by last year's thrilling 25-22 come-from-behind victory against Cascade Christian in the first round of the state playoffs.
The Bulldogs pulled out the win after Jake Herzog hit Prante on a 50-yard touchdown pass as time expired, which put the Bulldogs' student section in a frenzy similar to the one Rupe experienced as an eighth grader.
"It was the type of ending you dream about – two seconds left on the clock and we come back to win on the final play," said Rupe, who has been on the team's unity council since his sophomore year. "It was without question the most electric feeling I've ever had in my life."
The play ignited Montesano's deep playoff run last year and set the expectations extremely high this year for Rupe as he looks to match or hopefully surpass that feeling.
"It's gone by so fast," Rupe said about his high school football career. "I really love that I get to be with my teammates again. Honestly, it's been a blessing and an honor to just be with this program for the last four years."