Hoquiam High School football coach Rick Moore had heard the rumblings. There was an incoming freshman, a quarterback, who was generating quite the buzz even before entering high school.
Gregory Dick was that player, and Moore remembers the exact words that popped into his head the first time he meet his future signal caller four years ago.

"Stick boy," said Moore, who enters his 14th season with the Grizzlies, with a chuckle. "Here was this gangly kid with no weight on him, but (assistant coach) Jeremy (McMillan) had coached him in youth football and said he could play. You looked at him and could see there was something there. You knew he was going to get bigger and stronger, and we thought he could be a pretty good football player."
Dick has since filled out – he now stands 6-foot-6 and weighs 205 pounds – and enters his senior season having already exceeded the high expectations.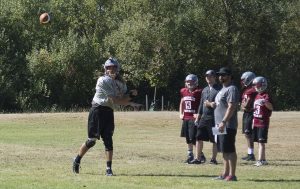 Dick was named 1A Evergreen League's Offensive MVP last year after throwing for nearly 2,500 yards and accounting for 24 touchdowns, while leading Hoquiam to a league championship and the program's first state playoff victory since 1978.
He's looking for even more this year and with a bevy of talented skilled players surrounding him, don't bet against him accomplishing that.
"Off the field, he is not flashy in any way," Moore said. "He's kind of a quiet kid. He's confident, but a little shy, happy-go-lucky to an extent. You'll never see him without a smile on his face. On the field, he can flat-out deliver."
Opposing defenses found this to be the case and then some last season.
Under Dick's direction, the Grizzlies' offense averaged more than 35 points a game during an undefeated regular season then went on to knock off Meridian (25-20) in the first round of the Class 1A state playoffs.
Against the Trojans, Dick's greatness was on full display in the first half as he completed 12 of 20 passes for 258 yards and three touchdowns to help Hoquiam race out to a commanding 25-0 lead at the half.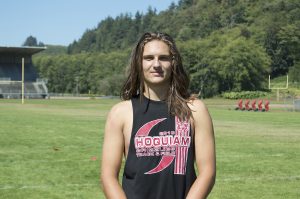 "We've been in the first round several times, but never got past it," Moore said. "Last year our whole emphasis was, let's bust through that door. And we did and made progress. Our goal this year is to bust through the next door."
Should that occur it would mark the first time the Grizzlies won multiple state playoff games since 1976 when the team advanced to the 3A state championship game where they lost, 30-21, to West Valley of Spokane.
Dick and his teammates figure a 40-year drought is long enough.
"It's going to be a fun year," Dick said. "Last year was a great season, but we want to improve on that. We just need to be confident in our play."
The Grizzlies return plenty of starters from last year's 10-1 team which saw its season end in a 42-21 quarterfinal loss to eventual state runner-up King's.
Dick will have a star-studded troupe of receivers to choose from in seniors Ryan Espedal, Jack Adams and Anthony Nash, and should defenses commit to stopping the pass, Dick can simply turn to running backs Artimus Johnson and Jerod Steen to pick up yards on the ground and loosen things up.
"All I've ever wanted to do is play high school football here," said Dick, who attended a number of quarterback camps this summer, drawing the attention from a handful of colleges, including Central Washington University. "It's a great environment to play in. Games get pretty crazy here. There's always a lot of people. It gets pretty loud."
And Dick should give the overflow crowds plenty to cheer about this season.
"He makes it difficult on defenses," Moore said. "We're looking to even out our (offensive) game. You're always looking for balance on offense. You want to be as balanced as much as you can."
With Dick's big arm and capability of making almost any throw – he attempted 349 passes last year and completed more than 50 percent of them – Moore and his desire to run the ball on occasion may turn out to be the only thing that actually can slow down the Grizzlies' air attack.
"It's definitely a confidence boost that they are willing to put their trust in me by throwing so many times a game. It's a lot more fun than running the ball 80 times a game," Dick said. "But I don't care what we end up doing – whatever it takes to win."
Dick and his teammates begin the season against visiting W.F. West on September 2 at Olympic Stadium – the first of four non-league games to open the year for the Grizzlies.