Being an emergency room nurse means having the ability to think independently, make rapid-fire decisions, multi-task, and prioritize – all in an environment where choices can make the difference between life and death.
"ER nurses have to be able to apply the body of knowledge that they have in order to care for patients very rapidly," says Brian McCann, Director of Emergency Services at Grays Harbor Community Hospital. "It's not for everybody. Those who gravitate to this field are cut out for it."
The second week of October is ER Nurses Week, a time to celebrate the hard work and tremendous responsibility these medical professionals assume.
At Grays Harbor Community Hospital, the path to joining the ER staff often begins in other specialties. "You should have at least two years of experience in another area," McCann explains. "We like to promote from in-house. If a nurse has done a fine job in another area and wants to transfer, we look at them closely." Motivated staff members will visit the ER on their own time to ask questions, learn about the computer system and even take on assignments. "They're here because they want to be," says McCann.
The nature of the job demands the ability to think on your feet, he continues. "It's a high-stress, fast-paced environment. You don't have time to think about a lot of things. Nurses have to decide if they need to get a doctor in here now versus a situation where a patient can wait a little longer. It takes a couple of years to develop that kind of thinking." That's one reason the orientation for ER nurses is one of the longest in the system, three to six months.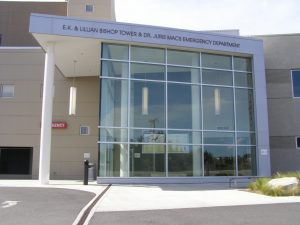 A big challenge for emergency staff is pacing themselves. Failing to do so can result in burnout, always a risk in a high-stress working environment. "If you don't take the time you need to recover between shifts, you get to the point where you can't do it any more," says McCann. "People who are in this work love it and they usually take care of themselves, but there are always a few who are very promising but burn out."
Getting plenty of rest during down times and having a good diet are critical, he says. "We're moving so fast that if you get run down, it becomes very easy to catch a bug."
The psychological aspects of the job can also weigh heavily. For every success story, there are those patients who don't make it or whose lives are permanently altered through accident or sudden illness. "You could be running smoothly and suddenly get a horrific car crash involving little kids," says McCann. "It can affect your psyche if you're not ready for it."
In particularly difficult cases, the hospital will bring in outside help. "When we have a really bad trauma, especially if it involves a child, we'll have a debrief afterward," says McCann. "The hospital brings in counselors so people can talk about what they've experienced. It's good to have a very strong support system at home as well as at work."
Challenging as it is, the ER also offers many rewards. The greatest is when a patient has been compromised to the point of near death or even actual death, and the staff are able to perform a lifesaving technique and get a response. "When you take all of the knowledge you've obtained and the practice you've had and are able to reverse the outcome and save that person, you feel really good," says McCann.
Recently the CEO of Grays Harbor Community Hospital received a letter from a family member whose mother had been a patient, an elderly woman with dementia and heart disease. "She commented on how knowledgeable and understanding the nurses were, giving the family extra information and offering up ideas for what they could do at home. She could tell that the staff here were highly trained and skilled professionals who know how to work with people," says McCann. "That's the best kind of reward we can get."
McCann knows emergency medicine from multiple perspectives, having done active duty in the U.S. Navy, including three tours in the Middle East. "It's been a wonderful, terrifying ride," he says. The difference between serving in a war zone versus practicing in a peacetime situation is timing. "In a combat situation, you're immersed in it," he says. "You can't go home at the end of the day or call in sick. If something happens to you, nobody can replace you. You're serving 24/7 and whether there's one patient or 50, you treat them."
Stateside, the situation is less dangerous as a whole but still critical for patients and their family members who may sometimes feel frustrated when they aren't treated right away. "The biggest thing that I'd like to communicate is that we want to get everyone treatment as soon as we can," says McCann. "We know people are hurting and it's not that we don't want to see you right now. We use a tier system from one to five to determine who gets seen right away."
A 'one' is considered the most serious, with a 'five' indicating someone who can wait a little longer. "It can be frustrating for patients, and we try to explain that we're not picking and choosing," he says. "There are only so many beds and staff. It's dependent upon how the patient presents."
Mainly, he says, keep in mind why nurses are there. "It's because we care and want to help people."
For more information about Grays Harbor Community Hospital, visit www.ghcares.org or call 360-532-8330.
Sponsored