The relationship that exists between an artist and their studio is among the most connected you'll find between a person and place. It's a hallowed space where the creative process unwinds and ends with a physical representation of the artist's imagination. Such is the case for Ocean Shores artist Susan LaMadrid, well known for her watercolor paintings and fine art photography.

LaMadrid has always held a fascination for many forms of art including music as a pianist, gourmet cooking and quilt making.
It was after LaMadrid and her husband Fred's retirement to Ocean Shores from Seattle that the full weight of her attention landed on watercolor painting and photographing their new coastal environment and many travel adventures. LaMadrid's photographs from journeys to Portugal, Hawaii and New Mexico, for example, have served as models for watercolor renditions.
Last fall the couple constructed a stand-alone studio on their residential property, completing the circle of a dedication universally treasured by the serious artist – the studio as sanctuary. "Having my studio built has provided me with a whole new energy," LaMadrid says. "I have an actual place to retreat anytime I wish to leave behind my regular daily pursuits. I don't have to put everything away or try to find all my stuff. Everything is here now. The very air is soothing thanks to the ceiling of cedar."
"I also have lots of light as well as walls to display my paintings," LaMadrid continues. "I use a museum hanging system, so no nails. I spent a lot of time waiting to get the feel of what I wanted as equipment and storage to work with. I didn't want a cluttered area so everything fits well together and I still have room for guests to come and work with me."
And, the invitation for guests to share in her space is genuine. "I hope artist friends will stop by for a visit and want to stay to create," she says.
Her relocation to Ocean Shores has inspired the artist with a new palate and new feel, entirely different from the city. "Ocean Shores has a very unique part in my creativity," LaMadrid explains, referencing the town's artistic appeal. "Living here on the coast has provided me with surroundings that play right into the right formula to be creative. We live in a very laid-back, quiet, end-of-the-world place."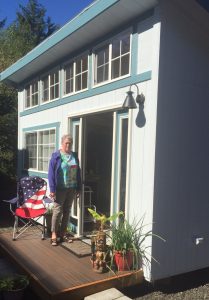 She addressed the natural colors of the area that inspire delicate, fluid interpretations. The colors of the sky, the beach with the water, the soft grays, blues and even purples that she feels softens the sharpness in life.
When asked about her medium preference among the choices available to her, she explains, "I do favor watercolor most of the time. Although I've done clam shovels using acrylic paints for the clam festival auction."
LaMadrid's fine art photography captures visual ideas for future paintings. However the images are another creative expression to enjoy in their own right and are not the only divergence from watercolor she enjoys. "I like to use objects that I apply paint to and then imprint them on my paper. I love doing fish prints where I put layers of paint on the fish, press it on my paper in various movements. Then when I'm done it becomes dinner," LaMadrid laughs.
In the welcoming studio, relaxation takes over as natural light fills the interior. An easy pace is achieved as the visitor or fellow artist might settle into an available overstuffed chair for a conversation of plein air location painting.
"I do plein air painting especially in the summer," she says, as the style requires painting on-site in the outdoors.
During the past art class, LaMadrid learned to set up and sketch her subject first. "You learn to work quickly," she explains, capturing the shades and shadows of the scene as it continually changes then return to the studio "for completing the finer details on the painting."
LaMadrid has won awards for both her watercolors and photography. One painting "Kites, Kites and more Kites" was selected for the Associated Arts of Ocean Shores 2008 Fine Arts Show poster.
Regional businesses have featured selections of her work for display including Caffe Amici in Ocean Shores and Timberland Bank in Aberdeen.
Susan is a member of the Harbor Art Guild with work hung at the Six Rivers Gallery in Hoquiam and The Mermaid Cove Gallery in Ocean Shores.
The studio has also recently been added to the "Grays Harbor Artists on the Map" project, sponsored by various county advocates and businesses, producing a brochure directing visitors to various studio and gallery outlets.
Susan E. LaMadrid's studio is open to guest visits at 849 Point Brown Avenue NW in Ocean Shores by appointment only. Schedule by calling 360-581-4785. Visit LaMadrid's website for additional information and to view her paintings, photographs and hand-crafted quilts.