Shop the Harbor First! Let this motto guide you to more enjoyable gift shopping at Grays Harbor holiday bazaars this season. Don't get stressed by the hustle and bustle of the mall. Instead, find a great selection of unique gifts, enjoy a relaxed

atmosphere and support local charities at a wide variety of Grays Harbor shopping events. You may even get to know your county, and it's small business owners and artisans, a little better by making the rounds to these local events this season.
Aberdeen
Trinkets & Treasures Holiday Bazaar
Date: November 12, 10:00 a.m.-5:00 p.m.
Location: Polson Museum, 1611 Riverside Ave, Hoquiam
Start your holiday shopping at this multi-vendor holiday event featuring photos with Santa, hand-made and national vendor gifts and wares, tasty treats and lots of fun in two buildings all in the heart of Hoquiam.
Wishkah Valley School Holiday Bazaar
Date: November 12, 9:00 a.m.-5:00 p.m.
Location: 4640 WishkahRoad, Aberdeen
The Wishkah Valley PTO/Booster Club presents this event for the third year in a row to kick off the holiday shopping season. Proceeds from the bazaar benefit all students in K-12 at WVHS.
Holiday Vendor Spectacular and Fundraiser –
Date: November 26, 10:00 a.m.-4:00 p.m.
Location: Aberdeen Museum of History, 111 East Third Street
Support the Aberdeen High School World Travelers by shopping for gifts at this bake sale, raffle and bazaar. This bazaar features favorite brand-name vendors such as Thirty-One Gifts, Lu-La-Roe, Damsel in Defense, Stella & Dot, Scentsy, Mary Kay and many more.
Harbor Square Community Market Christmas Bazaar
Date: November 19 – 20, Times TBD
Location: 1401 Simpson Avenue, call Robin or Tim: 360-593-1672
This is a new bazaar hosted by Robin from Robin's Homemade Crafts. She is still looking for all types of vendors for this event. There is lots of space in the large and newly remodeled Harbor Square building. Come and visit and make this new public market and bazaar a success.
Elma
Elma Bazaar Weekend and Crafts Fair
Dates: November 18, 19 and 20
Location: Elma Grange, Fairgrounds and throughout downtown Elma
This annual Elma community event weekend is filled with crafts, gifts and food by a number of organizations including two specific bazaars listed below. This event coincides with Elma's famous Country Christmas Bazaar at the Elma Fairgrounds. Elma is definitely the place to be for holiday shopping on the third weekend in November
Holiday Bazaar – November 18, 10:00 a.m.-4:30 p.m., November 19, 9:00-4:30 p.m.
Elma Grange 26, Fourth and Waldrip
This bazaar sells crafts, gifts and food. Lunch is available for purchase with proceeds benefiting a local scholarship fund.

Rice crispy treats don't get any better than these pretty, giant bazaar cookies.

Just Friends Bazaar – November 18, 4:00-8:00 p.m., November 19, 8:00 a.m.-4:00 p.m., November 20, 10:00 a.m.-noon
110 North 15th Street, Elma
Shop for everything from angels to zucchini bread.

Country Christmas Bazaar – November 19, 10:00 a.m.-5:00 p.m., November 20 11:00 a.m.-4:00 p.m.
Grays Harbor County Fairgrounds, 32 Elma McCleary Road.
This is the biggest of them all, the bazaar to shop if you need many gifts and have little time to travel around. Read a full GraysHarborTalk article with all the details here.
Montesano
Montesano Festival of Lights Craft Fair
Date: December 10, 9:00 a.m.-3:00 p.m.
Location: Montesano Jr. Sr. High School, 303 Church St N, Montesano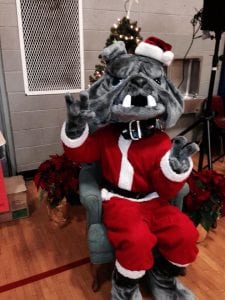 Over 80 vendors will be featured at the 30th annual Festival of Lights Craft Fair. Rustic signs, food, hand-crafted gifts and more will greet shoppers during this event, part of the weekend-long festivities including the Harbor famous Festival of Lights parade.
Ocean Shores
Winter Fanta-Sea Craft Show
Dates: November 25, noon-5:00 p.m., November 26, 10:00 a.m.-5:00 p.m., November 27, 10:00 a.m.-3:00 p.m.
Location:Ocean Shores Convention Center, 120 West Chance A La Mer Avenue
Cathy Parker who has been in charge of the event for 10 years describes the fair: "We have 70 booths where 60 vendors sell their wares. The majority are from Grays Harbor, some are from Oregon and Eastern Washington. Everything is handmade from knitting, crochet, weaving and wood work to local honey and lavender, musical instruments, yard statues and glass art."
Seabrook
Seabrook Holiday Bazaar
Date: December 4, 11:00 a.m-4:00 p.m.
Location: Seabrook Town Hall, 4527 State Route, Pacific Beach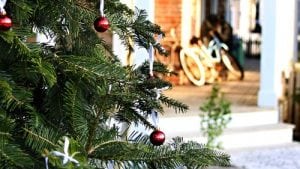 Event director Jaclyn Stevenson says, "This is our very first holiday bazaar. You will find many of our Saturday Market vendors here." Handmade gifts, artisan foods and local wares will be spread throughout the town hall. Beverages available. Make a full day of it and stroll Main Street or walk the beach to kick-off the holiday season.