The definition of a craft beer includes a nod to old school brewing with its traditional recipes and techniques. During the 1990s, home brewing, or crafted beer brewing, after years of garage and basement isolation made a strong entry into the mainstream adult beverage mass market.

Self-taught ale alchemists honing their brewing skills soon had their home-born products finding eager and enthusiastic aficionados with a thirst for old school beer.
In that heady explosion of handcrafted or microbrew specimens, the Pacific Northwest shot into the national scene with quality recipes drawing the attention of ale connoisseurs and neophytes alike to the bitters and hops put forward in the craft brews, transcending domestic models.
Building upon that era was a group of creative brewers pushing the boundaries and risking the ravages of business start-ups. One of those trend makers landed in Ocean Shores: Elk Head Brewing Company. And, as a result, local imbibers and craft beer lovers were gifted with a local watering hole in which to gather at the Elk Head Taproom.
Perfecting his home recipes, Rich Dirk struck out into the commercial market by founding Elk Head Brewing Company, Inc. in Buckley, WA starting out in a storage unit complex on HWY 410 under the gaze of Mount Rainer. Since then, he has become a star in the industry.
His fine, weirdly creative grogs are fabricated with regional hops and wild plants ranging from stinging nettles for a pint of Sting Ya to dandelions and even chanterelle mushroom. The variety and flavors have captured the imagination of the beer blogosphere and critical world attention. And, a selection of those high-character brews can be enjoyed at the Elk Head Taproom.
Since its inception, the taproom has become well-known through tourist and visitor accolades both online and by word of mouth. A dedicated local cadre of citizens in the Grays Harbor area with discerning tastes and a love of microbrews round out the taproom's biggest fans.
Rich Dirk anchored the tap room at 739 Point Brown Avenue NW with its entrance and parking lot on the ocean side of the building facing Minard Avenue NW. A customer described it as a "bunker painted aqua blue offering cold beer and warm nuts" where customers can "pull up a tree stump" instead of the usual bar stool.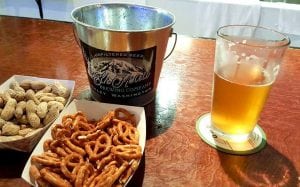 And, that is a true statement because, like the parent brewery in Buckley, the tap room décor is unabashedly "Pacific Northwest woodland" if not outright "logger classic". However, a nod to its coastal location is apparent in the driftwood accents. The brewery's name, too, comes from the original location, named after a rock formation near the crest of Mt. Rainier resembling an elk's head.
Put that together with Dirk's imaginative, unfiltered brews along with his contemporary witticism, and you get a regional experience worth your time. It's snug interior ensures visitors get to know the person next to you easily, one of Elk Head Tap Room's enduring qualities.
The beer selections, though more limited than the choices at the original brewery, offer seven pours with a fair range of taste and weight beginning with Gold Blond Ale at the lighter end up through the masterful Liberty Cap IPA and all the way over to the Black Stag Stout and chili infused brews.
"We started the brewery in 2003," Rich shares. "Then we opened the tap room in 2009."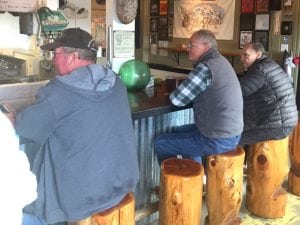 Since its opening, local clientele have become regular fixtures. Soon coastal residents were hanging out together, swapping opinions and sharing ideas about the beer and, of course, home brewing ideas. They are the anchor in Elk Head Tap Room's winter business.
"From the beginning we were all about the locals," Rich says. "We just knew we had to have them to make it though the year. They're really important to us."
Catering to Ocean Shores residents has paid off, keeping the beer flowing off-season as well as adding an authentic local flavor to the place for tourist and visitors. There is always engaging conversation for the out-of-town drop-ins with a touch of local beach character to boot.
On Thursday afternoon, cars begin to roll into the Elk Head Taproom's parking lot near the magical three o'clock opening. When the doors are unlocked, customers file in in orderly fashion, greeted by operations manager, Nick Shedley.
Each seem to have their spots picked out.
Nick knows the locals well saying, "They're a diverse group of people from the service industry, retirees and the vacationers who are here." He's immediately busy taking orders and giving free beer samples to a couple of first-timers who have found their way in, too.
When ask what the busiest day is for the locals Shedley grins broadly and says, "Thursday, they've been missing us because we were closed Monday, Tuesday, and Wednesday."
Elk Head Taproom
739 Point Brown Ave NW, Ocean Shores
360-289-8277