The game is scoreless, barely a minute old and Victor Gomez has already launched himself into the opposing team's bench in a failed attempt to secure a loose ball.

The Aberdeen senior sails into the seated Hoquiam reserves with a spontaneous display of hustle. He knows he has little chance of corralling the basketball, but he leaps with full force anyways. Momentum carries him past the players and nearly into the laps of those seated in the first row.
The fans in the packed gymnasium, regardless of which team they showed up to support, lets out a round of applause – a little grit and gumption goes a long way with this crowd.
And, Gomez has plenty of both when he's on the court.
"That's just Victor," Aberdeen coach Mark Buckman said about his versatile player's willingness to sacrifice his body for the sake of the team. "He's always giving an all-out effort."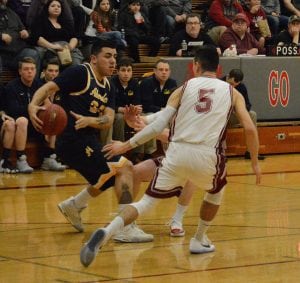 It's plays just like this, however, that Gomez knows are needed from the Bobcats to be successful this season as they re-enter the 2A Evergreen Conference.
"I don't really think about it too much," said Gomez when asked if the potential of getting injured ever enters his mind prior to such gutsy plays. "When you're playing, you have that adrenaline going. I actually got cut (diving for the ball) and didn't realize it until later. I was just so into the game and I didn't notice it."
It's a different mindset from when Gomez was first brought up to varsity, midway through his freshman season. Like most newcomers, initial play at that level can be a bit much, especially for someone who has only entered high school four months before.
"I remember everything. The first (varsity) game I played in, there were maybe two minutes left when I was called to go in," Gomez admits with a laugh. "I had no idea what I was doing out there that first year."
It wasn't until the midpoint of his sophomore campaign that everything started to become clear for Gomez. He scored 20 points in his first career start and hasn't slowed down since.
"I think it was all mental for me at the beginning," said the 6-foot-1 Gomez. "Once I calmed down things started to make sense."
A 1A Evergreen League honorable mention selection last year, Gomez is a player you can plug into any position, something the Bobcats have done over his four-year career.
His freshman year, he primarily played wing before moving to power forward as a sophomore. Last year, a seasoned Aberdeen finished 15-6 and this year, Gomez has mainly been slotted into the point guard position, a spot he feels most comfortable with.
"I think this year he has really taken on more of a leadership role," said Buckman, who enters his second season as head coach. "And we need that out of him. He played in the 2A league his freshman year. He knows all about this league and the work you need to put in to compete against these teams."
Being stuck in 1A/2A purgatory the last two seasons as they were a 2A-sized school playing in a 1A league made it incredibly difficult for the Bobcats to secure a postseason berth. They had to jump through several hoops to extend their season – something which is no longer the case as the top four teams out of the 2A EvCo will advance to district tournament play at season's end.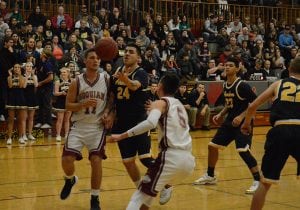 "It makes it so much nicer for us. Last year we lost our first game to Capital and we were basically eliminated from the playoffs because of it," Gomez said. "I'm glad we're back in a 2A league."
Aberdeen, which features a roster mostly comprised of seniors, struggled at the start of the season, losing its first four non-conference games behind a green line-up, but have heated up of late and will take a three-game winning streak into the new year.
Gomez scored 19 points in the Bobcats' 70-63 victory over 3A Bethel and went off for 20 points in their 56-43 win over Montesano, giving the squad some momentum.
"We're an older team, but we're young in terms of guys who have played varsity," Gomez said. "We got off to a rough start, but things are starting to pick up. It's good we had some time before league starts. We're working things out and getting better."
Aberdeen opens EvCo play on January 6 when it hosts visiting Black Hills. It will be the first step in what Gomez hopes is a return trip to the playoffs to close out his high school career.
"My favorite memory playing basketball is winning that playoff game my sophomore year," Gomez said about the Bobcats' district playoff victory over Washougal two years ago. "It was such a great feeling, one I definitely want to experience again."