Kaleb Orton didn't initially feel the pain.
He was far too preoccupied with victory, his third straight on the day, all of which came impressively via pins.

Orton, a three-time state participant and a member of the Ocosta High School wrestling team, couldn't have asked for a better start to his senior season. He had just breezed through the 126-pound bracket at his home tournament – the Ocosta Invitational.
Three triumphs – all by pinfall with the final coming against Luke Goozee from Knappa High School in Oregon in the championship match.
He was ecstatic.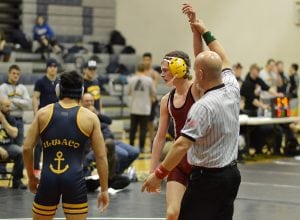 It wasn't until he got home that night when the discomfort kicked in.
"I guess I just had so much adrenaline pumping I didn't even notice what had happened," said Orton, one of four seniors on the Wildcats' roster this year, "but I certainly felt it after that wore off."
Orton's season-opening title came at an agonizing price – two separated ribs and extremely sore back. "When I got home, every time I breathed I could feel my ribs poking my lungs," Orton said. "I got put in a three-quarter (nelson) during the finals (at the Ocosta Invite) and it just stretched everything."
Orton knew something was off. Only he didn't know the full extent of his injury just yet. He elected to go with the Fight Club approach – as in, the first rule is you don't talk about it – just continue to wrestle.
And that's what he did for two the next weeks. "I just wanted to keep going," Orton said. "That's what wrestlers do."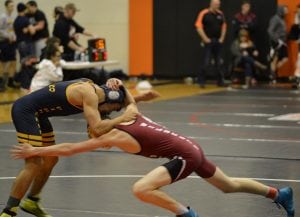 It wasn't until the Down the River Challenge at Whakikum High School that the intense pain became too much. After advancing through the first two rounds, Orton lost in the semifinals before defeating teammate Daniel Quinby to secure third-place in the tournament, a remarkable accomplishment considering the circumstances.
"I don't think most guys knew (I was hurt). When I would ice my ribs I tried to keep it away from people seeing," Orton said. "I tried wrestling as long as I could. It really started hurting during that tournament. I just couldn't do it anymore."
A trip to the doctor's finally occurred and the separated ribs were confirmed. The remedy was rest. "The doctor said that is really all you can do to get over this," Orton said. "He said I should rest for six week."
Which meant no wrestling – a sport Orton had fallen in love with the moment he stepped out onto the mat as a fourth grader.
His hiatus lasted half the recommended time and he was back in three weeks. "I came out to practice and just hated watching everyone else," Orton said. "I would just sit there and watch. I wanted to be a part of it. So, I figured if I was going to be out there I might as well come and wrestle."
The first week back was the roughest and featured plenty of spikes of pain, but things gradually subsided.
"What ended up really helping me was just going back out there and wrestling, getting used to it. And winning kind of makes (the pain) go away," Orton said with a grin.
In his first tournament back he took second at the Bash at the Beach at North Beach High School, losing in the finals to Klahowya's Dallin Stafford, a state placer in the 1A ranks last year at 120 pounds.
Finally healthy again, Orton now has his sights solely set on one last postseason run to close out his high school wrestling career.
He made his first trip to the state tournament as a 106-pound freshman. He lost his opening match 15-0 and was eliminated following a pin in the consolation bracket. But, like many first-time state participants, the action on the mat may not have been the only reason for the defeats.
The Tacoma Dome plays host to the Mat Classic, the annual state wrestling tournament where all five classifications and the girls' tournament are contested at the same time, making it quite the intimidating scene for newcomers.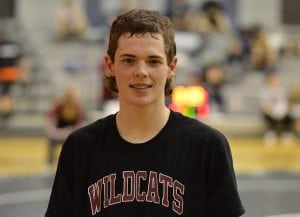 "That was actually the first time I had ever been in the Tacoma Dome. It was my freshman year when I was wrestling," Orton said. "I walked in there and I did not know it was that big. It was crazy."
Last season, Orton picked up his first ever victory at the state tournament, but failed to advance to the second day. With three years of state experience under his belt, his aim is crystal clear during this final season.
"I just want to make it a little further in state," Orton claimed. "Hopefully, this year I can place. I feel like I am ready for that. It's my senior year. It's my last year on this team. I feel like I have already missed some time (wrestling because of the injury). I don't want to miss anything else."