It takes more eyes, ears and hands to keep a city safe than professional police forces have available. In 2007, Hoquiam Police Chief Jeff Myers addressed this problem in his community by founding the Hoquiam Police Department Crime Watch, a group of senior volunteers who patrol the streets of Hoquiam and report anything requiring professional police handling. The program has become a great success.

Chief Myers approached retired Hoquiam School District teacher Betsy Seidel to become the coordinator of the Hoquiam Crime Watch crew. Seidel leads the monthly meetings, creates calendars and schedules. Crime Watch also employs an office person, volunteer Karen Harp who keeps track of hours, sends out notifications, writes letters and connects with the community. The current Crime Watch team also includes Denise Anderson, Arlene Eubanks, Laura Foshaugh, Terry Fultz, Bob Martin, Marlene Muller, Gayle and Ken Powell and Glennis and Mike Stamon. "We could use more volunteers," says Seidel. "We would like to cover every day of the month."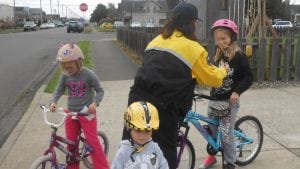 Seidel stresses that Crime Watch volunteers are not responsible for police work. They carry no guns and in any dangerous situation, they call an officer to take over. Crime Watch tasks include patrolling the streets, crowd control and checking on businesses and residences. Individuals intending to leave town may request Crime Watch observation of their premises, a free service provided by the City of Hoquiam. Request forms are available in the lobby of the Hoquiam Police Department.
Crime Watch is all about crime prevention. The volunteers are very visible in their uniforms including bright yellow coats. These mark them as persons of authority, especially important in crowd control. "Few challenge our authority," Seidel says. "We are nice to people and people are nice to us." Minor offenses like vandalism are less likely to happen under a watchful eye and with the Crime Watch PT Cruiser patrolling the streets of Hoquiam, potential vandals think twice before getting into mischief.
In addition to discouraging graffiti artists with their presence, Crime Watch volunteers Glennis and Mike Stamon specialize in graffiti control. They seek out fresh graffiti and warn the owners of afflicted buildings. The prompt removal of graffiti has been shown to help discourage more vandalism. Clean buildings send a message: "The residents of this city are proud of their community and take care of it." The return of stray shopping carts in Hoquiam serves the same purpose.
Crime Watch volunteers play a great part in building community, which is also important in crime prevention. People who know each other look out for each other. Hoquiam Crime Watch participates in many community building events and programs where they connect with residents and build a positive image, not only of their own organization, but by association, of the Hoquiam Police.
Popular mascot McGruff, the Crime Dog, accompanies Crime Watch volunteers, making friends everywhere he goes. The McGruff costume is usually inhabited by Seidel herself. The dog is an irresistibly charming representative with special appeal to kids.
Mc Gruff and his Crime Watch friends participate in the Hoquiam Logger's Play Day Parade and other local events. One of his most important appearances is the annual National Night Out on the first Tuesday in August. McGruff appears at neighborhood block parties and hands out prizes as well as crime prevention literature.
Crime Watch makes a special effort to establish good relationships with Hoquiam youth and to encourage good safety habits at an early age. At Halloween, Crime Watch volunteers teach safe trick or treating habits and distribute trick or treat bags. Just before the summer vacation in June, Crime Watch works with the Hoquiam School District teaching bike safety to fourth and fifth graders at the Central Elementary School Bike Rodeo. Kids participate on their decorated bikes and receive prizes. On this occasion, bike helmets are given to those who need them.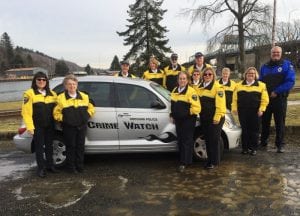 Hoquiam Crime Watch is grateful for the support they receive from the local business community. Roger St. George of 7 Eleven continues to donate the popular Slurpee coupons. It is one of the great pleasures of the Crime Watch volunteers to give them out to children wearing their bike helmets. And, in 2016, Walmart donated $1000 for bike helmets.
People on the street, especially kids, don't always distinguish between the Hoquiam Police and the Hoquiam Crime Watch. Having one's residence watched, meeting McGruff or receiving a Slurpee coupon goes hand in hand with the good works of the Hoquiam Police force. The community work and hours of patrols done by the Hoquiam Crime Watch free police officers for other important work.
If you would like to volunteer, please contact Betsy Seidel at 360-533-5968. Visit the City of Hoquiam website for requirements and applications. Donations may be mailed to the Hoquiam Police Department, 215 10th Street, Hoquiam, WA 98550.