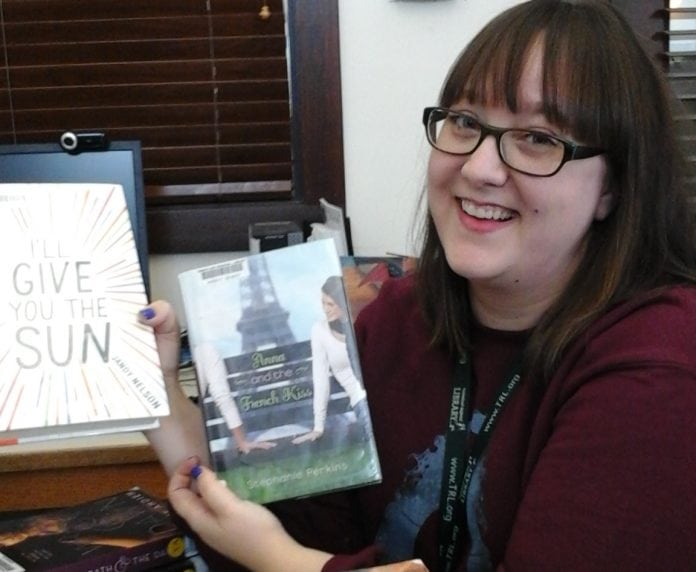 When the weather outside is frightful, winter can be delightful with a trip to the local library and a dive into a good book. Not sure where to start? Sarah Livingston, Youth Services Librarian for the Hoquiam Timberland Library, can point you in the right direction.

Originally from Watauga, Texas, near Fort Worth, Sarah has been the Youth Service Librarian at the Hoquiam Library "for about four and a half years." She earned her Bachelor's degree in English, with an emphasis in Youth Literature, from Texas Christian University. She holds a Master's of Library Science degree from the University of North Texas.
"I got the idea from books that I could move some place else and it'd be wonderful," explains Sarah. "I also wanted to work in a small town where I could know kids by their first names."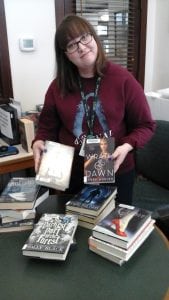 She found that in Hoquiam. And, her passion shows when she is sharing YA literature with local teens.
"The thing about teen books is that they have to be good the whole time," says Sarah. "You can't say, 'Give it 50 to 100 pages, then it gets good.' Kids have so many things they can be doing other than reading. You have to have a good, strong story to reel them in, and characters they can care about. It's one reason a lot of adults like to read Young Adult (YA) literature, too."
"These are by far some of my favorites," explains Sarah as she arranges a voluminous stack of gleaming, hard-backed books. "I want to make sure my teens read these."
Divided by genre, here are Sarah's suggestions for warming up cold winter days with some hot reads:
Science Fiction
Cinder (The Lunar Chronicles #1) by Marissa Meyer
"You think this is a retelling of Cinderella. It's not," Sarah smiles. "It's got sci-fi, paranormal and magic. Cinder isn't a helpless girl who's marginalized by her step mom. She's a cyborg and a mechanic. She can fix things herself. She doesn't meet the prince at a ball, but when she's fixing something he had that's broken down."
The Prisoner of Cell 25 (Michael Vey #1) by Richard Paul Evans
"Michael Vey was a slow burner," explains Sarah. "I did a book club on it one summer. No one showed up. Then I got here (to Washington), and it started traveling by word of mouth. Now the teens are just devouring it."
Paranormal Fiction
The Scorpio Races by Maggie Steifvater
Sarah opened this book and read the first line aloud: "It's the first day of November and someone is going to die." How's that for a grabber?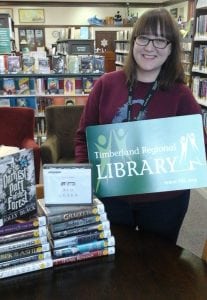 Daughter of Smoke & Bone (Daughter of Smoke & Bone #1) by Laini Taylor
"This is like a layered world," enthuses Sarah. "The author keeps revealing new information, expanding the world. There are more and more creatures and more and more worlds, drawing you in. The main character is a girl named Karou. She's a very unusual art student. The writing is exceptional."
The Darkest Part of the Forest by Holly Black
"This is one of my favorites from last year." Sarah grabs the book and starts paging through. "Such excellent descriptions," she smiles. "It's a book you just want to go sit in a forest and read. It's creepy and funny and weird. It's the kind of book you wish you hadn't already read so you can read it again."
Fantasy
Shadow and Bone (The Grisha Series #1) by Leigh Bardugo
"This book is big on world building," says Sarah. "It's inspired by Russian influences – the language, town names, different classes of people, the climate. It's about a girl, Alina Starkov, who thinks she's normal, but she's not. She has magic powers. Her nation is at war. Spoiler: she's a Sun Summoner who can safely cross the Shadow Fold."
Graceling (Graceling Realm #1) by Kristin Cashore
"I had this on my table for the longest time without reading it," laughs Sarah. "When I finally read it, I was like, 'Why did I wait?' It's about a girl, Katsa, who discovers what her Grace is when she accidentally kills her uncle. She's being controlled by a king who uses her as an enforcer. Then she meets Prince Po, whose Grace is combat skills. And then…" Sarah pauses and winks, "Well, you'll have to read it for yourself."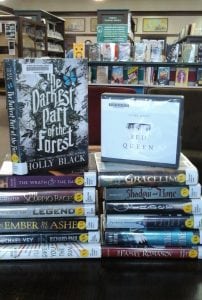 The Wrath & the Dawn (The Wrath and the Dawn #1) by Renee Ahdieh (Goodreads Author)
Sarah says this is an updated retelling of A Thousand and One Nights, with some unexpected plot twists and turns.
Dystopian Science Fiction and Fantasy
An Ember in the Ashes (An Ember in the Ashes #1) by Sabaa Tahir (Goodreads Author)
"All of these books are great," says Sarah. "But An Ember in the Ashes was my favorite book by far for 2016. If you like dystopian, adventure and romance, you'll like this. It's 446 pages. I read it in a day." Sarah cautions that this book is "intense," and appropriate for older teens.
Red Queen (Red Queen #1) by Victoria Aveyard (Goodreads Author)
"This is similar to a lot of other YA books like Red Rising, The Hunger Games, and Shatter Me. If you've read a bunch of dystopian fiction, you probably won't want to read this. But it's got a lot of things that teens like – super powers, adventure, dystopian themes, court intrigue and love interests. Also, the author trained as a screen writer, so she thinks expansively."
Legend (Legend #1) by Marie Lu
The western United States is now the Republic, a nation perpetually at war with its neighbors. Born into an elite, wealthy family, fifteen-year-old June is a prodigy being groomed for success in the Republic's highest military circles. Born into the slums, fifteen-year-old Day is the country's most wanted criminal. Their paths cross when June's brother, Medias, is murdered and Day becomes the prime suspect. "This is a great dystopian adventure" says Sarah.
Historical Non-Fiction
The Family Romanov: Murder, Rebellion, and the Fall of Imperial Russia by Candace Fleming
Grabbing this book, Sarah explains, "We think of non-fiction as like a textbook, with boring facts. But this reads more like a story." She flips through the pages. "Kids tend to be fascinated by the Romanovs. They want to know what happened to Anastasia? And what's up with that Rasputin guy? This is about real people, but it reads like they're characters in a story. If I had to read a non-fiction book, this is one I'd definitely want to read.
As intriguing as these titles may sound, the library is about much more than books. "We're about building relationships, answering questions and helping to point people to the right resources to meet a need," explains Sarah. Additional resources include free wi-fi, audio books and a database called Novelist, which allows readers to look for "read alikes," and ebooks.
Contrary to popular belief, Sarah says most teens prefer a hard copy book to an ebook. "Teens hardly ever check out ebooks" she says, "They want the actual book in their hands."
"Sometimes teens are looking for themselves when they read, and they can find that in these books. We've got multi-cultural, girls into fixing stuff, people trying to take care of their families and figure out who they are and what they're capable of."
For more information, visit the Hoquiam Timberland Library at 420 7th St, Hoquiam. Phone: 360-532-1710.