Montesano High School boys basketball coach Doug Galloway said his team was still in the process of developing its identity during the early portion of the season as they waited for leaders to emerge.
"The road to success has a lot of potholes," the fourth-year coach said. "And we hit plenty of them."

The Bulldogs, however, haven't spent too much time dwelling on their previous setbacks. They're too busy stringing together victories and eyeing the playoffs.
Montesano has shaken off its early season woes, winning eight of its nine games heading into the final week of the regular season, placing the Bulldogs in contention to win the 1A Evergreen League championship, a feat few thought possible after opening the year with a record of 4-5. While the team dropped their last two games, including the season closer against hometown rivals Hoquiam, they are still optimistic.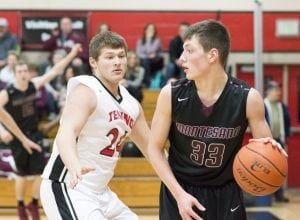 "There's still some times when we struggle offensively, but I'm excited about how far we've improved as a team," Galloway said. "I think the kids dropped some games early on that they felt we probably shouldn't have lost, but we weren't working as hard as we needed to early in the year. It's been a learning process. We're finally getting on track with our work ethic."
Montesano has turned to a pair of juniors – Trevor Ridgeway and L.J. Valley – to lead the charge.
Ridgeway, a 6-foot-3 forward who is more than comfortable with the ball in his hands, paces the Bulldogs in scoring at nearly 13 points a game.
"Trevor comes from a family of athletes and has definitely grown as a player over the course of this season," Galloway said. "He's willing to put in all the time in the world to improve. We can put him in the block or put him out on the wing depending on who's guarding him. He can run the floor and finish with either hand. He has a lot of nice attributes that help us."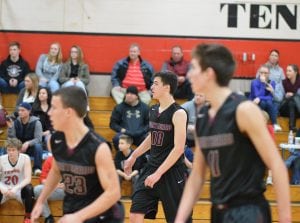 Valley, a 6-foot guard, ranks second on the squad in scoring at 10 points an outing.
"L.J. is simply a gym rat. He comes from a basketball family. His dad was the coach at Mary M. Knight for a long time. He just always wants to be in the gym shooting the basketball," Galloway said. "He's just a phenomenal kid with a great basketball IQ. He's a little more vocal than some of the other kids on the team and that's something we need."
Two pleasant surprises this year has been the play of freshmen Sam Winter, third on the team in scoring at 7 points a game, and Tanner Nicklas, the Bulldogs' tallest player at 6-5.
"I'm proud of the kids and the work they've put in. I think we're becoming the team we want to be," Galloway said. "Can we get better? You bet. You can always get better. Every time you get better your potential gets higher and you just keep chasing that potential each and every time out step on the court."
The team features four seniors in Lyle Burbidge, Nick Chapman, Austin Peterson and Noah Quinn – a quartet of players who represent the first class through Galloway's tenure at Montesano.
"It's kind of all on me now whether we are successful or not," Galloway said. "Every kid in the program has only known me as a head coach since they've been in high school. I like to think we're moving in the right direction."
During Galloway's first season the program had 24 total players in the combined three teams with no player being turned away. This season his staff needed to cut players down to a total of 45.
"When you're trying to create a successful a program, you need to build up through your youth," Galloway said. "We're running a little kids league. We're running summer leagues in our gym now. We're going to tournaments and team camps in the summer. We're trying to get kids playing. You only get better by doing. We're trying to get as many kids out on the court as we can."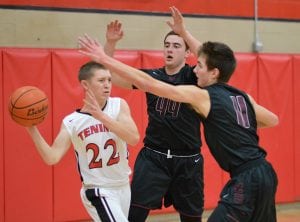 Montesano's youth basketball program now sports two sixth, two fifth and one fourth grade squad – a vast increase in numbers over previous years.
"A lot of people think Montesano is a football town, but Montesano is a sports town," Galloway said. "This community really supports its high school athletics. They love football. They love their baseball here as much as anything. I just hope I can add to that with the basketball program."
A league championship and possible state playoff appearance – something the Bulldogs haven't seen since 1982 – would go a long way in making that occur.
The opening round of the district basketball tournament starts February 9.