The Montesano girls' basketball team can finally book that trip to Yakima.
Jordan Spradlin scored a career-high 40 points and pulled down 16 rebounds as the Bulldogs secured their first trip to the Class 1A state tournament since 1999 by defeating Hoquiam, 67-44, in the semifinals of the District IV tournament on February 14 at Montesano High School.

The victory was valuable for a variety of reasons for Montesano (19-3).
First, it advances the Bulldogs to the district title game, which will be played at Kelso High School on February 18 against undefeated La Center (21-0). It also wraps up a berth into the regional playoffs – the very place Montesano has seen their season end in each of the last four years.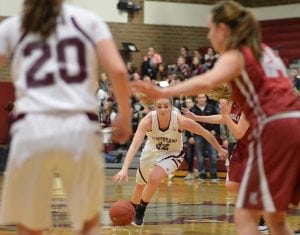 However, regardless of the outcome of either of those games, the Bulldogs are already guaranteed a place at the state tournament at the Yakima SunDome due to the WIAA's newly implemented RPI (Rating Percentage Index) rankings.
A total of 16 teams advance to the regional round out of district tournaments with the top eight seeded teams in the final RPI rankings playing each other. Winners of those four games receive a bye and advance to the state quarterfinals on March 2, while the losers head to first round state playoff games on March 1.
The lowest-ranking eight teams at regionals will play each other in loser-out contests with the victors advancing to the March 1 loser-out opening round games at state.
What all that means is Montesano can stumble in its next two games with no danger of missing the state tournament as the Bulldogs finished No. 5 in the final RPI rankings.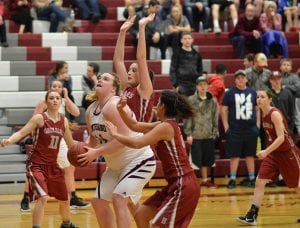 "State has always been in the back of our minds," Spradlin said. "We didn't want to look too far ahead, but we talked about our RPI ranking and how it meant all we had to do was get out of districts. For the seniors it means a lot because we haven't been able to get out of the regional round. We're heading to Yakima no matter what now, which is really nice."
Spradlin, one of six seniors on the team, has experienced three straight years of regional round heartbreak.
All of which was completely washed away during their dominant second half against the Grizzlies.
Montesano held a slim 29-25 advantage over the Hoquiam at the half as they were unable to fully pull away from their rival early on.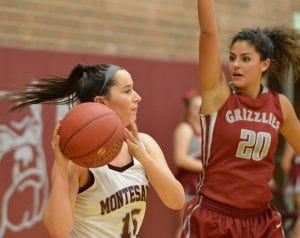 "Something was just off tonight in those first three quarters," Montesano senior Shayla Floch said. "It's hard to beat a team three times. We have six seniors and this is our last game on our home court. So there was a lot going on. I think we kind of made the moment bigger than it was."
All those nerves seemed to vanish when Floch's buzzer-beating field goal at the end of the third quarter provided the Bulldogs with a much-needed spark.
Hannah Quinn and Cheyann Bartlett opened the final frame by each sinking a 3, igniting a 10-0 run for the Bulldogs, who would go on to outscore Hoquiam 24-9 in the fourth quarter.
"I think Shayla's shot relaxed us a little bit and we came back out (in the fourth quarter) and got those two 3-pointers from Hannah and Cheyann," said Montesano coach Julie Graves said. "We started playing our game a little more after that."
Spradlin's offensive outburst bettered her previous career high of 34 points she scored as a freshman.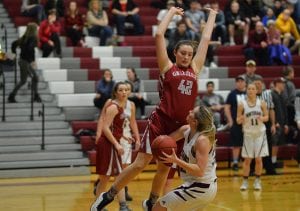 Montesano will likely play fourth-ranked Okanogan in the regional round, according to Graves.
The RPI is based on a team's winning percentage (25 percent), its opponents' winning percentage (50 percent) and the winning percentage of the opponents of its opponents.
The Bulldogs' schedule was loaded with quality competition this season with their three losses coming against the first and fourth-ranked 2A teams in Black Hills and Lynden, respectively, and Cashmere, the No. 1 seeded team in the 1A classification.
"The kids played a great regular season and we played some great teams," Graves said. "Our schedule was set last spring before the RPI was introduced. I just wanted our team to play teams that would challenge us during the regular season so we were better prepared for the regional round and for a postseason run. We haven't been able to get through that regional round the last four years. We thought this schedule would help with that."
Montesano also notched wins against 1A Nisqually League champion Bellevue Christian, Pacific 2B champion Ilwaco, and 2A schools Tumwater and Aberdeen.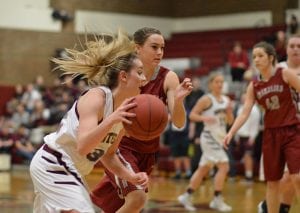 "This group of seniors have truly been a blessing to coach" Graves said. "I started coaching them in fourth grade. It's definitely been a great group of kids to work with. They always want to push each. They want to go out and compete and they want to compete against the best. I am just really happy they were able to accomplish this tonight in their final home game ever."