For the past ten years, Summit Pacific Medical Foundation has gathered the community together to support the health and well-being of its members at their annual Celebrity Golf Tournament. As the foundation's largest fundraiser, the event has generated nearly $300,000 for the hospital and clinics over the past decade. This year, the event is scheduled for May 5 at the award-winning Salish Cliffs Golf Club in Shelton and will be one of the best events yet.
A History of Support
This annual event was launched ten years ago when Grays Harbor County Public Hospital District No. 1 was still doing business as Mark Reed Hospital. Newly hired CEO, Renee Jensen, charged the foundation with helping her engage the community in a fun and active fundraising event. Out of those conversations the Celebrity Golf Tournament was born.
This year's 10th Annual Celebrity Golf Tournament will also mark the end of Jensen's ten-year tenure serving as CEO for the hospital district. The event is sure to be a fitting farewell to a leader who has helped the hospital grow from a small facility tucked away on a hill in McCleary to a large, state of the art facility that sits front and center at the intersection of highways 12 and 8 in Elma. Jensen will be leaving Summit to return to her hometown, Monroe, Washington, where she will serve as Senior VP of EvergreenHealth and CEO of EvergreenHealth Monroe.
Lauren Day, Director of Communication and Development at Summit Pacific and Executive Director of Summit Pacific Medical Foundation, who has directly reported to Jensen for more than 5 years now shared, "Not only has Renee transformed healthcare in Grays Harbor. But she has helped develop the foundation from an organization that was meeting here and there, doing some small fundraising activities to one that was able to inspire Summit Pacific's employees to donate more than $100,000 of their own money in support of the new hospital that was constructed in 2013. With her support, the foundation has also matured and developed into a well-established, trusted organization that serves as a critical partner to the hospital district."
Funds generated by the tournament over the past decade have grown each year. In 2008, the first annual event had a net profit of a little over $5,000. Last year's tournament raised more than $40,000. The foundation uses the funds to support the hospital and its clinics, funding items such as the new Summit Pacific Medical Center facility, an ultrasound, the paved wellness trail, new hospital beds, a mammography unit and much more.
This year's event will raise money to support the development of the new Wellness Center Summit Pacific will break ground on later this summer. "Specifically, the foundation will be working to raise enough money to build an outdoor, covered children's playground and adult fitness park," Day explained, "The foundation will be working over the next year to raise dollars to make this project happen. The golf tournament will be our first big public event towards making it a reality." The playground and adult fitness park will be open to the public, seven days a week.
An Event to Remember at Salish Cliffs Golf Club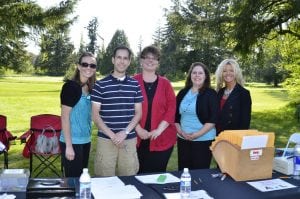 The foundation is looking forward to celebrating the event's ten-year history of event on May 5. The first event in 2008 was held at Elma's Oakhurst Golf Club and was a combined event that featured the golf tournament followed by a formal gala dinner and live auction.
"Our very first event had a small but mighty group of 50 guests combined. However, by our last year at Oakhurst we were busting at the seams and having to turn people away, that's when we made two daring decisions," shared Day. "One was to split the event into two separate events (the foundation's Sip and Sail Gala takes place in the fall), and the other was to host the golf tournament at Salish Cliffs Golf Club. We were not sure how the community was going to react to this change, but lucky for us, they loved it!"
Moving the golf tournament to Salish Cliffs Golf Club allowed the foundation to more than double the amount of golfers they could accommodate. Last year the event saw record attendance with 28 teams participating.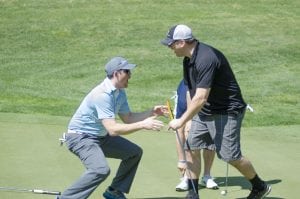 "We had a great time when we first started the event working with Oaksridge Golf Course and many, many, many volunteers," Day shared. "However, Salish Cliffs is truly a destination style course that has helped us attract new people to our event, increase donations to the foundation and decrease the manpower needed to host the event." With the gorgeous venue, additional prizes and fantastic celebrities, the event is likely to sell out in 2017. The foundation encourages those interested in participating this year to register early by visiting their website.
Celebrity Auction and Golfing Fun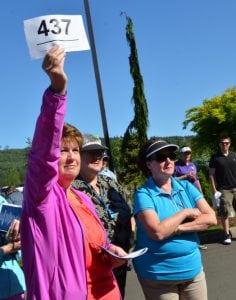 The signature event at the tournament, and the reason for its name, is the "auctioning off" of celebrities. The celebrities have ranged from TV and radio personalities, athletes and certified golf professionals. Crowd favorites, TV personality and the event's longtime emcee, Brad Goode, local radio DJ Phil Luce and golf pro Ronnie Espedal of Highlands Golf Course in Cosmopolis will be back as celebrity golfers, in addition to others.
"The celebrity auction is what really sets our event apart from others," Day said. "It takes a lot of bravery to put yourself at the mercy of the crowd, but they always go into it full hearted, bringing with them extra goodies and bribery to pull out higher bids from the audience. They definitely get a little competitive with each other and it's a lot of fun to watch."
Play will consist of a four-man scramble with a shotgun tee-off. Along the way, participants will encounter a variety of opportunities to nab prizes ranging from cash and cars to clubs and bragging rights through a variety of games and contests. Some of these opportunities are traditional favorites like closest to the pin and longest drive, but to keep the tournament unique, there will also be a few opportunities for a bit less serious competition with games like "marshmallow drive," "flip cup" and "roll the dice".
The 10th Annual Celebrity Golf Tournament offers golfers the opportunity to both improve their score and support the Summit Pacific Medical Foundation throughout the day of fun and community through the purchase of raffle tickets, mulligans and grenades, to name a few. Wrapping up the event, golfers and their guests will relax with a Cinco de Mayo themed dinner, silent auction and awards presentation. This year, guests will have the opportunity to bid on items such as a guided fly fishing trip through the Puget Sound and Seahawks tickets.
Participants will not only enjoy a day on the gorgeous links, but will leave feeling good about their contributions knowing that one hundred percent of the event's proceeds benefit Summit Pacific Medical Center and the community.
"We are continuously in awe and thanks of the tremendous support we receive at this event each year from local businesses, business partners and the community," Day shared. "We have worked hard to create a fun and unique tournament experience that makes people want to come back each year."
Register Now
Individuals as well as teams are encouraged to register soon. The preferred deadline for registration and payments is Friday, April 21, however registrations will be accepted up to the date of play, space permitting. Registration is available online or by calling 350-346-2250.
The cost per player is $185. Prices include all greens fees, use of a GPS enabled golf cart for the day, use of the club's driving range and practice greens, snacks, two complimentary beverages and a post-tournament barbecue dinner. Additional dinner tickets can be purchased for $50 for friends and guests to join the fun after your 18 holes are done. Check in for the tournament will begin at 8:30 a.m.
For more information about the course visit the Salish Cliffs Golf Club website or call the golf shop at 360-462-3673. Salish Cliffs Golf Club is located at 91 West State Route 108 in Shelton.