More than a milestone, it's a family legacy.
Harbor Pacific has been delivering regional refreshment for 60 years. The family-owned beverage distribution operation, begun in May 1957, is still going strong. What started as a small soda pop bottling business at 316.E. State St. in Aberdeen is now bubbling out of a 30,000 square foot warehouse near Elma.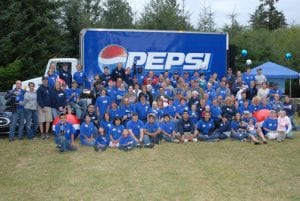 "Reflecting on the 60 years," says Tim Martin, the company's president and general manager, "it's just a testament. From what we've learned, as far as we've come, the legacy—in a small community that we're proud to be a part of—I think that's something."
The independent Pepsi distribution company sells Pepsi and other beverage products, snacks and more throughout Grays Harbor and Pacific counties. The company now employs 45 people, has a fleet of 35+ delivery and sales vehicles and manages about 700 vending machines around Western Washington.
"Originally there were four people involved," says Bill Martin, 83. "My dad [Paul Martin], my uncle Norval, Herb Gedny and I." Bill says he had just $200 he'd borrowed against his life insurance policy with which to buy Harbor Pacific Bottling, Inc. "Without my uncle and my dad we wouldn't have been able to do it, I being only twenty-three, not having any money at all." He and Herb ran the operation; Norval and Paul were the silent partners. "My uncle was not always so silent," says Bill with a smile, "but he was good. He taught us a lot."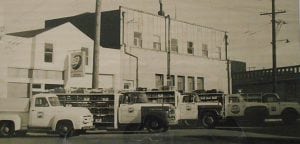 Bill will retire this year and the operation will pass to his sons, Tim and Shawn. The two brothers have been involved for some time and are buying out the rest of the family's interests. Tim attended the University of Puget Sound and then moved to Los Angeles, working for a corporate owned Pepsi bottler. Shawn has been on the payroll since he was a small boy, first as a bottle sorter.
Shawn, now Operations Manager, says, "I began at twenty-five cents an hour when I was eight years old. I had to turn my time card into Dad and he'd say, 'You sure you worked all those hours?'" After graduating from 'bottle boy' he graduated to mixing syrups and running the bottling line. Tim returned in the 1990s.
In 1969 the company bought out a local 7-Up and competitive cola distributor. They moved their operation to a building on Simpson Ave. in Hoquiam where the Stihl dealership is today.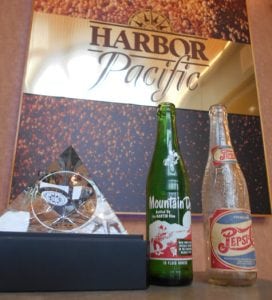 "Over about a dozen years," says Bill speaking of the other independent dealers in the area, "I bought everybody out," and in 2001 he moved the company to its present location. He says the new warehouse makes him proud.
"We've come a long way," says Bill. "Originally we did all of our own production until 1980." Now, the Pepsi products are manufactured and bottled at a regional production center called Pepsi Northwest Beverage. They produce in excess of 50 million cases per year, distributed throughout the Pacific Northwest. Harbor Pacific is one of a handful of independents that own part of that co-op.
"We're a small company compared to many [distributors], but not that small," says Tim. They were the first Washington state distributor with a 16 ounce Pepsi and the first in the country to sell a 64 ounce size. Tim says the company endeavors to stay on the cutting edge, not only product-wise, but with technology as well. Many innovations are part of the warehouse operation.
"I've grown up with the business and evolved with it—it never stays the same for too long," says Shawn. With the motto "distributing excellence" and their drive to offer more and do it well, the company has prospered for sixty years.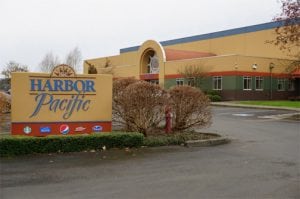 Of course, Pepsi is the anchor product, but there are many other beverage items in the lineup including bottled waters, sport and energy drinks, juices, coffee, tea and fountain beverages. "Because we're independent," says Tim, "we can sell anything we want that isn't in conflict with the brand." He says the company is introducing seventy new items this year alone. Snack items are also part of the company's vending operation, Fiesta Food Services.
"One of the things I've been happy about," says Shawn, "is how the company gives back to the community. We've seen some great things happen and it's been good to be a part of it."
As a caring part of local community, Harbor Pacific has generously supported Aberdeen Rotary, the City of Aberdeen "Splash Festival," East County Rotary, Grays Harbor College Foundation, Greater Grays Harbor, Inc., the Grays Harbor County Fair, Grays Harbor and Pacific County "24 Hour Relays for Life," Hoquiam Youth Baseball, Local Lions Clubs, Long Beach Loyalty Days, Long Beach Merchants, Ocean Shores Razor Clam Festival, Ocean Shores Sand and Sawdust Festival, Westport Seafood Festival and Crab Races and been a big part of the YMCA of Grays Harbor.
The Martin's are proud of their team. Some employees are the children of employees who retired from Harbor Pacific, following in their parent's footsteps. Others have been with the company for almost the entire sixty years. One employee, now 62 years of age, began when he was just sixteen. And some have retired only to come back in a different capacity. "It's been a good company to work for," says Shawn.
"I'm proud of that, too," adds Bill. "But, I'm particularly proud of my kids." Then with a smile he adds, "Thank goodness I don't have to do it anymore."
Harbor Pacific
50 Schouweiler Tracts Road East, Elma
360-482-4820
Sponsored