For owners and lovers of classic cars, the approach of better weather means one thing: pulling the cover off the hot rod and getting back on the open road. And, the approach of warmer days also means the return of car show season, a time with auto aficionados gather around the hoods of their own cars and those of fellow owners, swapping stories and gazing at miles of chrome.
This weekend, the wait is over as one of the first local car shows of the year kicks off the season in style.
Since 2009, Pushrods of Hoquiam Car Club has partnered with Quinault Beach Resort and Casino in hosting the ultimate hot rod destination.  High Rollin' Hot Rods at the Beach kicks off beach season on April 28-29 with a vintage automobile show, prizes and specials throughout the resort.
Pushrods of Hoquiam has been a force throughout Grays Harbor for more than 60 years. Their shows and events strive to fund scholarships at Grays Harbor College and donate to such charities as the YMCA of Grays Harbor, Elks Club, Police Department, Senior Center, Meals on Wheels, Wounded Warriors, and more.
The High Rollin' Hot Rods at the Beach weekend is a car-lovers dream come true.  Have a gorgeously chromed baby you'd like to show off?  Simply sign up online or by calling 360-352-1918.  Saving up for the car of your dreams?  Maybe $2,500 in cash and prizes courtesy of Quinault Beach can help.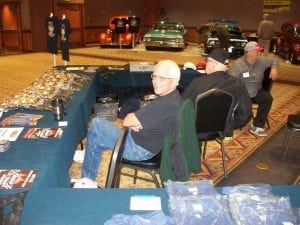 Registration is open Friday, April 28, from noon until 4:00 p.m. and Saturday, April 29, from 8:30 a.m. to 11:30 a.m.  The first 250 cars to pay their $20 entry fee will receive a goody bag and dashboard plaque.  Once arrived, wander the rows of gleaming cars, chat with proud owners and put together the best Christmas wish-list ever.
If all that walking builds up an appetite, visit the Root Beer Float Bar or sample some of the many unique show food and drink specials in the resort's oceanfront dining options.  While in the Great Hall, try your hand with prize giveaways and gaming fun for new or longstanding Q-Club Members.  Door prizes will be awarded to lucky winners every 15 minutes.
As always, this year's event will be hosted by Lance Lambert, local legend and host of The Vintage Vehicle Show.  At once a "journalist, author, television producer and host, automobile appraiser, emcee and auctioneer," he's been called "the Garrison Keillor of car stories."  He'll be enjoying the High Rollin' Hot Rods, shaking hands, signing autographs, and talking shop with one and all.
Friday, April 28 from 1:00 p.m. to 4:00 p.m. is the annual Poker Run around town. Drivers participate by collecting items from locations around Ocean Shores including restaurants, shops and information centers. That afternoon winners will be announced back at the casino, but after a day of beach-front cruising, no-one truly loses.
High Rollin' Hot Rods is free to attend and no RSVP is required. Signing up to enter your car can be done on-site the days of the festival, or in advance for a $5 discount. Turn your stay into a grown-up spring break by booking an oceanfront suite or decadent room special.  These include access to the spa, pool, shops, gaming and award-winning meal options.
After our long, dark and endlessly damp winter, it's time to welcome the driving season properly.  Dig out your soundtrack to 'Grease,' let April showers wash springtime mud from both fenders and feet alike and hit the open road with family and friends.
Quinault Beach Resort and Casino is located at 78 State Route 115 in Ocean Shores.