You don't win 11 league championships over a 13-year span without benefiting from some quality defense.
But what the Aberdeen High School boys soccer team has been doing this year is even spectacular by the Bobcats' high standards.

Behind the efforts of senior goal keeper Alexis Garcia and an ultra-stingy group of defenders led by Robby Lewis and Trevor Dawkins, Aberdeen closed out the regular season with 10 consecutive wins, posting nine shutouts along the way while giving up just one goal.
"We've played some pretty good teams too," Bobcats' coach Larry Fleming said. "Robby and Trevor have experience, but the other guys, Anthony Churlin, Dylan Hughes and everyone else we've rotated in there, have really stepped it up too. And Alexis, of course, is always solid."
It all starts with Garcia, a three-year starter who has constantly come up with one big save after the next in helping Aberdeen to a 2A Evergreen Conference title with a 14-2 record.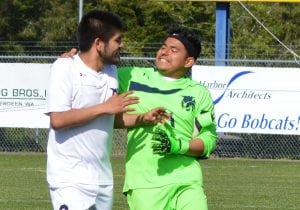 "Usually we start off games pretty slow. We don't always open with our A-game," Fleming said. "We'll give up a shot or two early before we get going."
One such shot Fleming described came early on against EvCo foe Centralia – a powerful upper V shot that appeared destined to find the back of the net.
"Alexis extends and grabs the ball on the far side," Fleming said. "If he doesn't do that, it's a different game."
The Bobcats warmed up after that, cruising to a 3-0 victory over the Tigers.
"He makes great saves when we need him," Fleming said.
And these stops are coming from someone who possesses less than ideal goal keeper height. "I think (opposing teams) see a 5-foot goal keeper," said Garcia, underselling himself by a few inches in height, "and wonder how has he not given up 20 goals."
What they see is a stat sheet, however, is 13 shutouts and just four goals surrendered all season with half those goals coming in an early-season loss to Woodland.
"That's huge for us. Other teams look at our stats and know we're not going to give up very many goals," Lewis said. "I think they come in knowing it's going to be tough to score on us. That helps with our confidence as a team coming into games. We just don't want them to score. It's just kind of a mental thing with us."
Aberdeen opened up the 2A Southwest District 4 tournament by blanking visiting Hockinson, 1-0.
The Bobcats had several good scoring opportunities throughout the contest, but didn't get on the board until late in the match when Cesar Corona punched in the game winner in the 69th minute.
When that happened Garcia knew the winning streak was headed towards 11 games.
"We had it in the bag from there," Garcia said. "We knew all we had to do was not let down on defense. Sometimes we get unlucky on not scoring, but we always find a way to clinch the win."
The Bobcats last tasted defeat on March 28, dropping their EvCo opener, 1-0 to Tumwater despite significantly outshooting the Thunderbirds.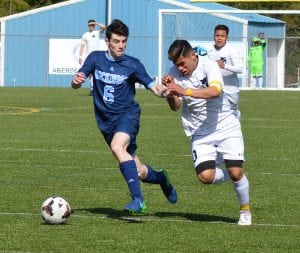 Aberdeen responded by winning its next nine conference matches, outscoring opponents, 34-1. "Our defense is strong this year because of the communication," Garcia said. "Everyone is communicating with each other. If someone makes a mistake, we just hype each other up."
Aberdeen stretched their streak to a dozen when they hosted 2A Greater Saint Helens League runner-up Ridgefield (11-4-2) on May 9 at Stewart Field. The Spudders defeated Black Hills, 4-1, in the opening round and Ridgefield knocked off Aberdeen, 1-0, in the first round of the district tournament last year, forcing the Bobcats to win three loser-out games, which they did, to secure a berth into the state tournament. This year, the Wildcats were victorious, beating Ridgefield 2-1 in the Tuesday night contest.
"Years ago we were defense only, tiring to get that one goal or go in to overtime," Fleming said. "Then we got better at possession and pretty good at finishing. All these shutouts, that's everyone, not just the defense. It's possessing the ball. Teams can't score if they don't have it."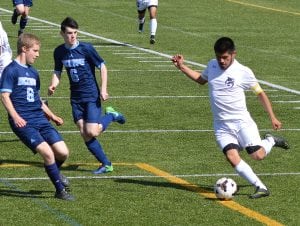 With an offense featuring the high-scoring duo of Corona and Tony Oropeza, Aberdeen has the scoring side more than covered.
The victory over Ridgefield wraps up a second consecutive trip to the state tournament for the Bobcats and places the squad into the district title match on May 11.
"We've been playing together since we were little kids and we've been talking since then about making it to state," Lewis said. "It's actually pretty crazy to think we're going to do just that."