cham·ber of com·merce
noun – a local association to promote and protect the interests of the business community in a particular place
Greater Grays Harbor Inc. (GGHI) serves as the Chamber of Commerce and Economic Development Council for the Grays Harbor region. As defined above, the non-profit organization, based in Aberdeen, is doing its job. Through programs, events, grants, training and community engagement, GGHI is helping support current business enterprise and generate more regional business development. All this with an eye to growing the economy, and therefore the community, of Grays Harbor.
With a consistent mission and focus on growing business, why, then, is Greater Grays Harbor spending considerable time, energy and resources on local educational programs?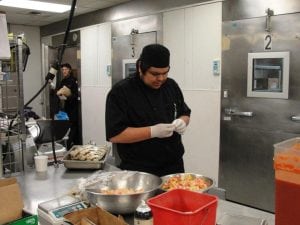 "Through support of educational programs, we are supporting the workforce and business development of our region," shares Dru Garson, CEO of Greater Grays Harbor, Inc. "Our goal is to support engagement of local youth in career awareness programs and CTE (Career and Technical Education) experiences to help impact how they see their future potential."
Dru and his team know that through supporting youth programs and expanding the options and opportunities of area students, they are helping create the productive business owners, workers and higher ed students of tomorrow. To that end, the group has created the GGHI Educational Fund which Dru describes as "the vehicle to help fund entrepreneurship and career and technical education opportunities for area youth." With the maximum amount for each request set at $2500, local groups have the opportunity to make a real difference. Key in this equation from all stakeholders, funding partners and educational groups, is opening student's eyes to their potential, to the opportunities available to them.
Doreen Cato leads one such group. In 2013, after just three years of "retirement" in Ocean Shores, Doreen launched Grays Harbor Youth Works (GHYW). After a lifetime spent in education, Doreen knew one thing for certain: to achieve their goals, students need real-life exposure to a variety of career fields and access to resources and information on how to enter those fields.
Grays Harbor Youth Works' mission is "to engage and transform students 16-19 throughout Grays Harbor County by providing internship experiences that can lead them to vocational certification and/or college, in addition to livable wage employment." Doreen and her team work hard to connect kids with internship experiences in the local business community that will engage and interest them while offering insights into potential careers and education beyond high school.
"Our goal is to get these kids positioned to be hired into livable wage jobs," says Doreen. Many are so successful at their internships that 20% of the employers kept them on. "We want to inspire them in the pursuit of educations beyond high school, whether that is military service, vocational education, or college." Since 2013, they have placed more than 100 students with internships county-wide. Seventy percent of those students were seniors with sixty percent choosing a post-secondary education path.
The internships coordinated by GHYW depend heavily on the participation of local businesses. When students see the industries available in their own backyards, they see a future for themselves in Grays Harbor. Helping secure partner businesses is one way Greater Grays Harbor, Inc. helps. "Our member businesses open their doors to the students participating in the internship programs," explains Dru, "and we encourage a wide variety of business sectors to participate."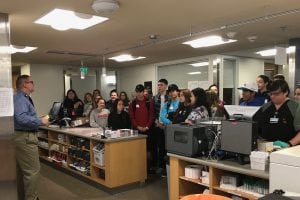 Recently, Youth Works partnered with GGHI as well as Aerospace Joint Apprenticeship Committee, and Grays Harbor College for Career Pathway Day. Funded by grants from GGHI and Pacific Mountain Workforce Development Council, students from North Beach and Lake Quinault High Schools started their day at Grays Harbor College where they heard from two speakers about today's jobs, industries on the rise and the need for solid STEM (science, technology, engineering and math) skills required to land these jobs. "Many students had never been on a college campus before and left excited about the potential to return and explore more about GHC's options," says Doreen.
Students then split into groups and spent the rest of the day engaged in learning at a local business including Grays Harbor PUD, Sierra Pacific, Grays Harbor Community Hospital, Grays Harbor Historical Seaport Authority, and Hesco Armor, LLC. Each company shared background about their industry as well as the types of jobs available in their company and the skills, experience and education needed to land those jobs. "The goal of the day," says Dru, "is to show kids the possibilities for their future."
Dru and Doreen also both participate in the Grays Harbor Cradle to Career Consortium (GHCCC) which is working to develop a county-wide plan for expanding career readiness and STEM learning opportunities. The GHCCC planning effort is supported by the Regional Alliance for Youth (RALLY). Wes Pruitt, coordinator of RALLY, explains the GHCCC planning effort is closely aligned with the educational focus of GGHI. "The goal of the GHCCC planning effort is to develop an action plan that increases career readiness and STEM learning opportunities for students throughout the county and, consequently, prepares them for living wages jobs that will enhance the local economy," he explains.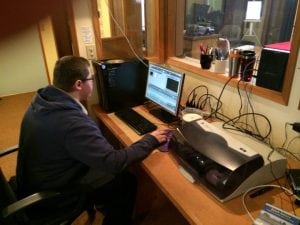 The opportunities created by Greater Grays Harbor, Inc. through financial and physical support feed directly into these goals. "When kids start connecting to real jobs out there, getting excited about the opportunities. That has a direct impact on the economy," says Wes.
Ultimately, all these groups are working towards the same goal: community and individual citizen growth and success. When students pursue higher education, they become skilled workers. When skilled workers are employed in their community, they have income to spend at local businesses. When businesses have an ample and skilled workforce, they can grow and reinvest in economic development.
"Ultimately," says Wes, "when the community works together to support kids, getting them connected, motivated and inspired for a better future, everyone wins."
Greater Grays Harbor, Inc. agrees, devoting resources to organizations throughout the county to support youth from cradle to career.
To learn more about how you can help young adults gain the work experience and real-world skills that can help them gain a better future and, in turn help local business thrive, attend the Governor's Summit on Career Connected Learning on May 31 from 10 a.m. to 1 p.m. at Grays Harbor College.
Sponsored