The women's wrestling program at Grays Harbor College isn't even a year old, yet the Chokers have already loaded up on some prestigious honors.
GHC head coach Andy Cook, who spearheaded the development of women's wrestling at Grays Harbor College, guided Team USA to a second-place finish at the 2017 Pan American Junior Championships in in Lima, Peru in June, getting individual titles from Emma Bruntil of Aberdeen and Wisconsin's Jayden Laurent.
Bruntil was one of two members of the Chokers program to represent Team USA as Kateri Rowell, who just completed her freshman year at Grays Harbor College, competed in the 109-pound division.
"Anytime you get to represent your flag it's extremely meaningful and exciting," Cook said. "The experience was great for both our athletes and us coaches. We definitely could have had a bit more luck fall our way that could have possibly been the difference in our overall placement, but (gold medal winner) Canada had an outstanding team with a ton of experience. So, hats off to them. The competition was very strong. It's nice to see women's wrestling show a great amount of growth and the level of wrestling rise so rapidly."
Bruntil, who Cook has coached the past three years, cruised to the gold medal in the 130-pound weight division, defeating Mexico's Fatima Crisanto Ayil by pinfall (2:31) in the finals.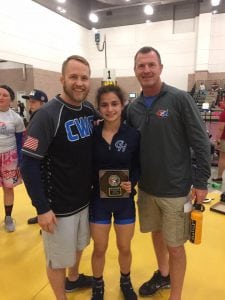 In addition to her Pan Am title, Bruntil also received the Golden Boot Award, an honor presented to the event's most outstanding wrestler.
Bruntil, an incoming high school senior who spent the last few months living in Aberdeen and attending high school through an online program, dominated her five-athlete round-robin bracket, going a perfect 4-0 with one victory coming by technical fall and the other three triumphs by pins in a combined time of 4:41.
"With Emma, it is a very special thing for me as we have been on this journey together from the beginning and I've watched her grow from the start and had the opportunity to mold her into exactly what we have planned – a legit scoring machine," Cook said. "(Emma) is one of the most dedicated, hard-working, focused athletes I have worked with. There is no surprise she is where she is today and I've been blessed watching and molding the journey."
Laurent captured the gold in the 147-pound classification with a victory over Ecuador's Maite Cortez Quinonez, 17-5, in the finals.
Cook also coached 97-pound Charlie Hamer and 138-pound Gladdys Palma, an incoming sophomore at the Southern Oregon University, to bronze medals.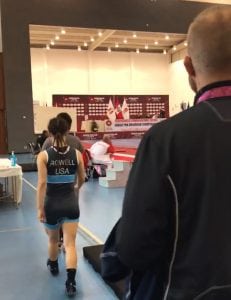 Canada claimed the team title with the Cook-coached U.S. squad finishing second and Brazil taking home the bronze.
"I think the difference could possibly have been just some lucky draws and breaks going in our direction," Cook said about Team USA's silver-medal finish in the team standings. "We had a very capable team and made the best of our showing."
Rowell dropped her opening round match (10-0) to eventual bronze medalist Lady Moran Valenzuela of Ecuador, and while she failed to place, Cook believes her appearance on Team USA's roster will serve as a strong inspiration for the relativity new Chokers' program as it continues to grow.
"It shows the other girls that it's possible," Cook said. "Kateri came in as a high school state placer with very few accolades. The path she has taken to reach this goal has been very deliberate and she has made major strides achieving this level so rapidly. It was very impressive to watch it happen and very satisfying as a coach knowing what we're doing is working."
The next event Cook and Team USA will be competing at will be the Under 23 World Team Trails in Chicago October 6-8.
Before that happens, however, Cook and his Grays Harbor College coaching staff will be holding Choker Camp #2 in August as it readies itself for its second season.
"It's our annual camp that brings in our new athletes to get them familiar with the area and it's an awesome opportunity to get some quality training in," Cook said. "We are bringing in multiple coaches from across the country, representatives from King University, University of Wisconsin, University of Minnesota and the Marine Corps."
The camp will be held in three sessions – August 7-9, 10-12 and 14-16.
"This is an opportunity for boys and girls to be looked at by both WCWA and Division 1 coaches and learn from legitimately the best of the best," Cook said. "This is an amazing opportunity for our coaches and athletes to learn a ton. So I'm excited to see how it plays out."