You don't stay in business for 60 years without having your finger on the pulse of your customers and putting forth a constant effort to innovate and introduce new services and products. Staying fresh with the times, and the thirsts, of customers is one of the things that gives Harbor Pacific its staying power.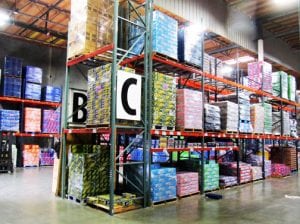 One example of this innovation happened about three years ago when the company introduced a new order picking system, called VoicePick, to their Elma warehouse that revolutionized their delivery service.
"Technology," says Tim Martin, Harbor Pacific's president and general manager, "gives us the ability to innovate. It gives us the ability to manage the complexity of handling hundreds and hundreds of products."
The interface allows sales personnel to log orders on a mobile iPad. The data is then communicated into the warehouse computer system which relays the pick list to warehouse loaders, wearing headsets, all by voice. All of the organization of dividing the order lots into geographic routes is done by the computer and thereby streamlines the order-filling process.
"Accuracy and speed went up a great deal when we implemented it," says Tim of the modernization. "We certainly don't take it for granted."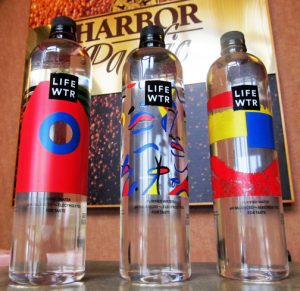 But innovative technological isn't all that's new. This year, Harbor Pacific has introduced three new beverage products aimed to please the tastes of millennials, teens and women.
LIFEWTR is a fresh line of purified drinking water from Pepsico that was launched just after the new year. It's "designed to refresh the creative mind, restore the creative body and inspire the creative spirit." The water is purified by reverse osmosis, pH balanced and infused with electrolyte minerals.
Another cool product feature is the rotating artwork on the one-liter bottles, curated by relevant artists. The art changes every three to four months, thus providing an elevated image that resonates with millennials and supports the arts.
Tim says the company is also offering a couple of new carbonated beverages, "for the younger millennials, teens and women that want taste and are tired of [plain] water, but also want natural attributes."
"There's a time for still water," says the CEO, "and a time for a little flavor without sacrificing your diet."
Thus, a new line of delicious and refreshing Izze products by Pepsico are now distributed by Harbor Pacific —the new Izze Fusions, for one. Izze Fusions come in a 12 ounce 'sleek can' with a colorful design appealing to teens and millennials seeking a 'better for you' carbonated beverage. According to Izze, it features "uplifting vibrant bubbles, water and a fusion of real fruit juices in flavor combinations [that] create a refreshing new taste. It's a sorta soda, a sorta juice, a sorta new way to beverage."
Three flavor infusions are available in the 60 calorie (per can) drink: strawberry melon, lemon lime and orange mango. Izze Fusions are sold in the single serving can and in eight packs.
Tim is equally excited about the new Lemon-Lemon product line, "a refreshing, modern take on the classic lemonade, combining real lemon juice with the uplifting twist of sparkling water," also from Pepsico. Well, maybe a tad more excited.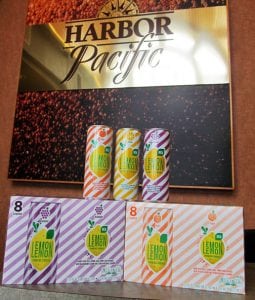 "I really like the packaging and the slightly tarter taste," he says. And millennials like it, too. The group, which purchases more lemonade products than any other demographic, is buying the beverage at projected industry expectations. Lemon-Lemon, launched in February, offers a lower calorie (70 calories per can) alternative to other soft drinks and comes in three great lemon-based flavors—Lemon, Peach and Blackberry. Look for the barber-pole striped 12-ounce, single serve 'sleek cans' or eight packs in stores around the county.
"People are looking for flavor," says Tim. These three new beverage products have it and Harbor Pacific delivers it alongside their signature quality, service, innovation and refreshment. "We're always about innovation and looking for new products to satisfy the thirsts of our customers."
Learn more about Harbor Pacific and its 60 year history of success.  To contact Harbor Pacific, visit them online or call  360-482-4820.