Carson Klinger says he is known for getting tense before football games.
"It's just always been the case," the Montesano High School senior stated. "It happens every time. Right before I step on the field I get nervous."

This proved to be true once again, and while technically this wasn't an official game, it was the Bulldogs' annual pre-season jamboree, Klinger was still feeling some anxiety prior to the first snap.
"Once you get that first hit in, though," Klinger admitted, "it goes away."
From uneasy to unstoppable – that about sums up Klinger, Montesano's do-it-all star.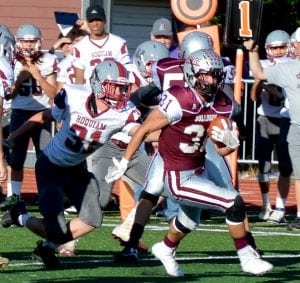 The format of the jamboree features each team running 10 offense plays, beginning at their own 40 yard line, against the opposing team's defense. After the series is completed, the team's switch sides.
Up first for the Bulldogs was 1A Evergreen League rival Hoquiam with Montesano kicking things off on defense.
In the first play, Klinger darted in from his linebacker position and delivered a jarring hit which forced the ball loose.
"We're going to have fun this year," Klinger said following the jamboree. "We're going to do a lot of great things."
Klinger was far from done on the night. He was a one-man wrecking crew, putting on a show for the packed Jack Rottle Stadium.
The running back's speed was showcased during Montesano's first offensive play as he bounced things outside and raced untouched for a score. He found the end zone a second time on the final play, weaving his way through traffic, showing impressive lateral movement and strength this time around.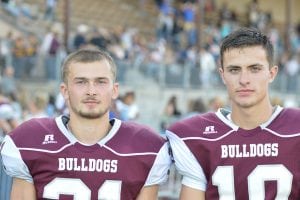 He later hauled in a long TD pass from senior quarterback Trevor Ridgway during the final play of the Bulldogs' jamboree clash against Elma.
In total, Klinger touched the ball six times, scoring three touchdowns, in Montesano's 20 combined offensive plays. Consider this the prelude for the upcoming season.
Klinger, last year's league offensive most valuable player, is hardly the Bulldogs' sole weapon as he teams up with Ridgway to form one of the top tandems in the state.
"My job's so easy when they are all fast," said Ridgway, about his quarterbacking duties. "Dakoyta (Reninger), Carson, Kooper (Karaffa), we have so much speed this year. I get yelled at all the time for under throwing them. I just have to get them the ball."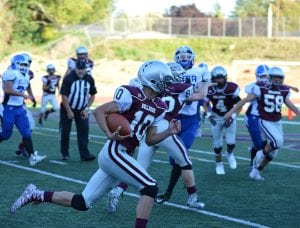 Ridgway, an honorable mention all-league pick at both quarterback and defensive back in 2016, quickly downplays his role under center. But, with his strong, accurate arm combined with his ability to tuck it and run, which was on full display during two long TD runs in the jamboree, the senior signal caller will be a handful for any defense this season.
"I just can't wait to see how everyone does out there," Ridgway said.
Under Ridgway's direction, Montesano scored 40 or more points in eight out of their opening 10 games last year. The only times they failed to surpass the mark was in a 36-12 victory over 2A R.A. Long and during the Bulldogs' 20-14 win over rival Hoquiam in a game where Ridgway tossed a 28-yard game-winning touchdown pass with 12 seconds remaining.
Montesano went 10-0 last year before a surprising loss to Connell (48-28) in the opening round of the 1A state playoffs. The sting of the defeat remained throughout the summer as the players used the experience as motivation.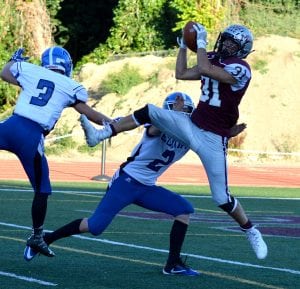 "I just want to do better than what we did last year. We all do. We always set those goals higher year after year," Klinger said. "Montesano is a special place. This whole stadium is packed whether we're 13-0 or 0-13. I don't think we've ever had a 0-13 season, but I guarantee if we do, they will still pack this place. It's awesome having a nice field to play on, having people come out and support us. It just makes us want to get better every day."
Montesano opens the regular season at Aberdeen on September 1. The Bulldogs won last year's meeting against the Bobcats, 54-20, with Klinger scoring twice and rushing for more than 100 yards.
"It goes by so fast. I still remember my first varsity play during my freshman year," Klinger said. "I just want to make my last year here memorable. I want to make memories that I'll never forget."