You can hear the excitement immediately in Hayden Hoff's voice the moment he starts talking about Ocosta High School football.
"What was the best thing about team training this summer?" said Hoff, repeating the question he was just asked. He wasted no time providing an answer. "Just being able to train as a team was by far the best thing. We haven't always had that."

Hoff is one of eight seniors on the Wildcats' roster this season and one of the team's most experienced players. He can remember past summers being absent of any form of team training. Workouts were mostly on an individual basis simply because there weren't enough players showing up to demand formal training outside the regular season.
"It just feels different around here this year," said the 6-foot-1, 216-pound Hoff, who starts at running back and linebacker for Ocosta. "There's a lot more unity than we've had before."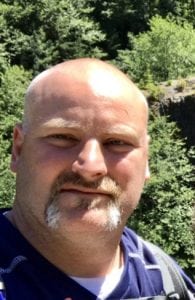 You can credit the new upbeat outlook to first-year head coach Chris Raffelson and his staff.
Hired in late June, Raffelson has brought plenty of energy to the Wildcats' program. Nothing showcases this more than the turnout Ocosta experienced this season as 36 players appear on the roster, a major upswing from last year where the team suited up just 17.
"We couldn't even have a full scout team to play against at practice last year," Hoff stated. "That makes it very difficult to prepare for Friday's games."
What makes the numbers even more impressive is the fact that Ocosta's total enrollment is at 154, according to the WIAA's classification enrollment data, meaning nearly a quarter of the school has elected to join the team this season.
That, however, isn't simply by good fortune, but instead stems from Raffelson and returning players, such as Hoff, getting the word out about the program and doing loads of gridiron headhunting.
"We want the kids to be enthusiastic about playing here," said Raffelson, a 1993 Ocosta graduate. "We want to turn the program around and that was one of the first steps. For the first time in a while we are actually going to be able to field a JV program. That's huge for us."
Raffelson, the Wildcats' third coach over the last five seasons, takes over a team that finished 2-6 last year. But he is hardly a stranger to most of the players as he coached many of them during their youth football days.
Additionally, Raffelson has worked with the junior high programs in Montesano, Aberdeen and Elma. He also played 13 seasons of semi-pro football with the Washington Cavaliers and Grays Harbor Bearcats, a program he helped co-found.
"I've been fortunate to learn under some very good coaches," Raffelson said. "Really, the Xs and Os have been the easy part. Our main focus as a staff coming in was to build a team out of a group of individuals. That's how you become success. We want to build some tradition here. I think we started that this summer with the number of kids who were involved."
When he's not coaching, Raffelson works as a paramedic with the Aberdeen Fire Department, a demanding job which requires him to miss practice on occasion.
During the few times he is away, however, there are no shortage of assistant coaches and volunteers to step up and fill void.
Raffelson's list of assistant coaches include Cameron Ness, Keith Beck and Lonzo and Caleb Tackett, while volunteer coaches consist of Bill Lennon, Kevin Hatton, Matt Reichenberger, Ryan Reid and Chris' son, Nathan Raffelson.
"It's really been amazing the amount of time and effort these people have put in as coaches and volunteers," Raffelson said. "When I am away the team doesn't miss a step."
Another aspect, Raffelson has been utilizing to bring the program together is having the junior high teams participate during practice.
"The junior high players are learning what the high school players learn," Raffelson said. "When it comes time to hit, we obviously have junior high players playing against other junior high players. They never have contact with the high school kids. But, from a learning standpoint it's really helpful to have them out there. It gets them involved. They are going to end up here in a year or two playing, and when that time comes they will already know the system."
Raffelson had to wait an extra week to make his on-field coaching debut. The Wildcats won their season opener by forfeit after Chief Leschi didn't have enough players before dropping their second contest, 34-7, to Wahkiakum.
"We're still a work in progress," Raffelson said, "but the kids are all really excited and motivated to improve, as is the coaching staff. Everyone has put in a lot of hard work and that's all you can ask for."