Karli Heikkila found out rather quickly into her Aberdeen High School swimming career that once she dipped into the pool at practice Jan Simons and April Heikkila were no longer her grandmother and mom. They were her coaches.

"I actually learned that the hard way," Karli Heikkila said with a chuckle, "but that's the only way to do it. It's hard and it's stressful. I love it because they're my family, but they're definitely my coaches during swim team. They're not grandma and mom. They're ready to coach you. So you have to be ready to work hard."
Karli Heikkila can now resort back to simply referring to head coach Simons as grandma and assistant coach Heikkila as mom as she completed her Bobcats' swimming career on a high note, helping Aberdeen's 200 medley relay team finish third at the Class 2A Girls Swimming and Diving Championships at the King County Aquatic Center in Federal Way on November 11.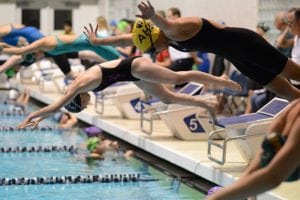 While Karli Heikkila's days of sporting the Aberdeen swim cap are over, freshman teammate Anna Weber opened her high school career in impressive fashion by winning the state 100-yard breaststroke.
The Bobcats, who claimed the 2A District 4 championship earlier in the season, finished sixth overall as a team with 132 points. Liberty of Issaquah took home the team championship with 298 points.
Weber, who entered the state meet seeded second in the 100 breast, posted the top preliminary time in the event, stopping the clock in 1:05.11. Liberty senior Abby Russell, the event's top seeded swimmer and last year's runner-up in the race, posted a preliminary time of 1:06.21 – the second fastest in the field.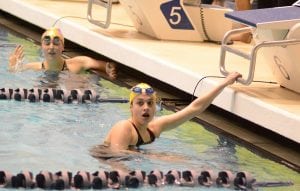 The two standouts put on a thrilling battle in the finals with Weber edging Russell with a time of 1:04.4 to break her own school record, resulting in her first state title. Russell wasn't far behind, covering the distance in a speedy 1:04.8.
It was not the only trip Weber made to the podium at the state meet, as she joined Karli Heikkila, Mackayla Waltee and Kayleia Sias to finish third in the 200 medley relay with a time of 1:53.2. The Bobcats' final time trimmed more than 4 seconds off their seeding time of 1:57.6.
"We've always had amazing relay teams here, but it's been more intense this year because we have such a strong team," Karli Heikkila said. "The pressure was definitely on coming into state, but to improve our time by 4 seconds is incredible. We have so many good swimmers."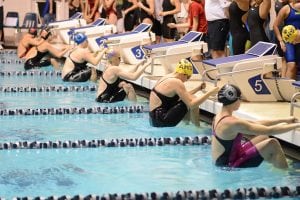 North Kitsap claimed the event with a time of 1:50.06, while Liberty finished second (1:51.92).
"Your mentality is just different when you get to state. You put on the speed skins and you just feel faster," Karli Heikkila said. "It's exciting. Everyone around you is just so fast, it just raises you to another level."
Heikkila was a part of three Bobcats relay teams to place among the top 10 at state. She joined Katie Lewis, Melissa May and Sias to place eighth in the 200 free relay and teamed up with Lewis, May and Weber to earn ninth in the 400 free relay.
"This is my family," said Heikkila about the relay teams. She also also finished 13th in the 100 free. "I am so grateful for everyone on this team. Everyone just did amazing."
Sias, a sophomore, finished third in the 100 backstroke, bettering her own school record with a time of 1:00.68, and eighth in the 100 fly (1:02.30).
May was 13th in the 200 IM (2:25.53), while Weber placed 12th in the 200 free (2:03.93).
Aberdeen advanced three divers to the state meet with junior Marithess Lang finishing 17th overall. Sophomore Trudy Butcher and freshman Tatum Heikkila failed to advance past preliminaries, making the Bobcats the only program which will welcome back three state diving participants next year